One of the new features in WPML 1.1 (out soon) is translation for general strings (blog title and tagline) and widgets. Widget translation includes titles for all widgets and translation for text widget contents.
If your blog/site needs widget and string translation, you're most welcome to give the new development version of WPML. The development version works just fine now and is not yet released because we're still working on other features that will be included in WPML 1.1.
After you update WPML, you'll see another menu called 'String translation'. It will list all the site's strings that can be translated. Click on any string to enter translations and save. Now, visit your site in other languages and you'll see the translations.
Here is how the string translation interface looks like: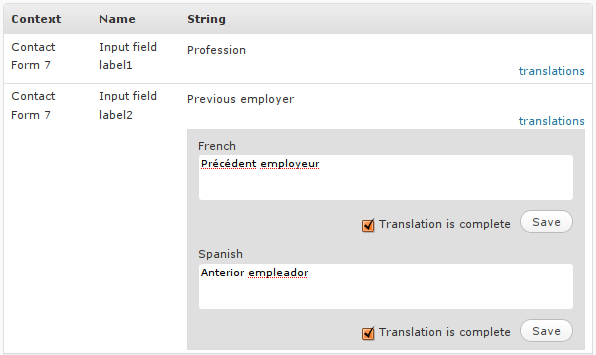 How it looks like
Once you enter the translation in the strings editor, it immediately applies to the site. For instance, this are screen shots showing the blog name and tagline in English and Spanish:


How to install plugin development versions
Download the development version for WPML.
Deactivate WPML.
Unzip the file you downloaded (or if you can't unzip on your server, unzip locally and upload to the server to wp-contents/plugins).
Activate WPML again.
How is it working for you?
Let us know how it's working. If there are any problems, now is the time to fix.