We want to improve on WPML's usability and are investigating the ratio between the number of downloads and the number of people actually using the plugin.
This is a graph of WPML downloads in the last few months: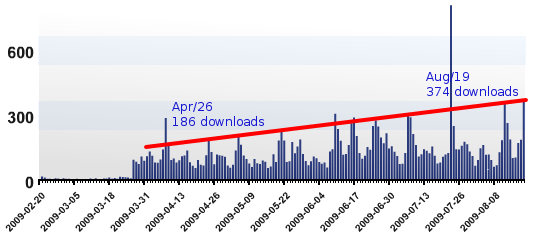 The graph has a more or less constant shape with peaks for every update that we made. The number of people who update indicates the number of people who actually use the plugin.
I've drawn a red line through these peaks and it shows that the number of actual users builds up at a rate of 1.5 users a day. Given an average rate of 90 download per day, we can see that only 1/60 of the people who downloaded actually uses the plugin.
We're looking for reasons why this number isn't much higher and I thought to first ask you.
What do you think are the major usability problems with WPML?
It's a very open question so, please write back and tell everything you can think of.
---
BTW – thanks to all the people who contributed new languages. We're compiling that list now and will include all the new languages in WPML 1.3.0.