One of the most frequent issues we've seen with multilingual WordPress sites is that themes are not localized. This release will make theme localization much simpler.
How to use WPML's theme localization
Go to WPML->Theme localization.
There are three options. Not to localize the theme at all, to translate the theme's texts with WPML or to provide .mo files with the translations (the old way).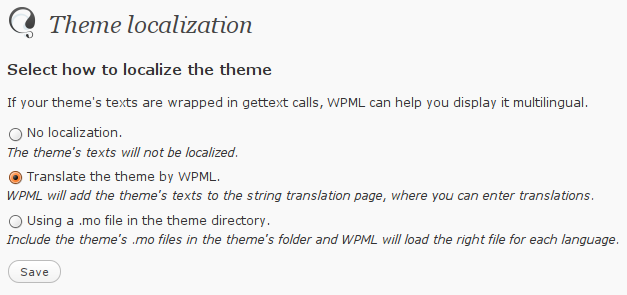 When you select the 2nd option (to localize with WPML), the fun begins.
WPML will scan the active theme and find the texts that can be translated (wrapped with gettext functions). It reports what it finds and let you enter translations, right from within WordPress.
Most WordPress themes today are already localization ready, so they can be translated with this new mechanism without any changes.


It shows how many strings were found in the theme and their translation status. To translate them, just click on the button and you'll go to the string translation page.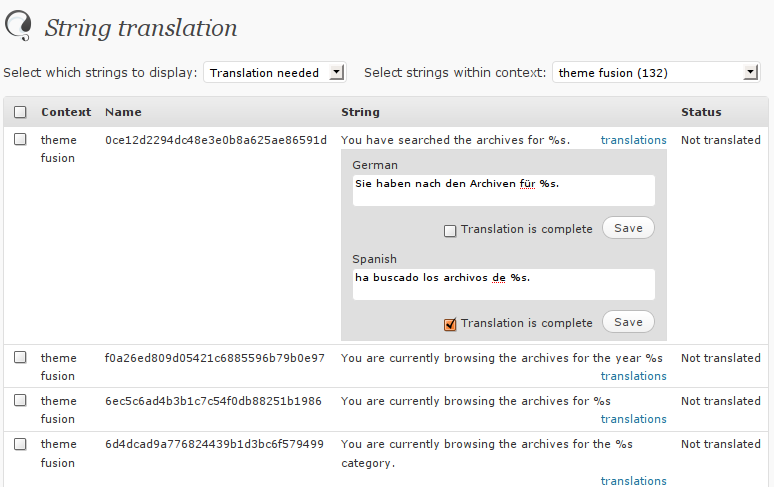 Enter the translations there and you're done. When you view your theme in different languages it will display in different languages.
Importing and exporting translations
WPML 1.2.0 also makes it extra easy to import and export string translations.
In the String translation page, you'll see a new box for importing and exporting. If you need to move the string translation from one site to the other, you can export to a .po file and then import that .po file in the new site.
You can import/export with or without translations. When you include the translations, you will create the strings and their translations, otherwise, just the strings.
If you need to translate to a different language and you're working with a freelance translator, you can export without translation, give that file to the translator and then import the .po file for the new language.
Other changes in WPML 1.2.0
We were finally able to track down and fix for good a very persistent bug which caused the language tables to be empty for some people. This was mainly happening on Windows servers. It's safe to say that this bug in now behind us.