WooCommerce Multilingual 3.8 has a new look and feel. It is much easier to use. It not only is better integrated with WooCommerce and WPML, but also with many popular WooCommerce extensions.
What's new?
The short answer is 'a lot'.
Here's a breakdown of what we've been busy with, followed by more details about each of them.
A new design, a new look and feel complementing the new WPML 3.4
A new translation editor for the products
New options for translating product attributes
An enhanced and dedicated configuration screen for multi-currency
Easier translation of URLs
Immediate attention to configuration issues on the Status page
Improved support for the WooCommerce REST API
Straightforward setup wizard to run WooCommerce Multilingual
Bundled Installer makes it effortless to add in the required plugins
Option for downloadable products to share files under each product
Other price types can be set custom values for secondary currencies
Translating WooCommerce email strings also got simpler
Design Update
We have revised our entire admin interface and implemented a new design. This is in line with the new design for WPML 3.4. We also changed the workflow of translating content by applying feedback from our users.
Translating products, attributes or specific strings involved in the URLs (for product or shop) are now more straightforward. The interface looks better too.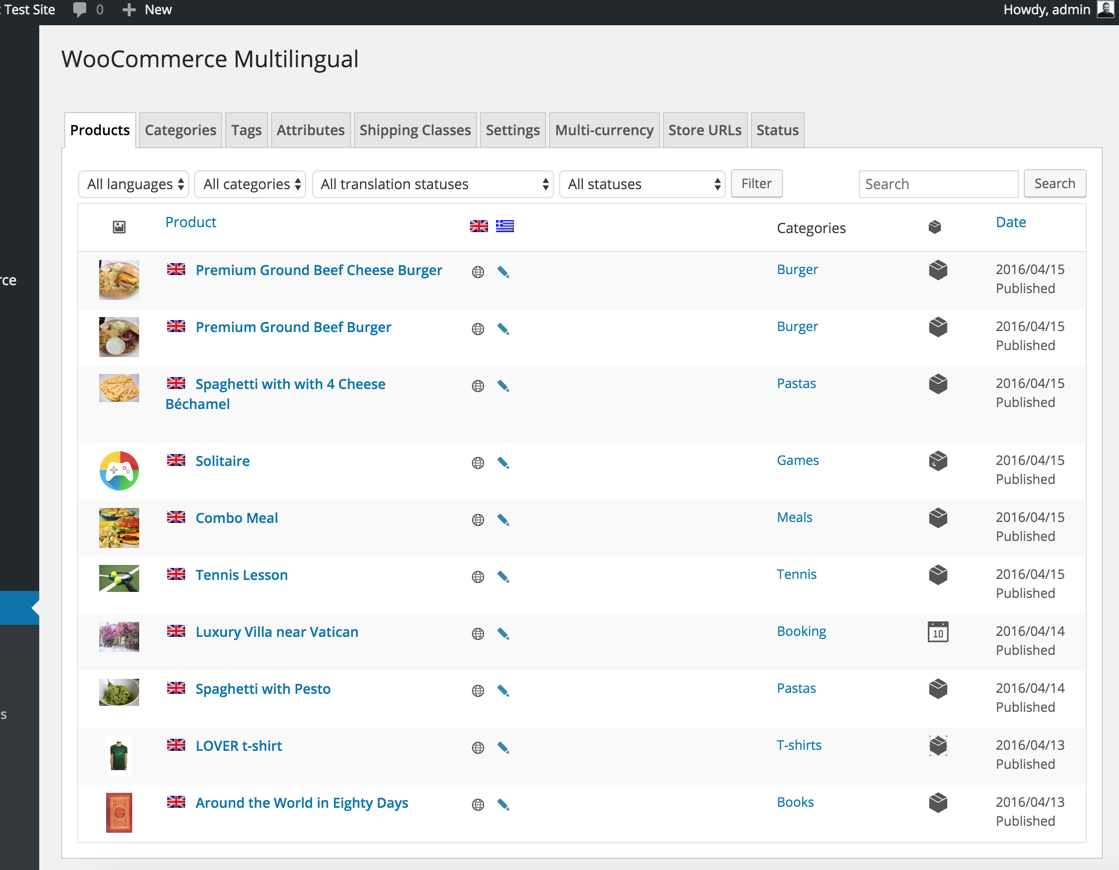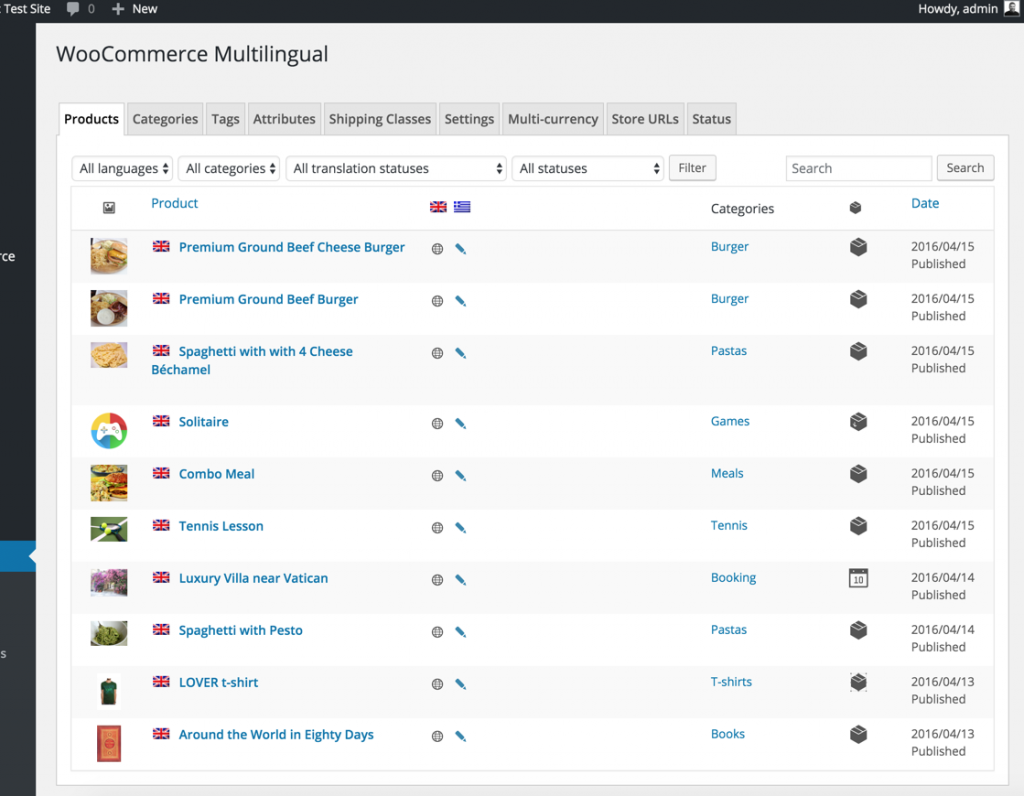 Translating Products with the WPML Translation Editor
WPML 3.4 comes with a shiny new translation editor. WooCommerce Multilingual uses a customized version of it in this new version.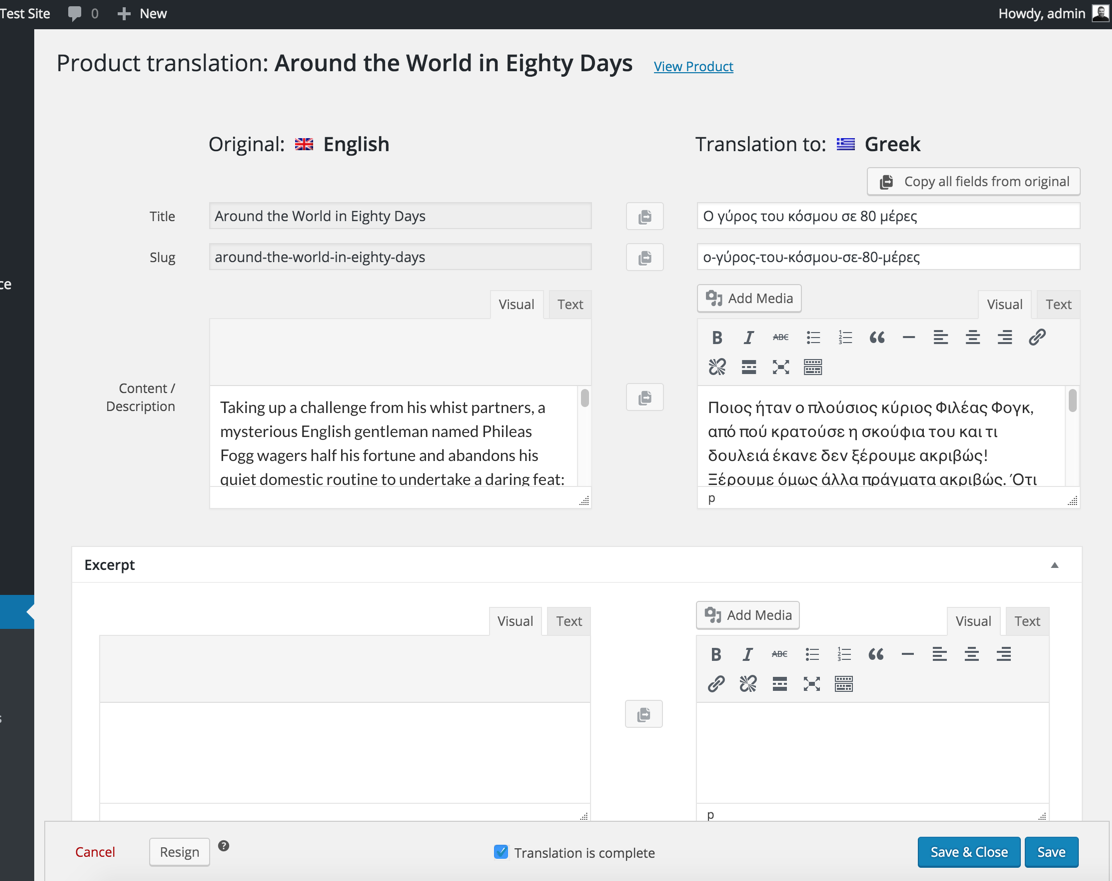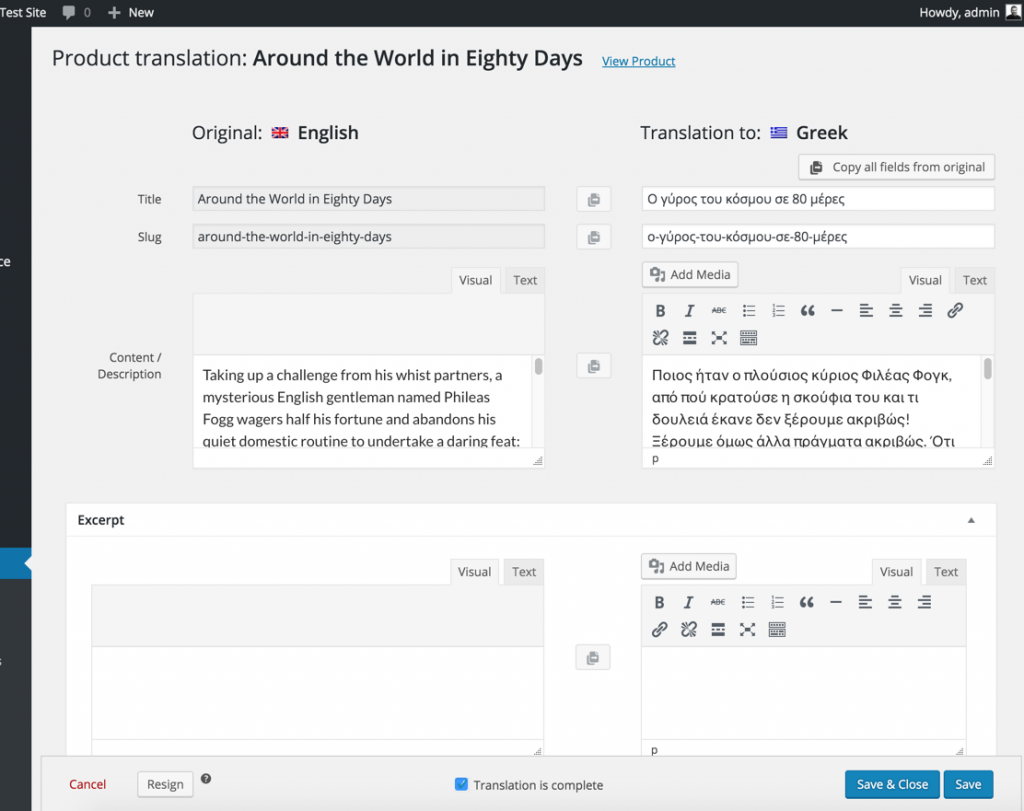 The horizontal scrolling has been eliminated. The products are translated in each secondary language on separate screens.
You can copy either all fields at once or specific fields from the original product to the translation. This is sometimes needed and makes the whole translation process quicker.
The new translation editor was designed to seamlessly integrate with the current compatible extensions (e.g. WooCommerce Bookings, WooCommerce Product Addons, etc.). It is also compatible with other extensions that are using standard translatable fields (e.g. custom fields)
Translating product attributes
All product attributes that are set to be translated will all be included under the new Attributes section.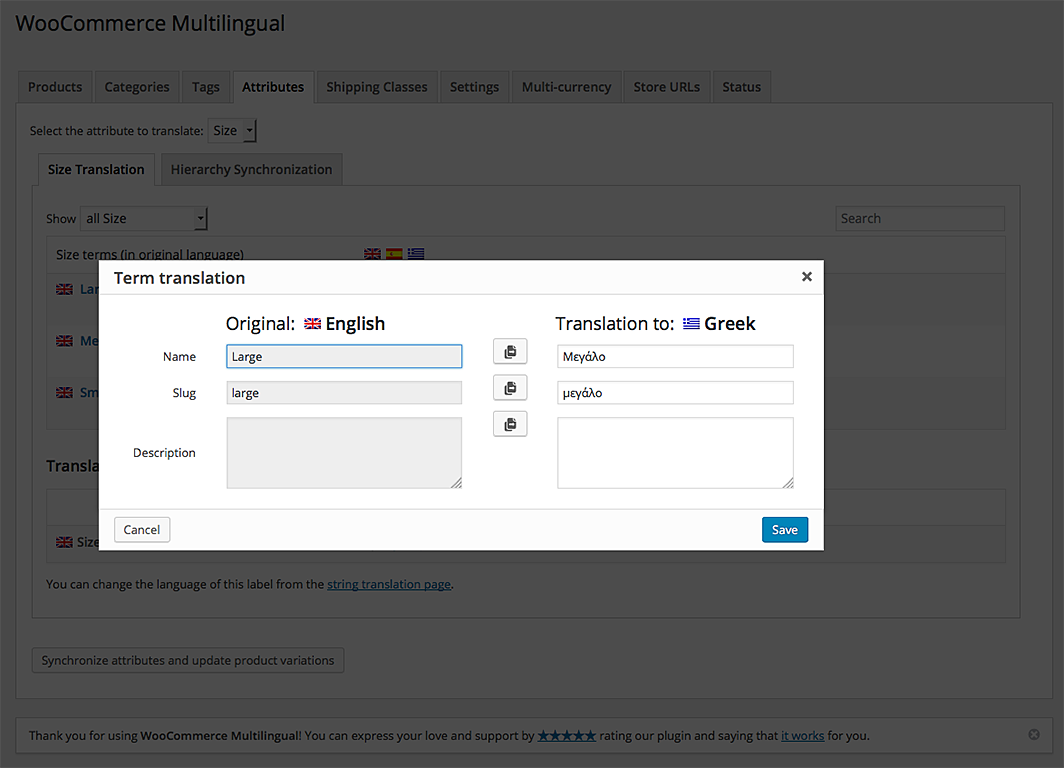 However, not all product attributes may be translated. In WooCommerce Multilingual 3.8, you can configure which ones should be translated.
When you either add a new attribute or edit one, you can choose to configure that attribute to be translatable or not. By default, newly created attributes are still made translatable.
Multiple Currencies
This feature has been moved from the General Settings section to be a separate section. You can configure everything related to the multi-currency: secondary currencies and their properties, the currency switcher options and more.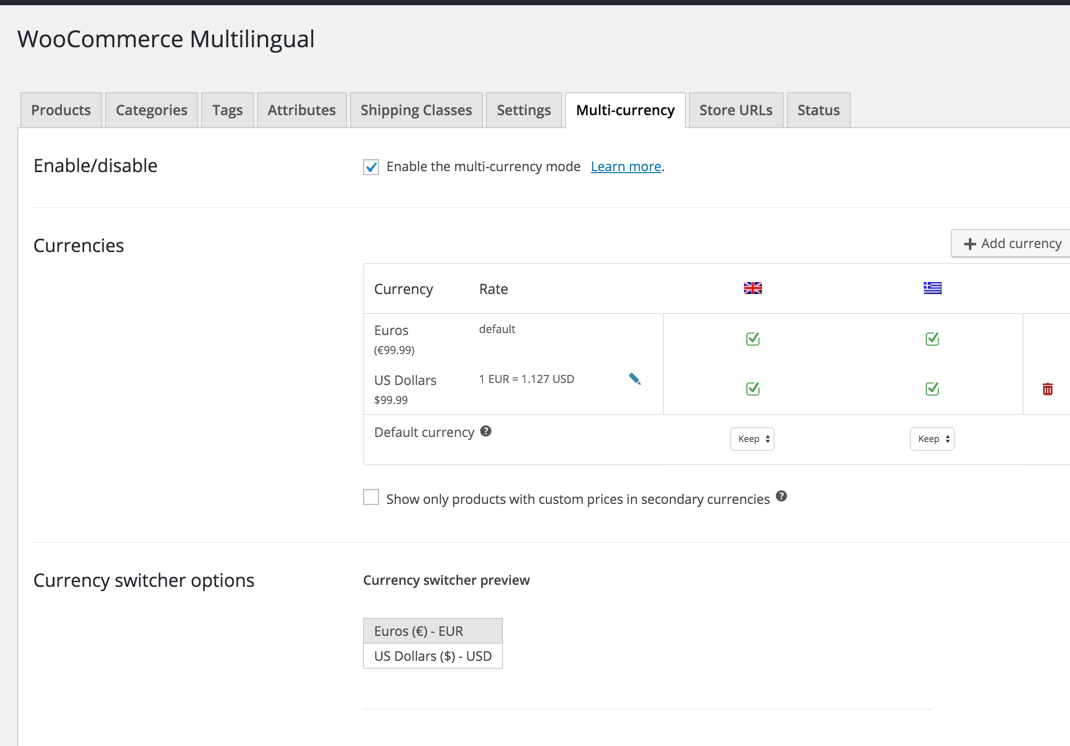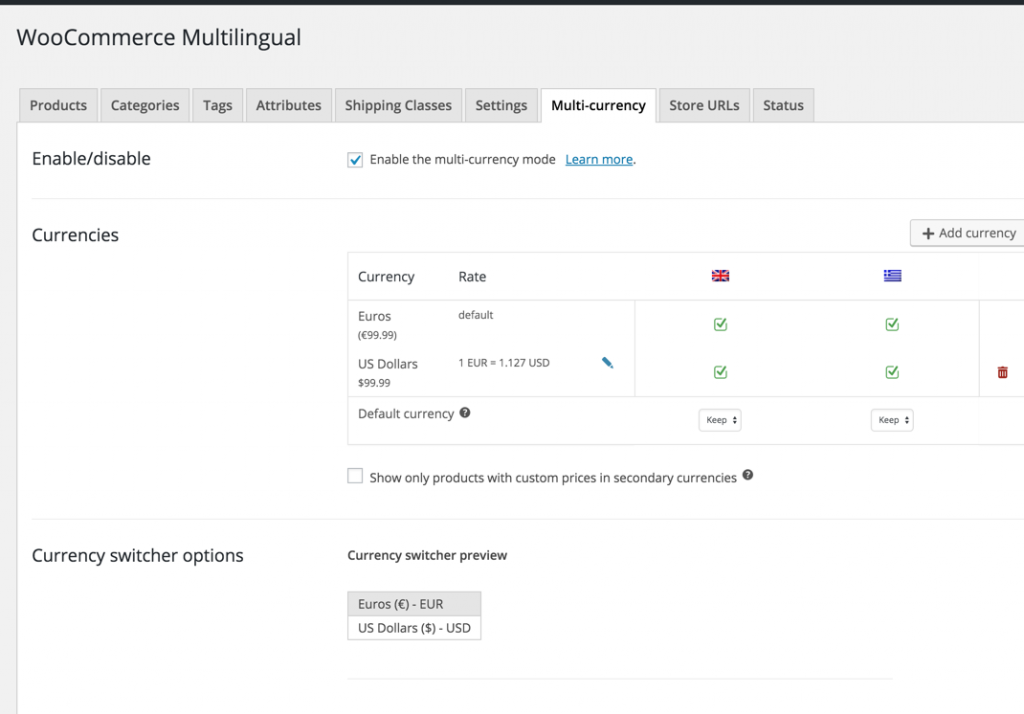 The multi-currency mode is disabled by default in WooCommerce Multilingual. Once enabled, you can configure custom formatting options for the separate currencies. You can even show specific currencies for given languages on the front end.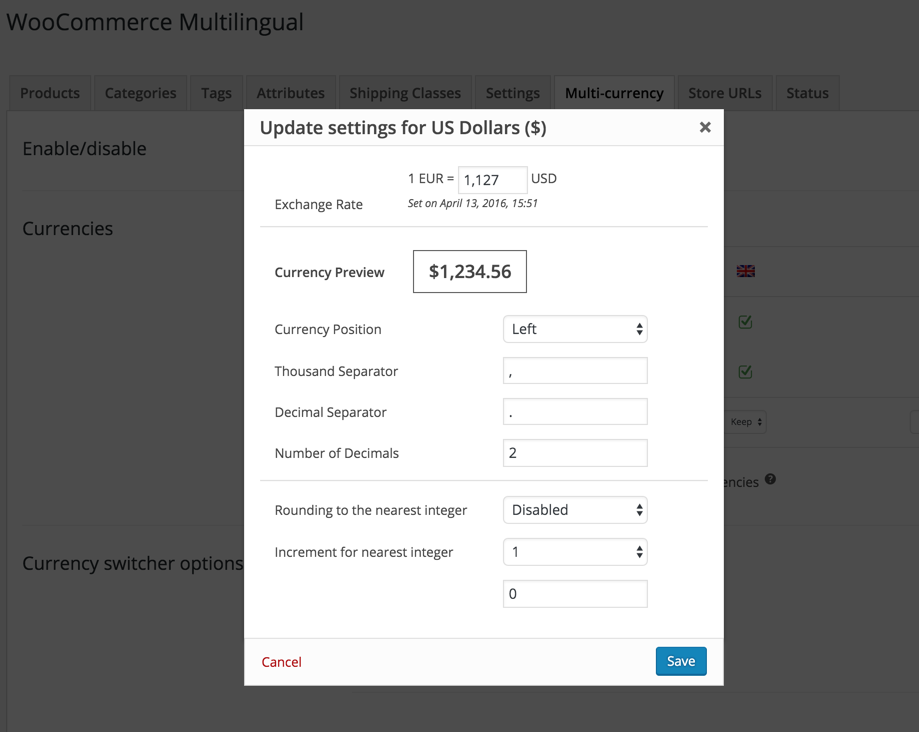 Translating Store URLs
When you use the pretty URLs, WooCommerce Multilingual allows you to have separate URLs for different store pages in different languages. To achieve this, the different strings like the URL bases for: products, product categories, product tags and attributes or various endpoints have to be translated.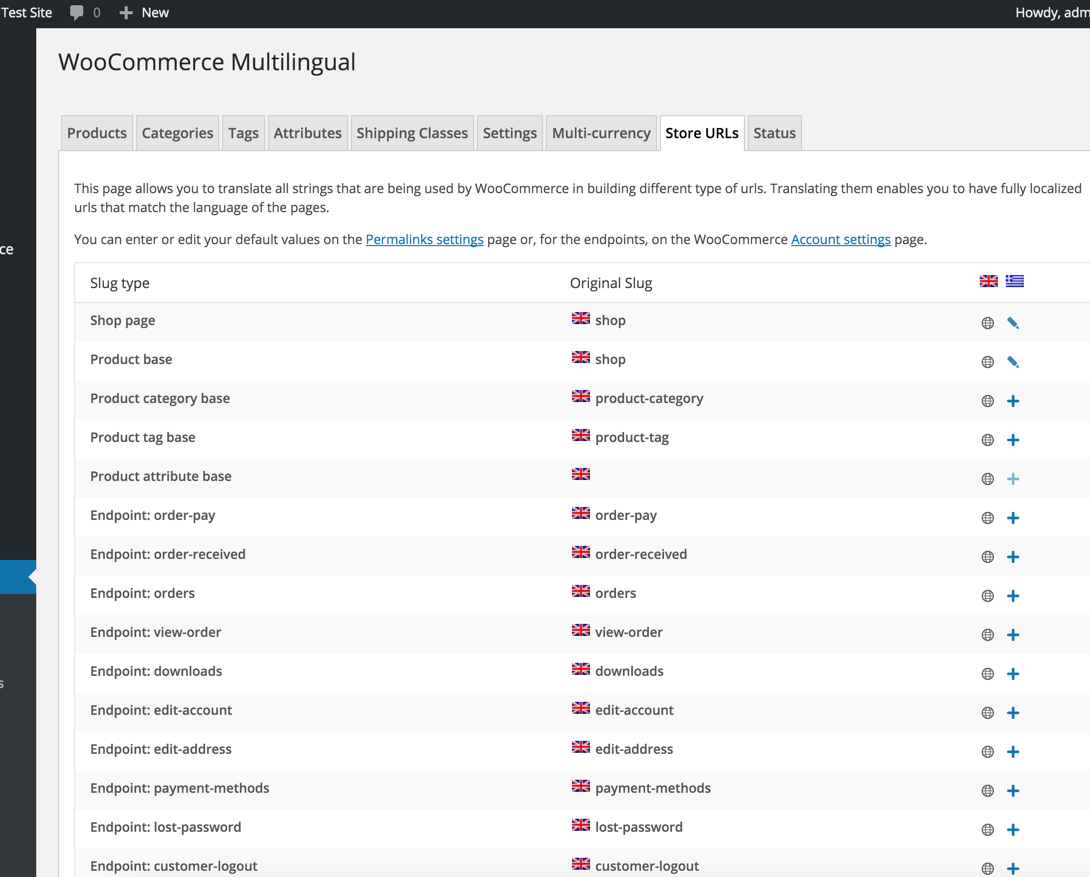 Translation of all these strings is done via the WPML String Translation. While you can still use the WPML interface to translate them, we grouped them under the Store URLs section to make it more convenient. All strings are on one page and you can easily see their status and add translations for the ones that need it.
The strings that need to be translated are also highlighted inline where they are originally manipulated in the WordPress admin. You can set their original language inline or click on the links next to them to add translations.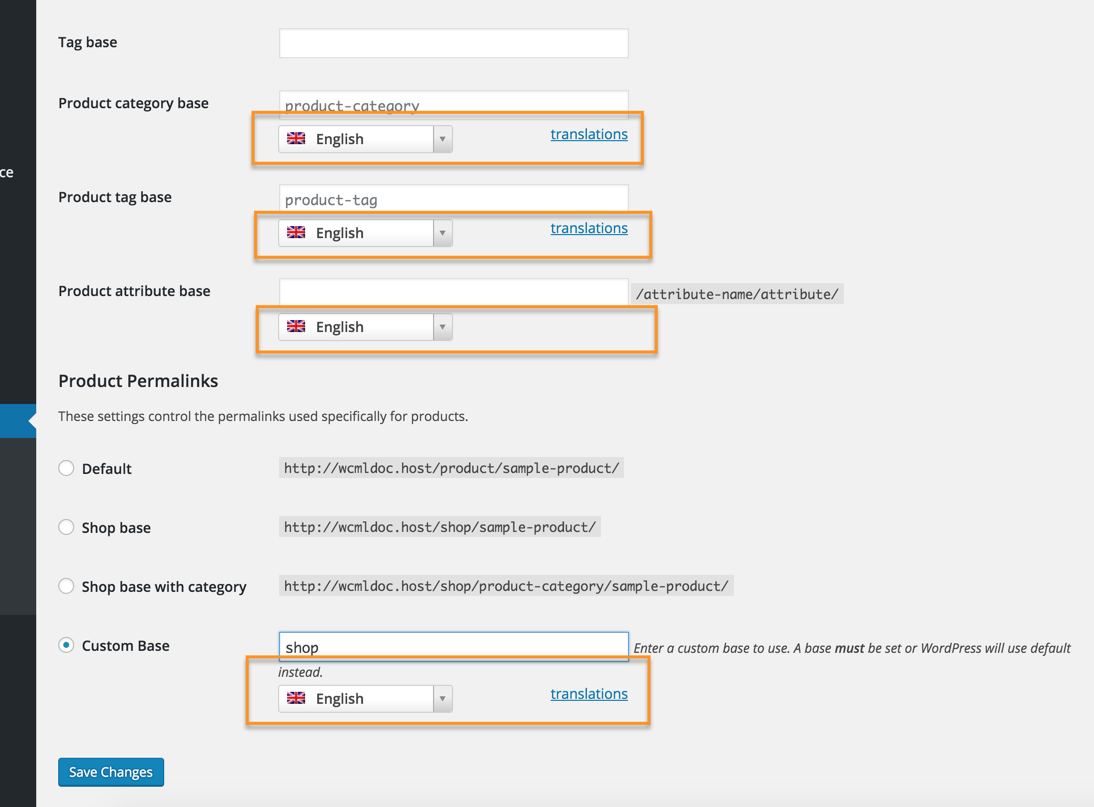 In WooCommerce Multilingual 3.8 these links do not take you to the String Translation screen but the new Store URL section where all the url-related WooCommerce strings can be found.
The Status page
In this section, WooCommerce Multilingual configuration displays configuration warnings or confirmations about required or recommended aspects that are already met.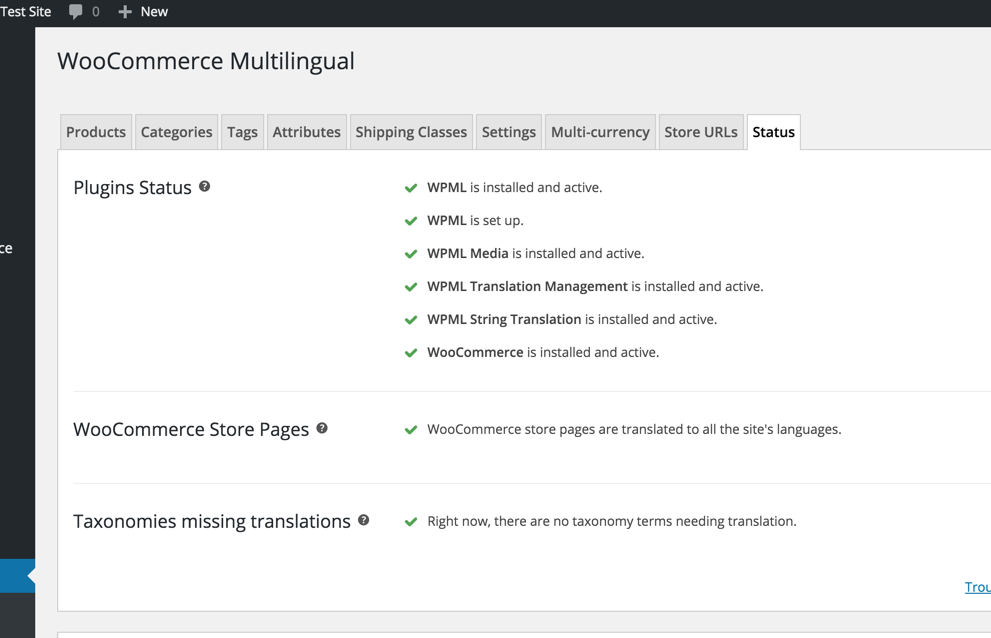 Improved support for the WooCommerce REST API
This has been a popular request that we could not overlook. In WooCommerce Multilingual, we added support for the REST API calls. Therefore, they can now handle languages or currencies.
You can view products or orders in a given language or view them all at once, in all languages. You can also filter categories or tags by language. Or show them in all languages by using the 'all' pseudo-language for the 'lang' parameter.
When you create a product via the REST API, you can now specify the language or prices in other currencies. In addition, you can, of course, see these values when you read a product via the API.
You can read more about this in our REST API support documentation page. It also includes examples of how to use the parameters that we added.
Setup Wizard
For new installs, a setup wizard allows you to quickly cover all the important configuration settings in a few steps.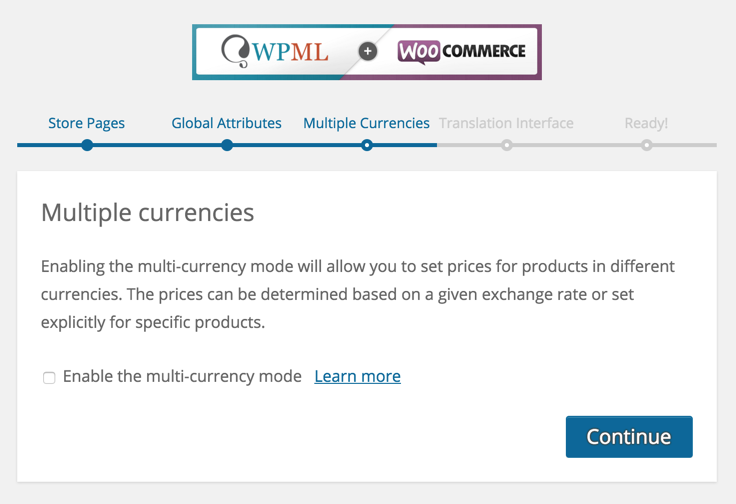 All that's left after this setup process would be to translate any existing content.
Bundled Installer
If you installed WooCommerce Multilingual 3.8 from the WordPress repository and do not have all the required plugins installed, they are now more easily accessible.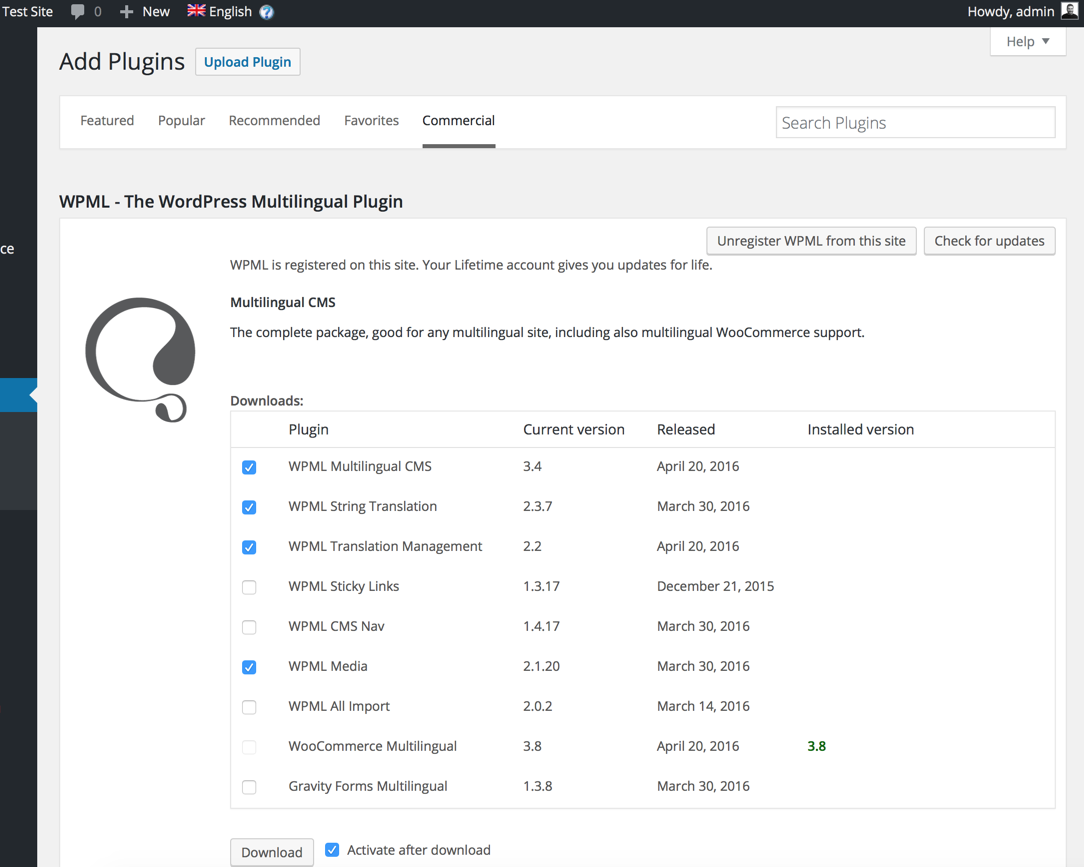 The included Installer allows you to register your site with your WPML.org account. As the next step, you can simply install all the required plugins from the comfort of your WordPress admin.
Other updates
For a downloadable product, you have the option to either use the same download across the translations or add separate files for each translation. Before WooCommerce 3.8, this was possible only as a global configuration option.
In this new version, you can customize what files to be used for specific downloadable products.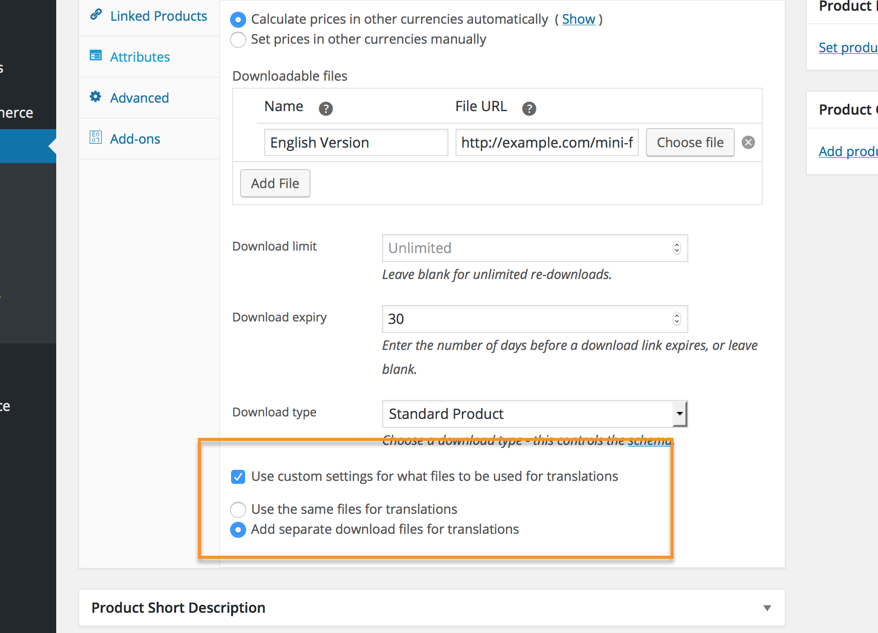 In WooCommerce Multilingual 3.8 it is also possible to set manual prices in the secondary currencies for other prices than the standard WooCommerce prices (regular and sale price). This allows other extensions (like WooCommerce Subscriptions) to not rely on prices determined using the exchange rates for custom price types that they define. In the case of WooCommerce Subscriptions, an extra price for the simple subscriptions is the 'Sign-up fee'.
Translating email strings is easier now because you do not have to search for the strings in the String Translation section. We added links that take you straight to the string that you need to translate. You can also change the original language of the string on the spot.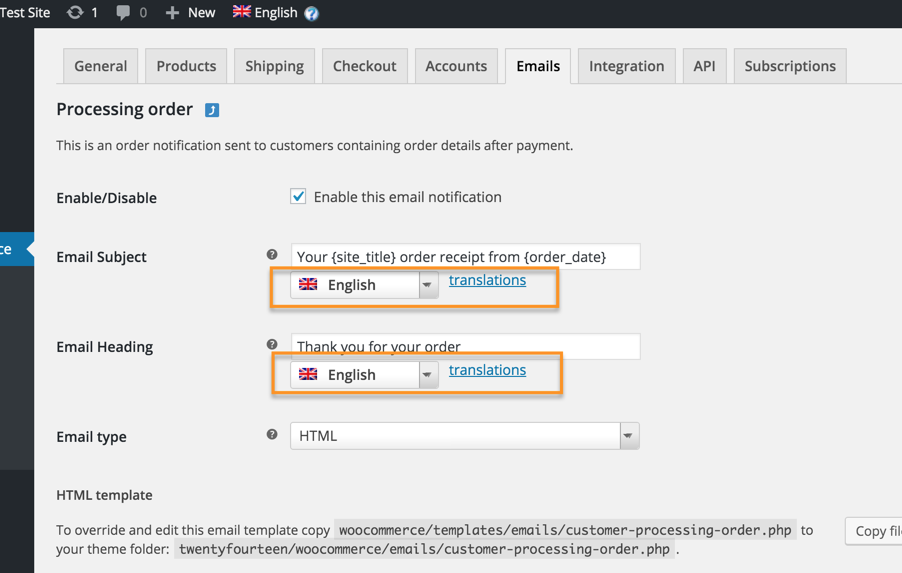 Download or upgrade
One important note about upgrading: to get access to all admin screens in the backend, this version requires that WPML 3.4 is installed.
Everything on the front end still works with an older WPML version. But, sooner or later, you need to upgrade to WPML 3.4 in order to get access to all options in the backend.
We recommend that you upgrade to WPML 3.4 before upgrading to WooCommerce Multilingual 3.8, but you can do it the other way around too.
You can download WooCommerce Multilingual from your Downloads section on wpml.org.
If you're using WPML or Types and are upgrading WooCommerce Multilingual, you are very likely to be familiar with Installer. Installer will prompt you about the new version and allow you to install it.
If you are relatively new to this, or if you are a purist or simply want to do it old-school, you can also get WooCommerce Multilingual 3.8 from the WordPress plugins directory. We would love to hear your feedback on this release and we look forward to addressing any questions or problems you may have on our support forum.