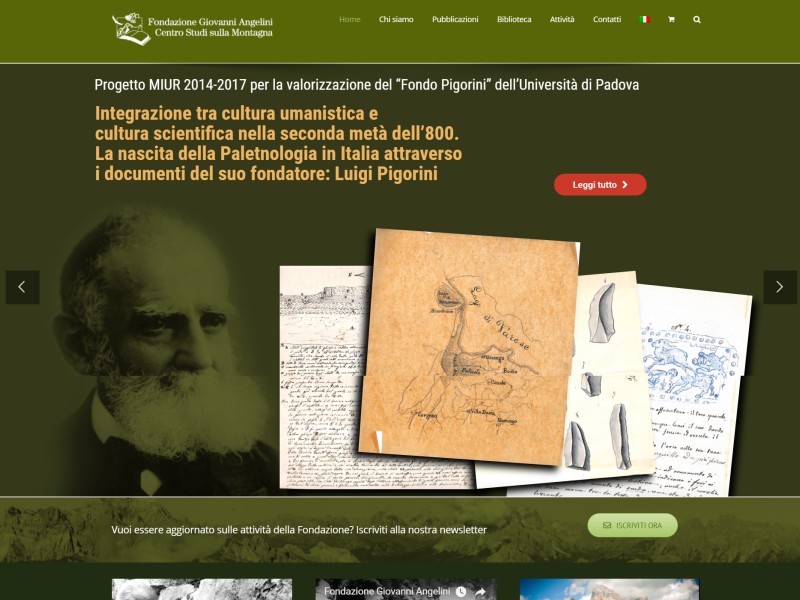 The Giovanni Angelini Foundation is established on the basis of a collection of ancient books, maps, prints and pictures assembled by renowned physician, writer, alpinist and C.A.I. (Italian Alpine Club) academic member Giovanni Angelini, who wanted to create an Alpine Research Centre that could also be of help to the people who live in the mountains. On this base, the City Council of Belluno, together with the University of Padua and the Angelini family, has constituted the Foundation in 1991, with a starting provision disposed by 14th municipalities of the Belluno Province, through the local Cassa di Risparmio (Savings Bank).
The Angelini Foundation, whose objectives are no profit, aims to promote scientific research in the field of mountain environments as well as to foster education and awareness in the same field from a number of points of view: geographic, geological, naturalistic, alpine, anthropological, linguistic, artistic and economic. Another goal is to enhance and protect the mountain environment.
They are located in Italy, and to enlarge the borders, they needed a multilingual website, which is now available both in Italian and English.
http://www.angelini-fondazione.it/?lang=en
Report a problem