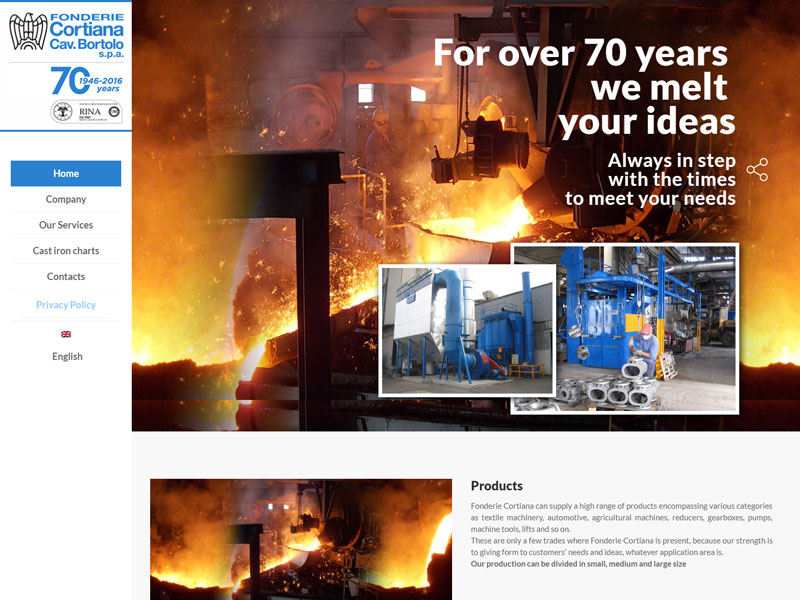 Fonderie Cortiana Cav. Bortolo SpA is a company that has established reality in the market of the small and medium service parts, producing castings in grey iron, ductile iron, and high-strength cast iron, respecting UNI ISO and UNI EN standards.
The company is Italian but has clients and partners all across Europe, hence the need to have a multilingual website that is now available in English, German and Italian languages.
Il Sito e una Vetrina dove l'Azienda propone al navigatore i propri prodotti e Servizi. La gamma di prodotti che Fonderie Cortiana è in grado di offrire abbraccia un range molto ampio, che va dall'industria tessile, automotive, macchine agricole, riduttoristica, pompe, macchine utensili e ascensoristica.
Questi sono solo alcuni dei settori in cui Fonderie Cortiana è impegnata poiché la loro forza è quella di dare forma alle necessità del cliente, qualunque sia il settore d'impiego. La produzione può essere suddivisa in getti di piccola, media o grande dimensione.
https://fonderiecortiana.com
Report a problem