One of the biggest challenges in running big multilingual sites is tracking the status of your translations. The renewed Translation Analytics module helps you keep on top and manage translations efficiently.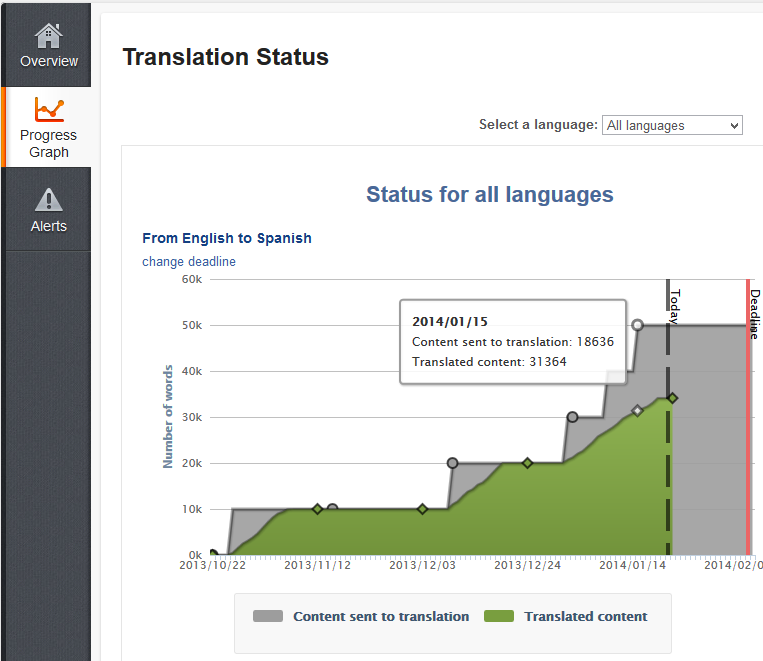 We've revamped the Translation Analytics module, making it an ideal tool for managing the translation process.
Translation Analytics gives you:
A snapshot of what's sent to translation and what's complete
The progress of translation work, over time
The ability to set deadlines
Automatic alerts, there is a chance you will miss the deadlines
An automated tool, instead of daily hassle and wasted time
One way of managing the progress of your translation work is to write huge spreadsheet, produce graphs and track it yourself. Yet another way is to believe that it's OK, only to be surprised at the last minute.
Translation Analytics offers a different approach. The system lets you set your goals (deadlines) and define alerts. It tracks the actual progress of translation and checks per language. If any language falls behind, it will alert you. This way, you can get on with your work. No need to be worried and constantly check the status. That's why they invented computers in the first place.
If a translator is idle, or the pace of translation is too slow (to meet your deadlines), you will get an email alert.
Installing Translation Analytics
To start using Translation Analytics, download it from your WPML account. You will also need to install the Translation Management module for Translation Analytics to run.
Comments? Ideas? Questions? Leave your comment and we'll get back to you!