Want to run a multilingual social site with BuddyPress? Now you can!
BuddyPress Multilingual works with WordPress 3.1.x, BuddyPress 1.2.8 and WPML 2.2.1 and above.
Multilingual Activity Stream
For the first time, visitors can see activity streams in their languages. Have a look at this video:
This text will be replaced
I entered the status in English, but when viewing in German, I see it in German. I can click on the Translation link to view the original.
BPML lets you choose how to display the stream in different languages. This includes:
All activity stream, on all languages
Stream of activities per language
Auto-translated activity stream
Manually translated activity stream
Go to Settings->BuddyPress Multilingual and choose what to display and how to translate.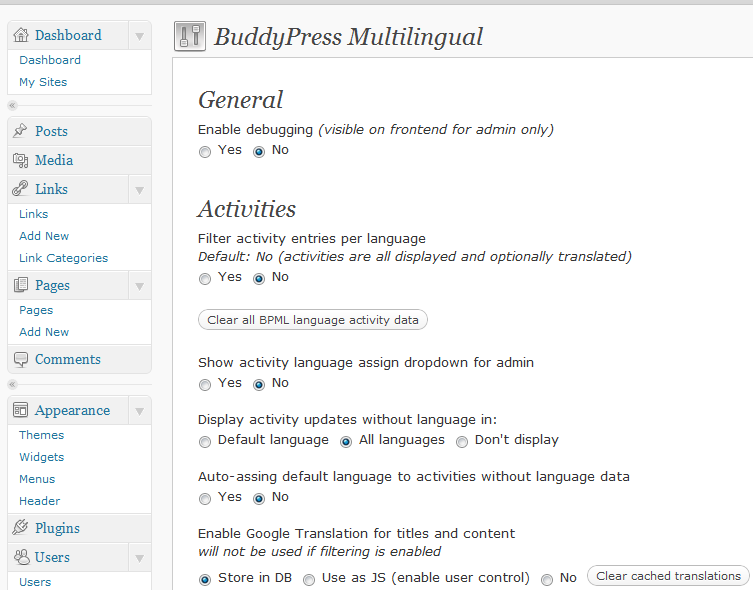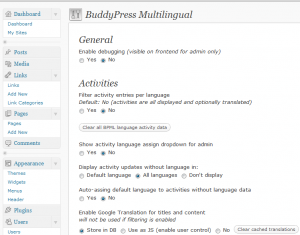 Persistent Language
BuddyPress adds a set of new components to your WordPress site. These include the activity stream, groups, members and blogs.
BPML hooks to all these and inserts language names to the URLs. This way, when you navigate around the site, you stay in your language, without jumping back to the default language.
You can translate posts and pages normally. Like other WPML sites, visitors will see standard WordPress content in their own language. The social data (like messages and activity) is shared across all languages. When an update is made in English, it's also seen in all other languages.
Download
BuddyPress Multilingual is a free plugin. You can get it from:
http://wordpress.org/extend/plugins/buddypress-multilingual/
To run, it requires the recent version of BuddyPress (currently, 1.2.8) and WPML 2.2.1 and higher.
Support
For help, suggestions and requests, please visit WPML forum.