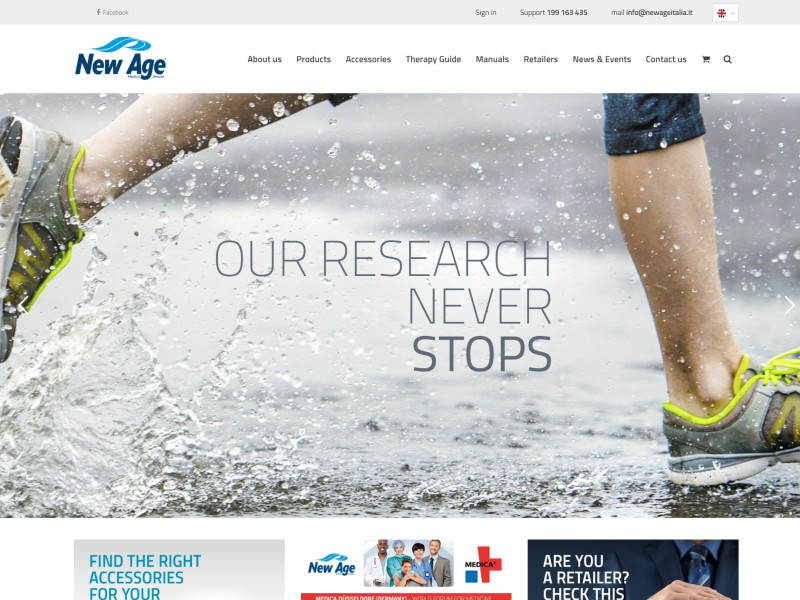 A leading company in electro-medical devices for over twenty years, New Age needed a new website for the sale of its rehabilitation and physiotherapy products.
For this project, we worked closely with our partner ProArte, who was responsible for the creation of the new platform graphics.
SED Web has dealt with the technical development of multilingual E-commerce website, created with the aim of highlighting the company profile, its products and all the elements useful for professionals who rely on the experience and the New Age brand.
We have set up an E-commerce website able to offer different browsing experiences to users depending on whether it is a professional, b2b, or a b2c. The site includes a dedicated section for the download of the user manuals and the therapeutic guides for the correct use of medical equipment and their accessories, as well as a section for the company news and a search engine for authorized dealers of equipment New Age.
Helping to increase prestige to a brand as big and important as New Age, through a site that could highlight its professional profile at a global level, has made it necessary to add Italian, English, Spanish and Portuguese languages.
http://newageitalia.it/en/
How to build a multilingual e-commerce website with Toolset and WPML
To build an e-commerce site similar to this one with Toolset and WooCommerce you will need to:
Optional steps
Add a product categories slider
Create front end forms so users can add and edit products using Forms
Display information on store orders and which customers bought a product
You can find more details on each step within our guide to creating an e-commerce WordPress site. We have also created an example of a multilingual shop.
To translate an e-commerce website with WPML you will need to
If you are assigning translations
You will want to follow the steps above but you will need to send content for translation.
Report a problem