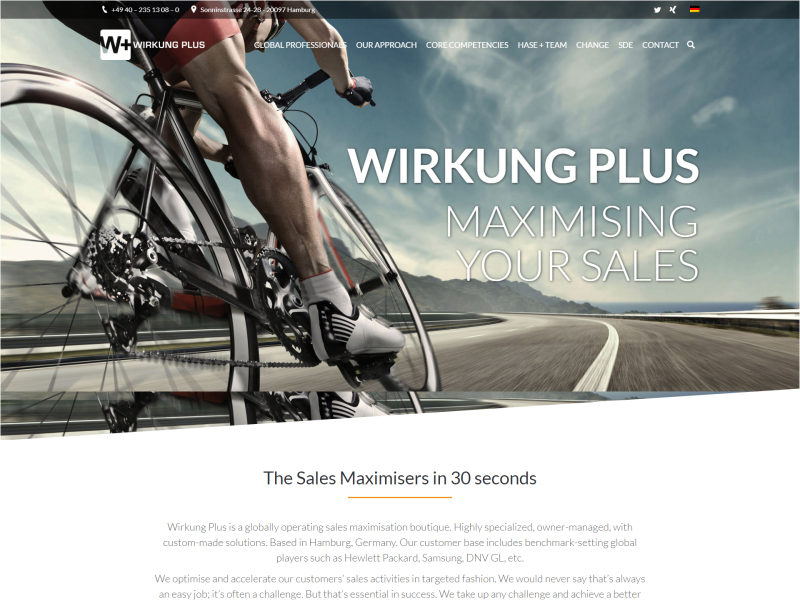 Effect Plus is a global sales-maximization boutique. Highly specialized, with bespoke solutions and owner-managed. Effect Plus has been optimizing and accelerating the sales activities of its clients in more than 15 countries for over 15 years. Hewlett Packard, Sennheiser or Samsung. The multilingual website uses Wordpress. Fast and uncomplicated operation, search engine friendliness and fast loading time were on the customer's wish list.
- German -
Wirkung Plus ist eine weltweit tätige Vertriebs-Maximierungs-Boutique. Hochspezialisiert, mit maßgefertigten Lösungen und Inhabergeführt. Wirkung Plus optimiert und beschleunigt seit über 15 Jahren in ca. 20 Ländern die Vertriebs-Aktivitäten ihrer Auftraggeber, wie z.B. Hewlett Packard, Sennheiser oder Samsung. Bei der mehrsprachigen Website kommt Wordpress Einsatz zum Einsatz. Schnelle und unkomplizierte Bedienung, Suchmaschinenfreundlichkeit und schnelle Ladezeit standen auf der Wunschliste des Kunden.
https://wirkung.plus/en
How to build a multilingual brochure website with Toolset and WPML
To build a multilingual brochure website with Toolset you will need to:
To translate your brochure website with WPML you will need to:
If you are assigning translations
You will want to follow the steps above but you will need to send content for translation.
You can find more details on each step within our guide on how to translate a WordPress website.
Report a problem