Gestaltet von CSSIgniter — besuchen Sie Acoustic
The Theme Acoustic wurde vor mehr als 5 Monaten getestet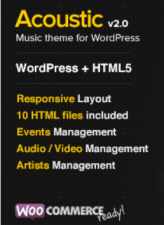 Ein WordPress-Theme für DJs, Solokünstler, Bands, Verbände, Clubbetreiber, Musikproduzenten, Eventmanager und alle in der Musikbranche.
Kompatibel mit WPML Getestet vom WPML-Team

Theme's Category:
Musik
Version 2.2 Zuletzt getestet am: 14/02/14
Themes designed by CSSIgniter
Blockchain is a business / cryptocurrency / ICO WordPress theme. ICO Advisor? Maybe focused on Bitcoin / Altcoin trading? Whatever your trade, Blockchain is here to help you build the perfect WordPress website.

Responsives WordPress-Theme, das speziell für die stilvolle Präsentation Ihres Hotels / Ihrer Ferienanlage gestaltet wurde.

Transform your WordPress website into an eCommerce store.