Gestaltet von AIT Themes — besuchen Sie FooCamp
The Theme FooCamp wurde vor mehr als 5 Monaten getestet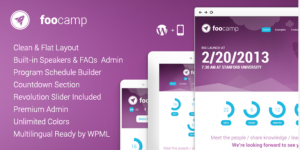 FooCamp theme is for anybody who's organizing a conference or barcamp. Theme has built in features that allow you to easily configure conference program schedule in different rooms and locations, speakers details, FAQ section and nice countdown. Powerful admin allows you to change look&feel of the website, colors and backgrounds, custom built features, layout and color options. Theme can be also used for standard corporate or business websites.
Getestet vom WPML-Team. Vom Autor wurden keine Änderungen gemeldet, die sich auf die Kompatibilität auswirken., Kompatibel mit WPML

Theme's Category:
Events
Version 1.20 Zuletzt getestet am: 27/03/17
Themes designed by AIT Themes
Tour Operator eignet sich für Reiseagenturen, Hotelanlagen, Gästehäuser, Frühstückspensionen, Campingplätze oder andere Unternehmen, die einfache Reservierungen benötigen.

Das WordPress-Theme Doctor wurde speziell für medizinische Websites aller Art gestaltet, für Ärzte, Zahnärzte, Hausärzte oder auch Krankenhäuser.

Das WordPress-Theme Lawyer ist ein spezialisiertes Theme für Juristen, Staatsanwälte und Rechtsanwälte.