This article is a collection of practical hints you can immediately apply to your multilingual site to better optimize it for search engines.
We prepared 8 infographics for you, each followed by an easy exercise. Just pick one for today, put your fingers on the keyboard and improve your page rank.
If you prefer some in-depth reading, please check the Multilingual SEO page.
Hint #1: see your page through Google's eyes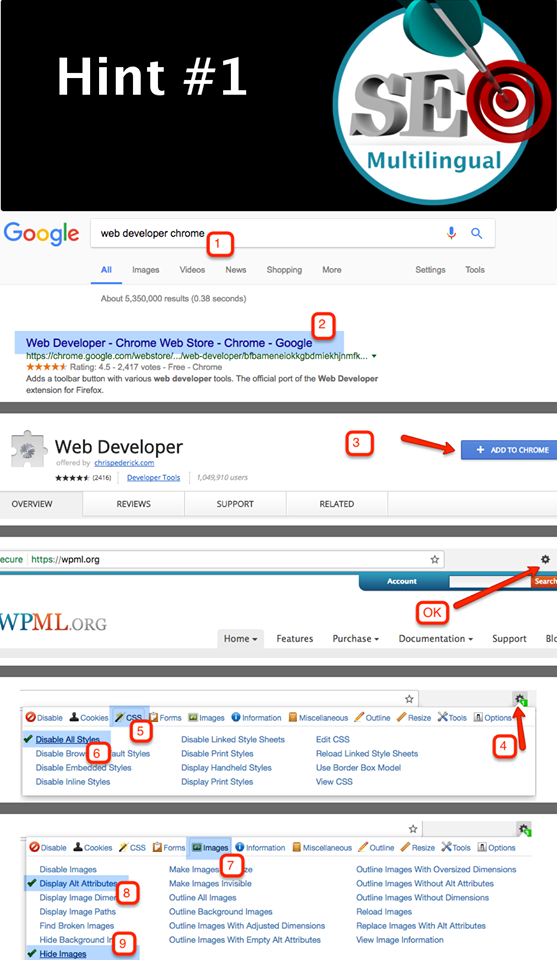 When Google reads your page, it sees it a little differently than you would from a browser.
Google doesn't care about fancy design, fonts, colours, animation and images. Well-structured content is the only thing that matters.
Warm-up task for you
Use the Web Developer add-on for Chrome (or its Firefox counterpart) to disable the CSS styles and images and only display alts instead. The picture will help.
Are you still satisfied with what you see?
---
Hint #2: check your headings structure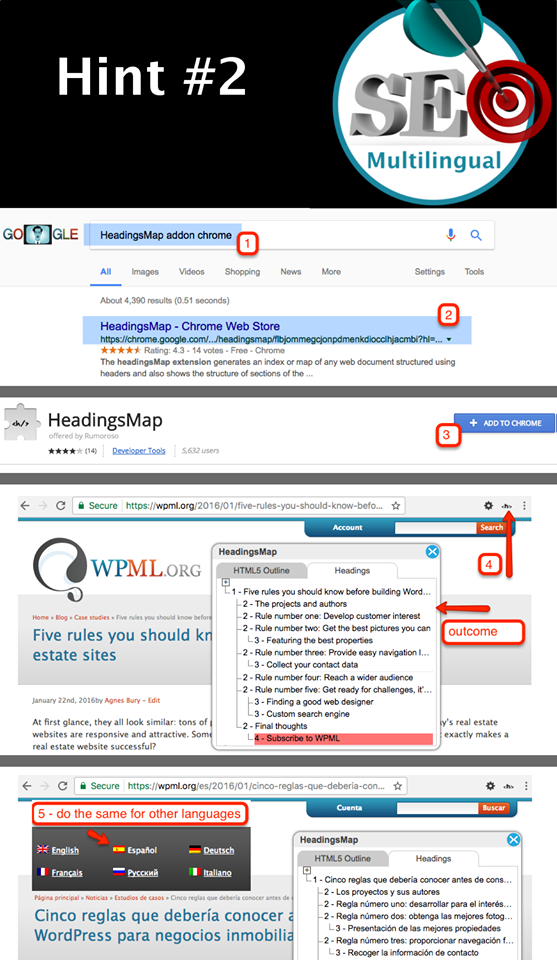 The heading structure of your pages is one of the very important aspects of on-page SEO (source: The heading structure for your blog by yoast.com)
Task for you
Install the "HeadingsMap" add-on for Chrome, pick a page and check its page headings hierarchy. Check translated pages as well.
---
Hint #3: Make sure the page language is obvious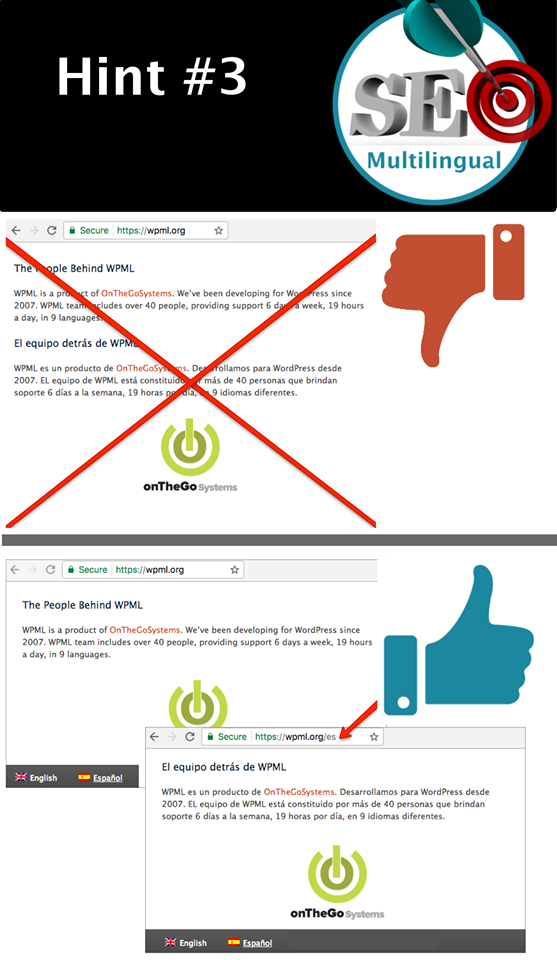 Google will try to determine the main language of each of your pages. All code-level language info, such as lang attributes, will be ignored by Google.
You can help Google determine the language correctly by using only one language per page and by avoiding side-by-side translations.
Task for you
Check your site and make sure you don't have any side-by-side translations, e.g. Contact us/Contáctenos/Kontaktieren Sie uns on the same page, and stuff like that.
---
Hint #4: Make sure each language version is easily discoverable
Avoid automatic redirection based on the user's language.
These redirections could prevent users (and search engines) from viewing all the versions of your site.
Use a language switcher instead. Make sure it stands out.
Task for you
If you use the 'Browser language redirect' option, check if Google already knows about your site by performing a "site:" search like this: site:wpml.org . Make sure links to all of your language versions show up.
Ask a friend to locate the language switcher on your site. If it takes her/him more than a few seconds, you might reconsider its location.
---
Hint #5: Add alt attributes and captions to your images. Don't forget to translate them!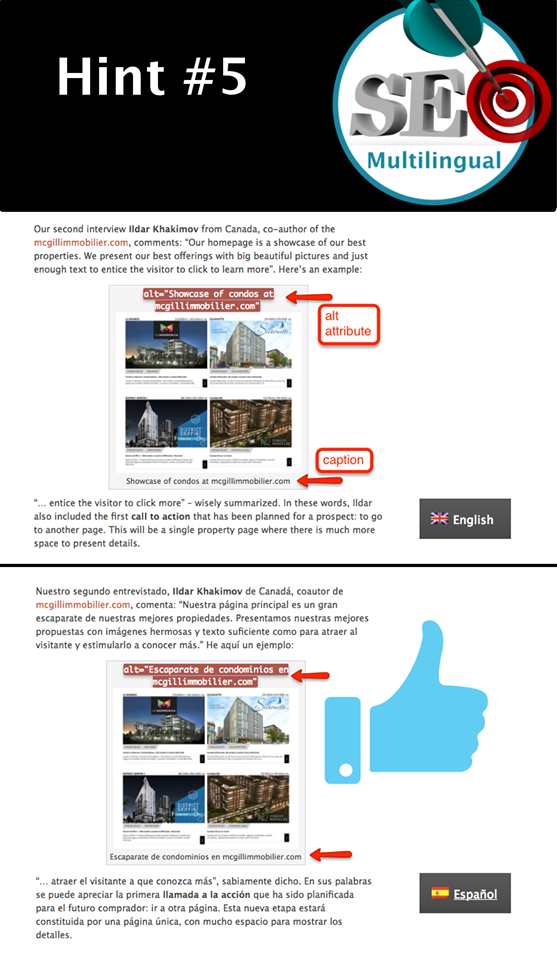 Accurate information in your alt attributes can make your images more discoverable on the web.
The caption of the image is the text that accompanies the image and is visible to people reading your page.
Captions get read more often than body copy. While people tend to scan an article, they will stop at images to read the accompanying captions. Translating captions engages your readers more effectively..
Task for you
Pick a page that has images. Ask a friend to quickly scan the article. Watch her to see where she pauses. Take a note at which images she stops. If they don't have captions, add them.
Check if your images have alts. The Web Developer add-on (which we introduced in Hint #1) can help. Check if your alt attributes have been translated
---
Hint #6: Use hreflang for language and regional URLs – the right way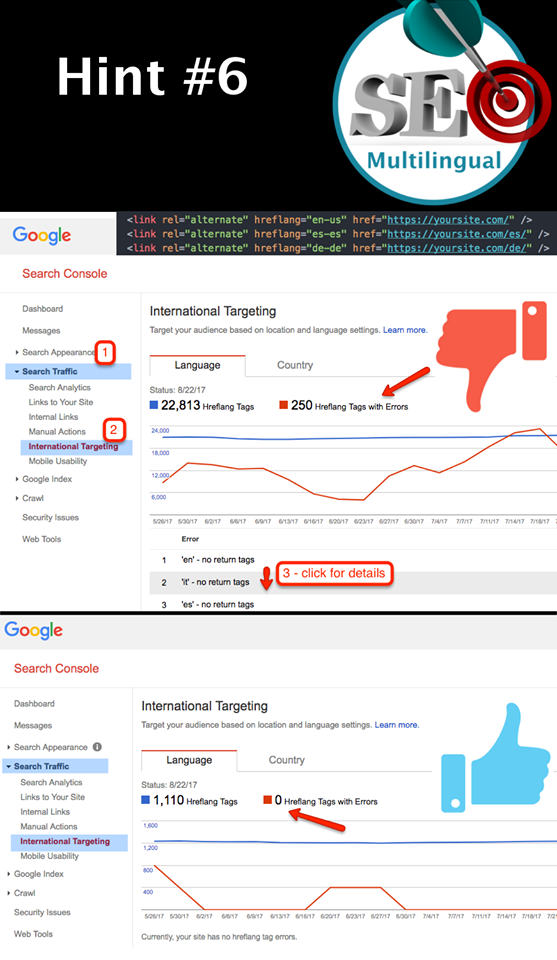 The hreflang attributes tell Google about available translations. Google uses the hreflang attributes to serve the correct language or regional URL in Search results.
When used correctly, hreflang attributes can dramatically improve search engine positioning.
When you use WPML to build multilingual WordPress sites, the hreflang attributes are created and added automatically to your source pages.
Task for you
Use Google Search Console to check if you don't have any hreflang tags with Errors
---
Hint #7: For multi-regional websites go ahead and duplicate your content if it makes sense to do so.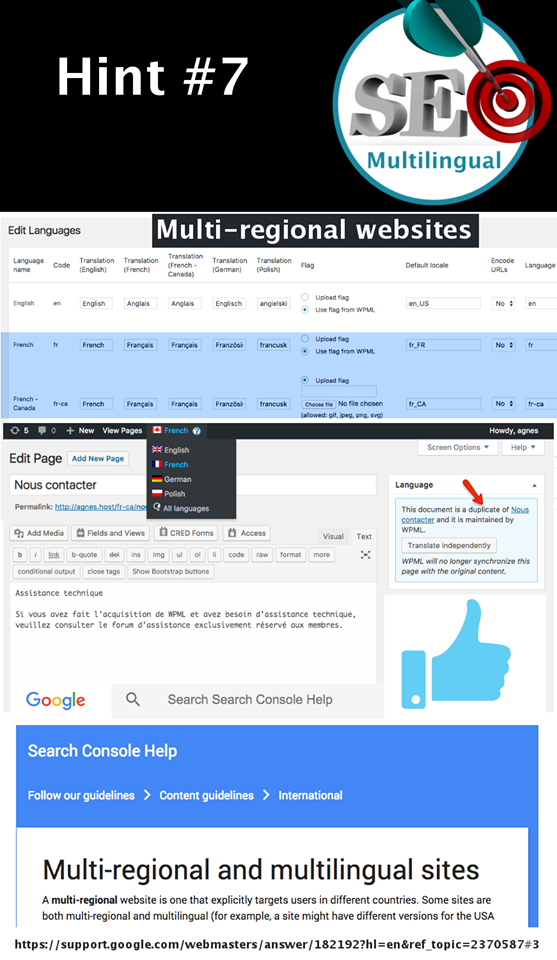 Websites that provide content for different regions sometimes feature the same content at different URLs:
yourdomain.com/fr/nous-contacter (French content, independent of region)
yourdomain.com/fr-ca/nous-contacter (French for Canada)
Task for you
If your page content happens to be the same for both URLs, feel free to use the duplicate option provided by WPML.
Many WPML users hesitate to use the duplicate option to avoid being punished by Google. However, Google approves of this use:
"This is generally not a problem as long as the content is for different users in different countries. While we strongly recommend that you provide unique content for each different group of users, we understand that this might not always be possible. There is generally no need to "hide" the duplicates by disallowing crawling in a robots.txt file or by using a "noindex" robots meta tag. "
Source: Duplicate content and international sites at support.google.com/webmasters/
---
Hint #8: Add breadcrumbs to pages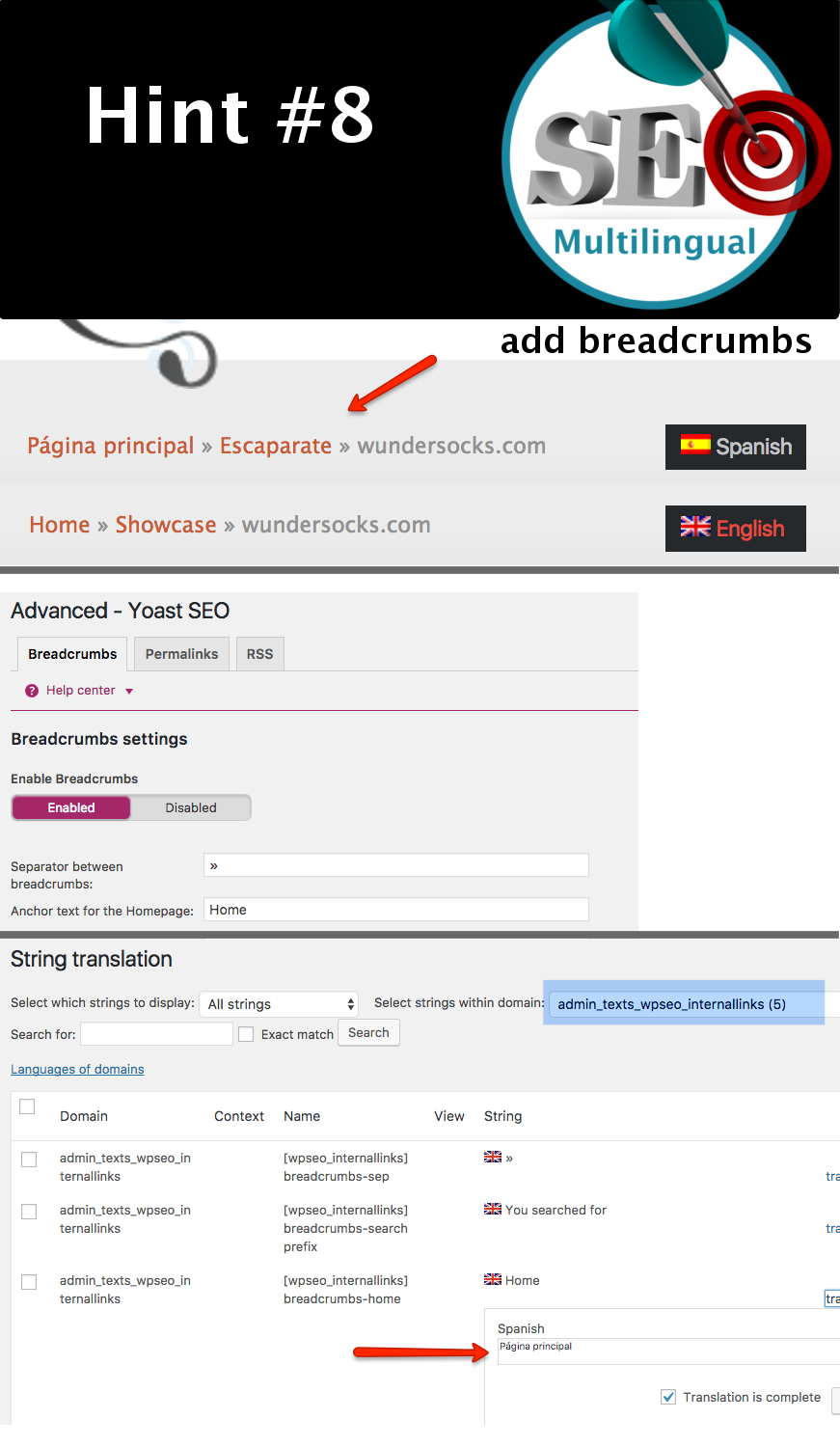 If you use breadcrumbs, both Google and your visitors will immediately understand where each page belongs.
Task for you
Add breadcrumbs to your WordPress site.
The easiest way to add breadcrumbs to your website is to use the breadcrumbs rendered by the breadcrumbs function of the Yoast SEO plugin.
Once breadcrumbs are enabled in advanced settings, then the page titles added to breadcrumbs will automatically appear in the appropriate language. The only exception is the anchor text for the homepage. You need to translate it in the WPML String Translation panel.
Read more on How to use the Yoast SEO plugin with WPML.
Your tactics to improve SEO ranking of your website
What else helps you to optimize your multilingual site for search engines? Share your hint in comments.