WPML makes it easy and affordable to translate your site and keep those translations up to date using automatic translation.
There are two ways to use automatic translation on your site:
Automatically translate your entire site
Automatically translate individual pages, posts, and other content
To translate content automatically, please be sure you have enabled the Advanced Translation Editor in WPML → Settings. You also need to either assign automatic translation credits to your site or sign up for pay-as-you-go.
Choosing a Translation Engine
Before choosing an automatic translation engine, we suggest you take a look at the list of supported languages for automatic translation with WPML.
You can choose from the following translation engines to power your automatic translation:
Read more about how to change or disable automatic translation engines.
Translating Your Whole Site Automatically
WPML lets you translate entire sites using a combination of automatic translation and human review. You can use this setting to translate the following types of content:
Posts
Pages
Taxonomy terms assigned to any posts or pages
WooCommerce Products
Some content from popular plugins
Your site might also feature custom post types and custom fields. By default, these will not usually be automatically translated. However, you can easily enable automatic translation for any post type, custom field, or taxonomy on the WPML Settings page.
To translate your whole site automatically, choose Translate Everything Automatically in the WPML setup wizard or in WPML → Settings.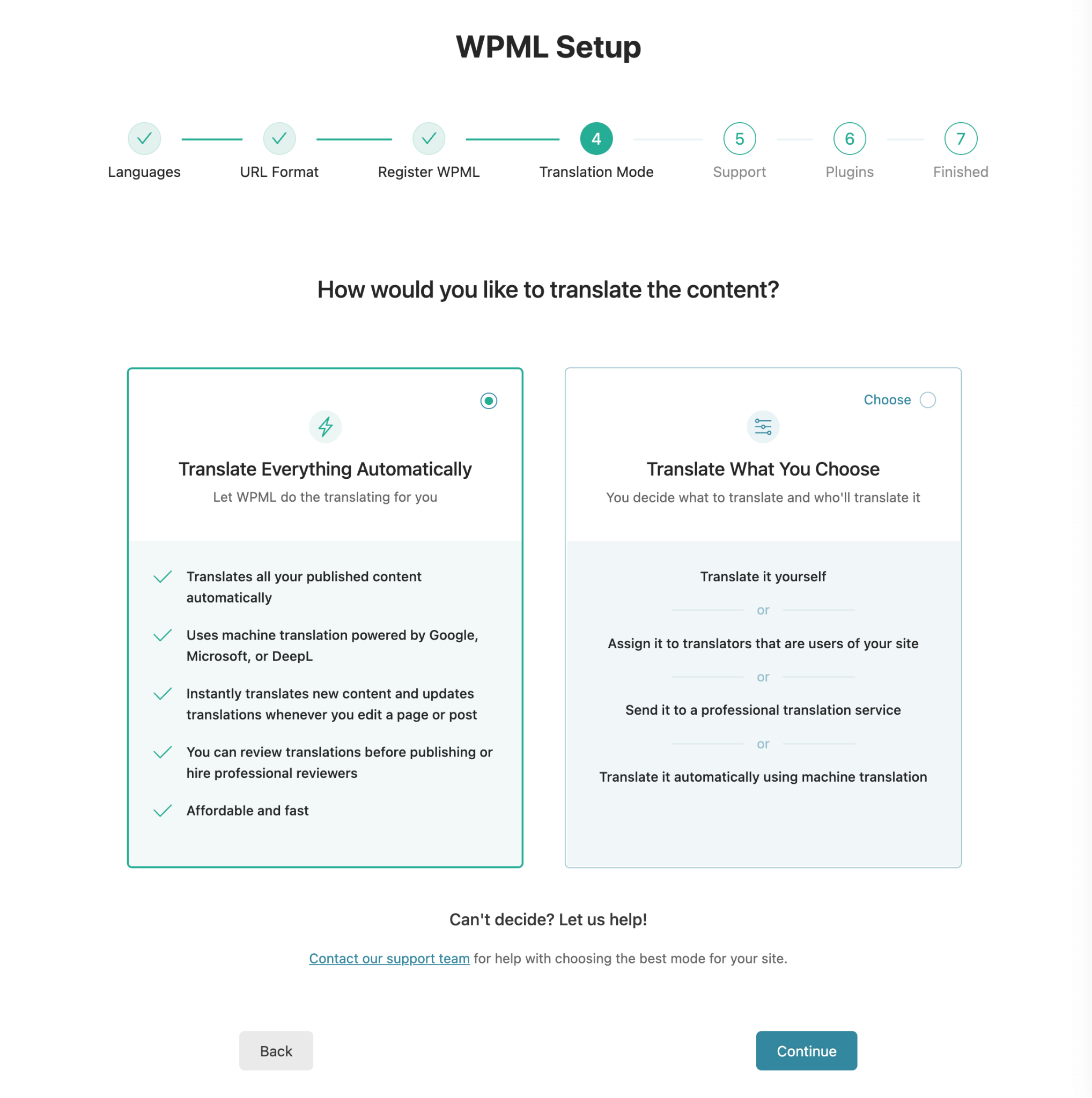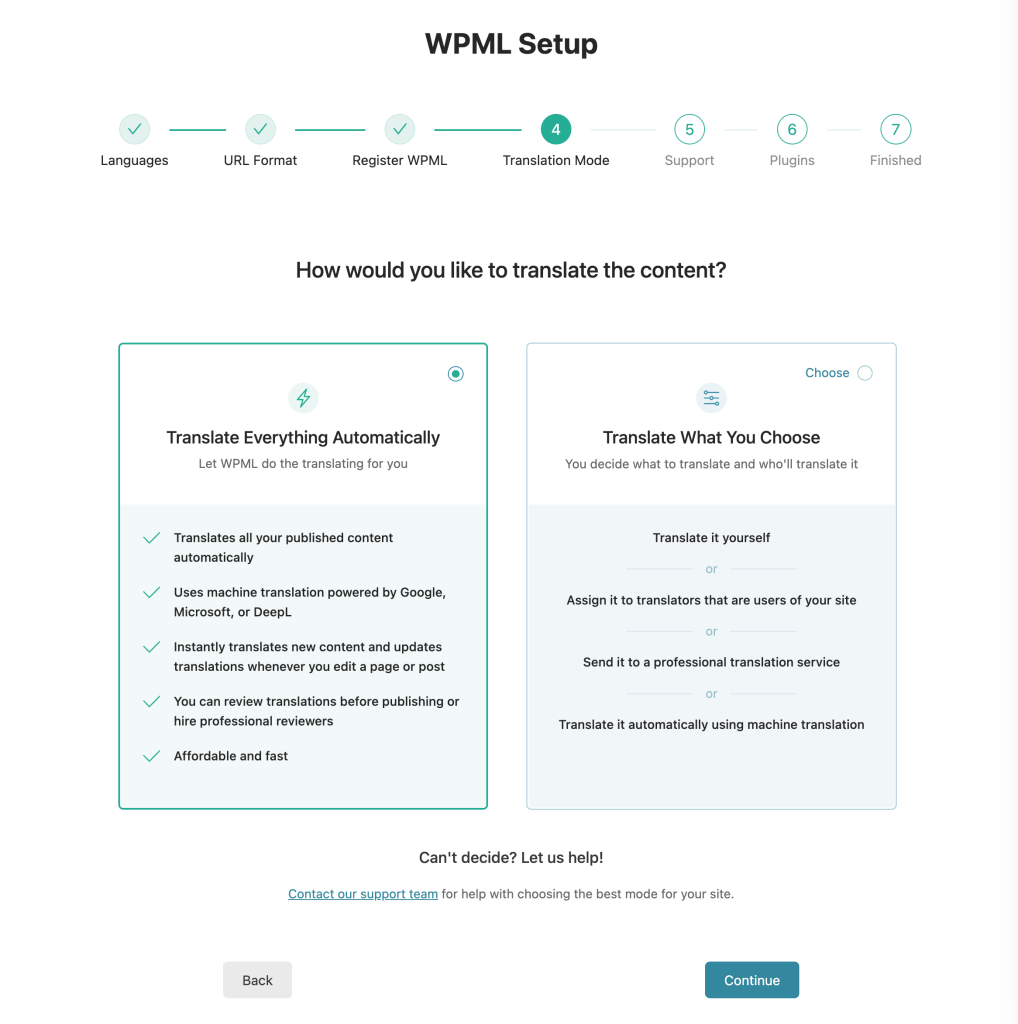 With Translate Everything Automatically, you don't need to send any of your posts and pages to translation. Instead, WPML will translate them in the background any time you publish new content or edit existing content. This means your site will always have up-to-date translations.
You can temporarily pause automatic translation anytime from the Translation Management Dashboard. This can be helpful if you still want to translate your whole site, but you need to finalize your site's content first. When you unpause it, WPML will ask if you want to translate the content you added or edited in the meantime.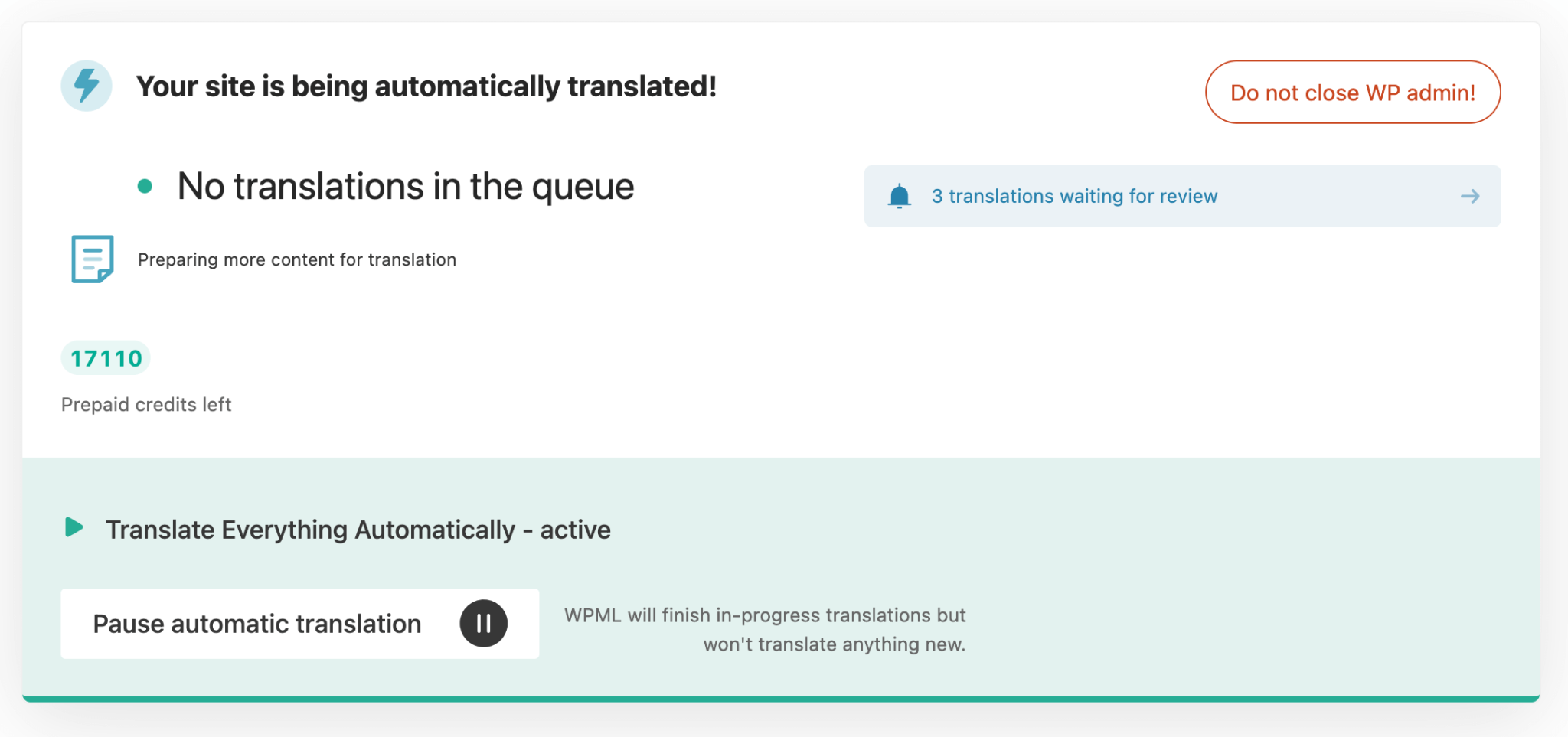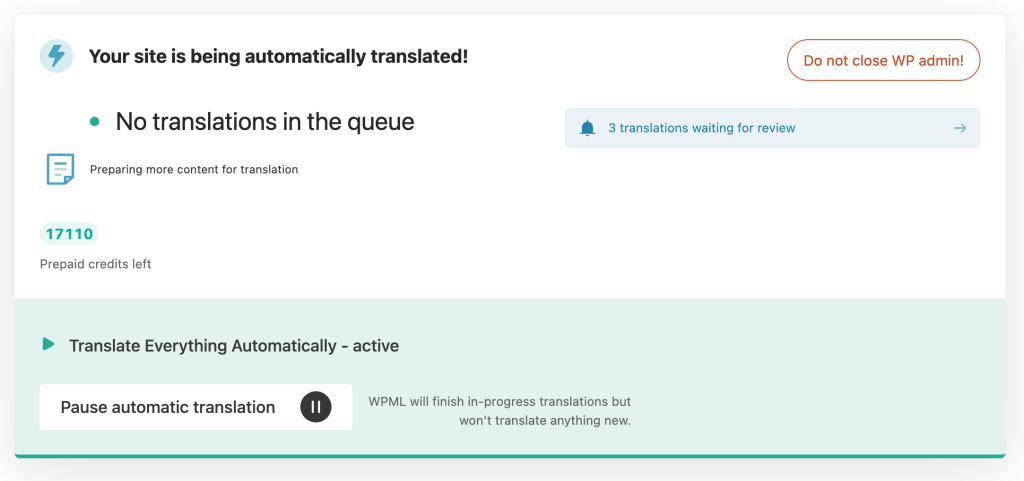 Please note that this feature does not automatically translate the following:
Unpublished drafts
Content created in a secondary language
Pages or posts that were previously translated using a different method. This is so you won't overwrite existing translations. Instead, please continue to use the same translation method you used originally to translate those pages and posts.
Translating Individual Pages, Posts, and Other Content Automatically
If you don't need to translate your whole site, you can still use automatic translation for the content you do want to translate. Automatic translation is great for generating quick translations, first drafts, short texts, e-commerce product descriptions, and more.
To translate individual pages, posts, or other content, select Translate What You Choose in the setup wizard or in WPML → Settings.
Then, set up any other translators you want on the site.