Google Translate is one of the most well-known machine translation engines. However, it doesn't come with the option to automatically translate your entire WordPress site. This is where multilingual plugins come in handy.
Automatic translation is the fastest and most cost-effective way to build a multilingual website. It allows you to translate your entire site and connect with global audiences in a matter of minutes.
But, why exactly should you choose Google Translate as your automatic translation solution?
Why Choose Google Translate
Google Translate needs no introduction. Like most people, you've likely translated many phrases with this machine translation engine.
But Google Translate is more than a popular translation service provider. You can additionally expect:
Translation accuracy – No automatic translation tool is perfect, but Google Translate comes close. A study assessing the use of Google Translate in healthcare can confirm this. It found translations from English into Spanish to be 92% accurate.
Large number of supported languages – Google Translate supports over 130 languages used across the world. This includes unique languages such as Corsican, Macedonian, and Somali.
The Google Translate web service is free, and you can open it on any web browser. On the downside, it requires you to manually enter the content you want to translate. For website translation, copy-pasting sentences into Google Translate isn't a usable solution.
The good news is that Google provides an alternative option. Software developers can use its automatic translation service – without leaving their apps and tools.
In other words, to translate a website, you'll need a dedicated software solution.
Using Google Translate on a WordPress Site
WordPress started as a tool for bloggers. Today, it is the most popular content management system available. One of the main reasons why WordPress is so popular is its flexibility. If there's a feature missing from its core, you can add them with the help of plugins.
However, WordPress sites are not translatable out-of-the-box. To translate your WordPress site, you need to use one of the multilingual plugins. And, the plugin needs to be integrated with the Google Translate service.
Why You Should Choose the WPML Plugin
WPML offers more than most other WordPress translation plugins. It comes integrated with top automatic translation services, one of which is Google Translate. Thanks to this, you can translate every element of your WordPress site, including:
Posts, pages, and custom post types
Categories, tags, and custom taxonomies
WooCommerce products
Content created with popular page builders, like Elementor, WPBakery, Divi, and more
WPML also lets you choose how you want to use Google Translate on your site.
Decide How to Translate Your Site with Google
With WPML, you have two main modes of translating your site using Google Translate
Automatically translate your entire site.
With this option, you don't need to send posts and pages to translation. WPML takes care of sending new and updated content for translation to Google. The generated translations are then instantly added to your WordPress site. You can choose to publish the translations right away, or review them first.
With WPML, accessing your automatic translation settings is easy. Need to check your automatic translation credit balance? Want to see what translations are waiting for review? No problem! Just go to WPML → Translation Management.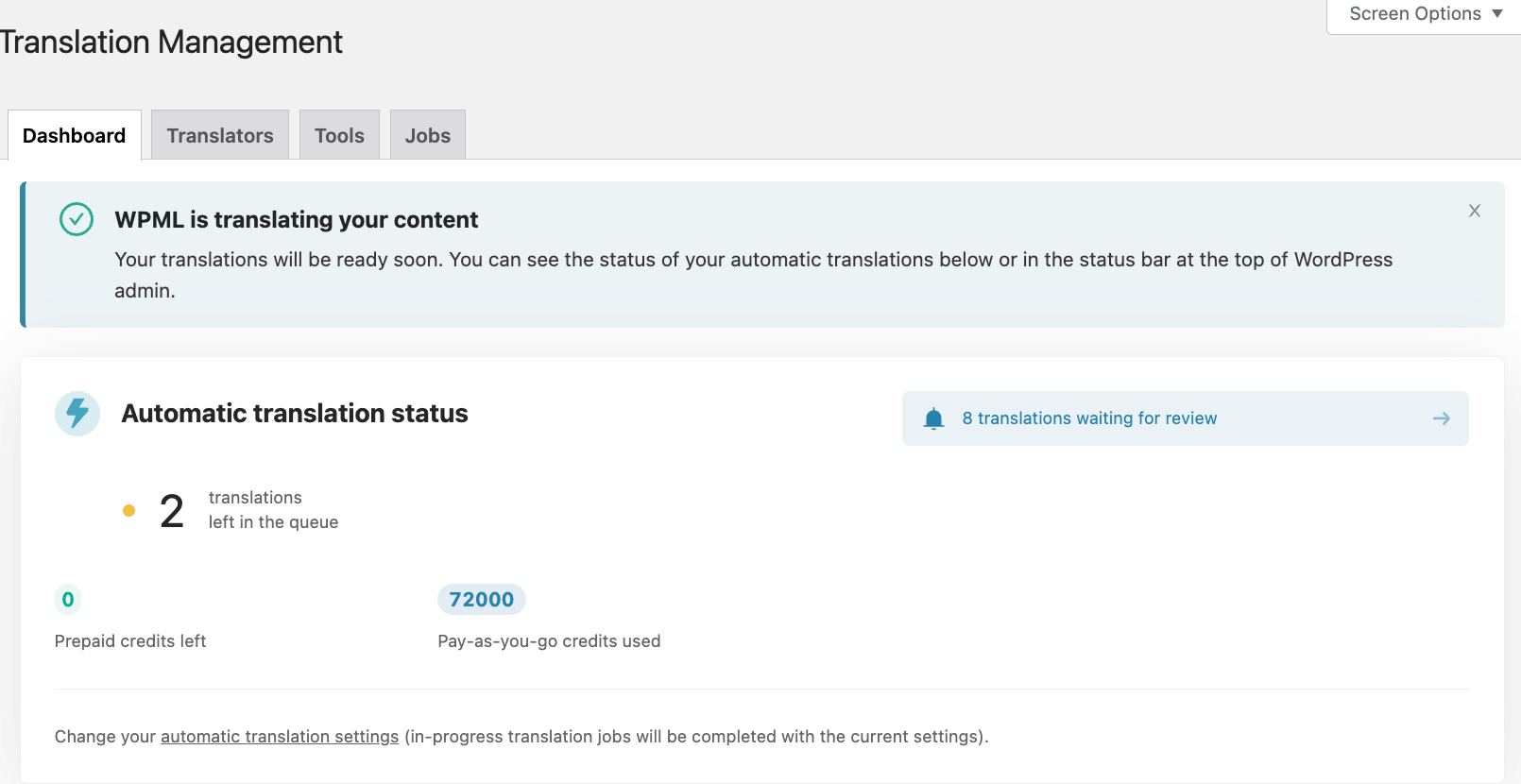 Automatically translate individual posts and pages.
You may not want WPML to translate your entire site's content as it gets published. In this case, you can send single posts and pages for automatic translation. The content opens in WPML's built-in computer-assisted translation (CAT) tool, the Advanced Translation Editor. To let Google start translating, simply click Translate automatically. This fills in the automatic translations, which you can then edit.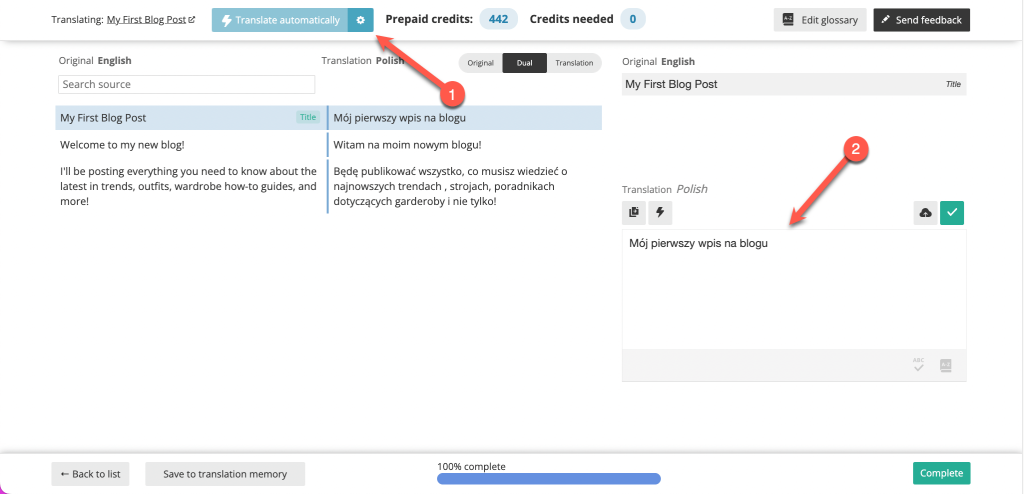 As you can see, the editor gives a clear view of the original text and translations. It also includes features like translation memory and glossary management.
How Much Does Automatic Translation Cost?
When you purchase WPML, you receive free automatic translation credits. The Multilingual CMS account comes with 90,000 credits. You'll get 180,000 credits with the Multilingual Agency account. And if you activate pay-as-you-go for automatic translation, you get 2,000 free credits each month. This amount of credits is enough to completely translate most WordPress sites.
If you need to translate more content, you can choose from two pricing options: pay-as-you-go and prepaid credits. Both options let you translate your website for less than a cent per word.
Getting Started with Google Translate and WPML
Ready to use WPML with Google Translate? First, you have to assign automatic translation credits to your site or sign up for pay-as-you-go.
Then, you can move on to setting Google Translate as your top-choice automatic translation engine:
Go to WPML → Translation Management and enter the Tools tab.
Expand the Automatic translation engines section.
Drag and drop Google to the first position.

Now, go to WPML → Settings to choose a translation mode: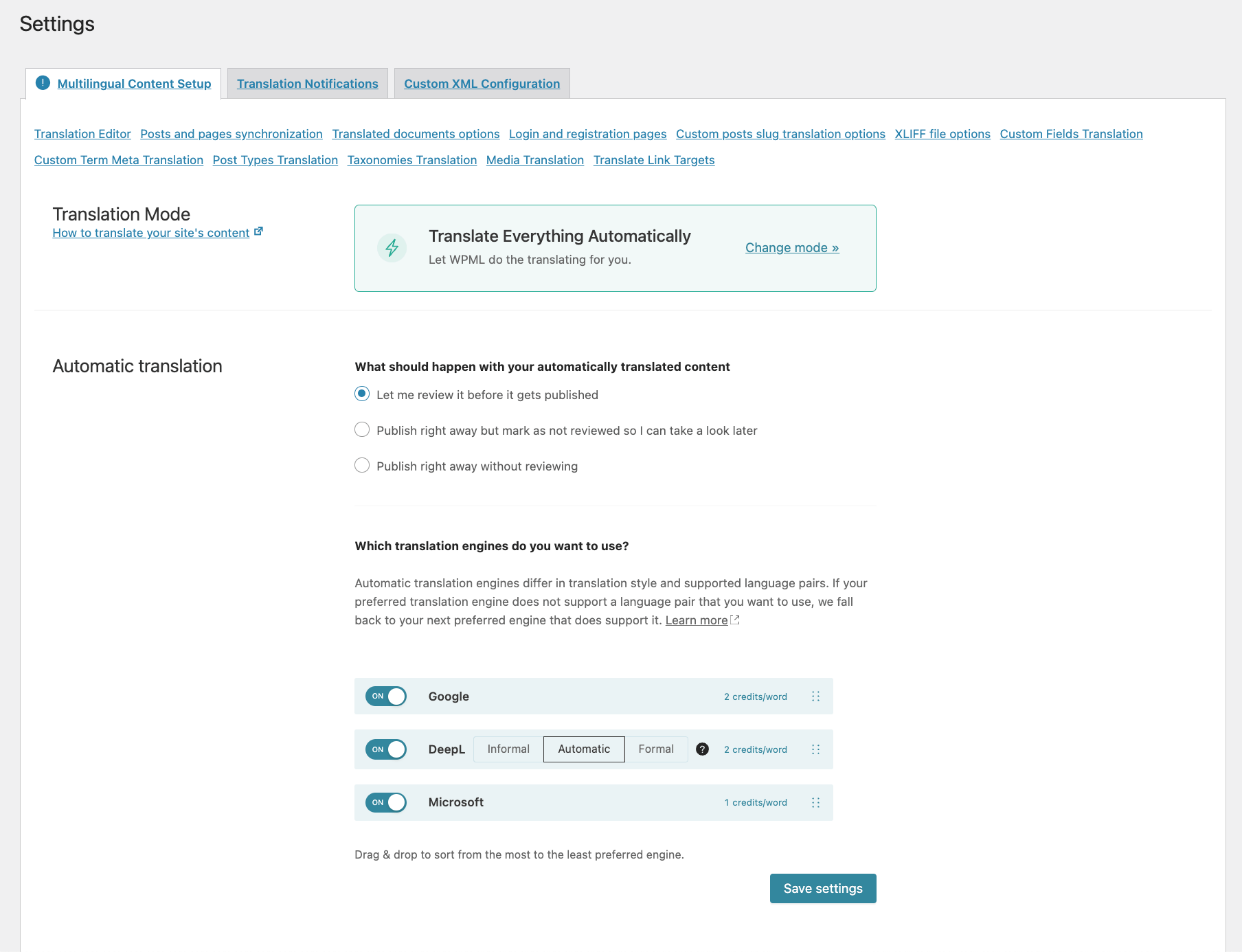 Interested in Learning More About Automatic Translation?
Take a look at our comprehensive guide to automatically translating your WordPress site with WPML.
You can also read more about the other translation engines we offer: DeepL and Microsoft Azure Translator.