DeepL offers fast, affordable machine translation without sacrificing quality. With DeepL and WordPress, you can automatically translate your website into different languages.
Need to build a multilingual site, but working with a small timeline or budget?
DeepL can automatically translate your WordPress site into other languages, saving you time and money. Considered the best machine translation in the world, DeepL is capable of generating accurate, human-like translations that read naturally.
Although DeepL can quickly translate text with its desktop and mobile app, it can't translate WordPress sites directly. While it does offer an API service, you will first need to follow a technical setup before you can begin translating your site with DeepL.
Fortunately, there is already an easy solution that skips the technical implementation and seamlessly connects your website to DeepL.
In this guide, we'll explain how you can use a WordPress plugin to easily connect DeepL to your website. Then, we'll explain how you can use DeepL to automatically translate your content into different languages.
On This Page
Why Use DeepL to Translate Your WordPress Site?
DeepL offers the most accurate machine translation available today thanks to:
Advanced technology – DeepL uses AI innovations and neural networks to detect nuance and provide world-class translations.
Proven accuracy – In blind tests, DeepL outperforms competitors 3 to 1 in terms of translation quality.
Choose your level of formality – Fine-tune your translations to match the tone you want to convey on your site.
What Languages DeepL Supports?
Using DeepL, you can automatically translate your site into 29 languages. These include:
Bulgarian
Chinese (simplified)
Czech
Danish
Dutch
English
Estonian
Finnish
French
German
Greek
Hungarian
Indonesian
Italian
Japanese
Korean
Latvian
Lithuanian
Norwegian (bokmål)
Polish
Portuguese
Romanian
Russian
Slovak
Slovenian
Spanish
Swedish
Turkish
Ukrainian
In addition to these languages, DeepL also supports variations, like British English and American English. For the complete list of available languages, visit the DeepL supported languages page.
DeepL WordPress Integration: Step by Step Tutorial
On its own, DeepL doesn't offer a direct integration with WordPress sites. To use DeepL, you will either need to manually connect your site to its API, or use a translation plugin.
A translation plugin helps you send content to DeepL for translation, receive it back, and then automatically publish it to your site. It also helps you keep track of translations, easily edit them, and request new ones, all within your WordPress dashboard.
With a translation plugin like WPML, the entire process happens automatically. And thanks to a seamless integration with DeepL, you don't need API keys or a DeepL account.
In the following step-by-step tutorial, we'll explain how you can automatically translate your WordPress site with DeepL and WPML.
1. Create a WPML Account
To translate your WordPress site with DeepL and WPML, you will first need a Multilingual CMS or Multilingual Agency account type. Both offer a seamless integration with DeepL, and give you full access to additional automatic translation features, including:
Glossary – Keep translations consistent across your site by defining specific terms and translations.
Translation memory – WPML remembers content you've translated before so you never pay for the same translation twice.
Human review – If needed, you can perfect your translations with a quick review by a professional.
Advanced Translation Editor – WPML's side-by-side editor makes it easy to edit translations.
In addition to these features, WPML offers extra tools to quickly help you translate your website. You can learn more about WPML's capabilities on our Features page.
For more information about the WPML Multilingual CMS and Agency plans, visit our Pricing page.
2. Install WPML Plugin
To install WPML, download and activate OTGS Installer. This plugin helps you install and register the core WPML plugin and String Translation add-on, which you need for translating with DeepL.
You can download the OTGS Installer from the Downloads section in your WPML Account Dashboard. For full installation details, read our WPML installation guide with step-by-step instructions.
Once you install and activate WPML, start the Setup Wizard.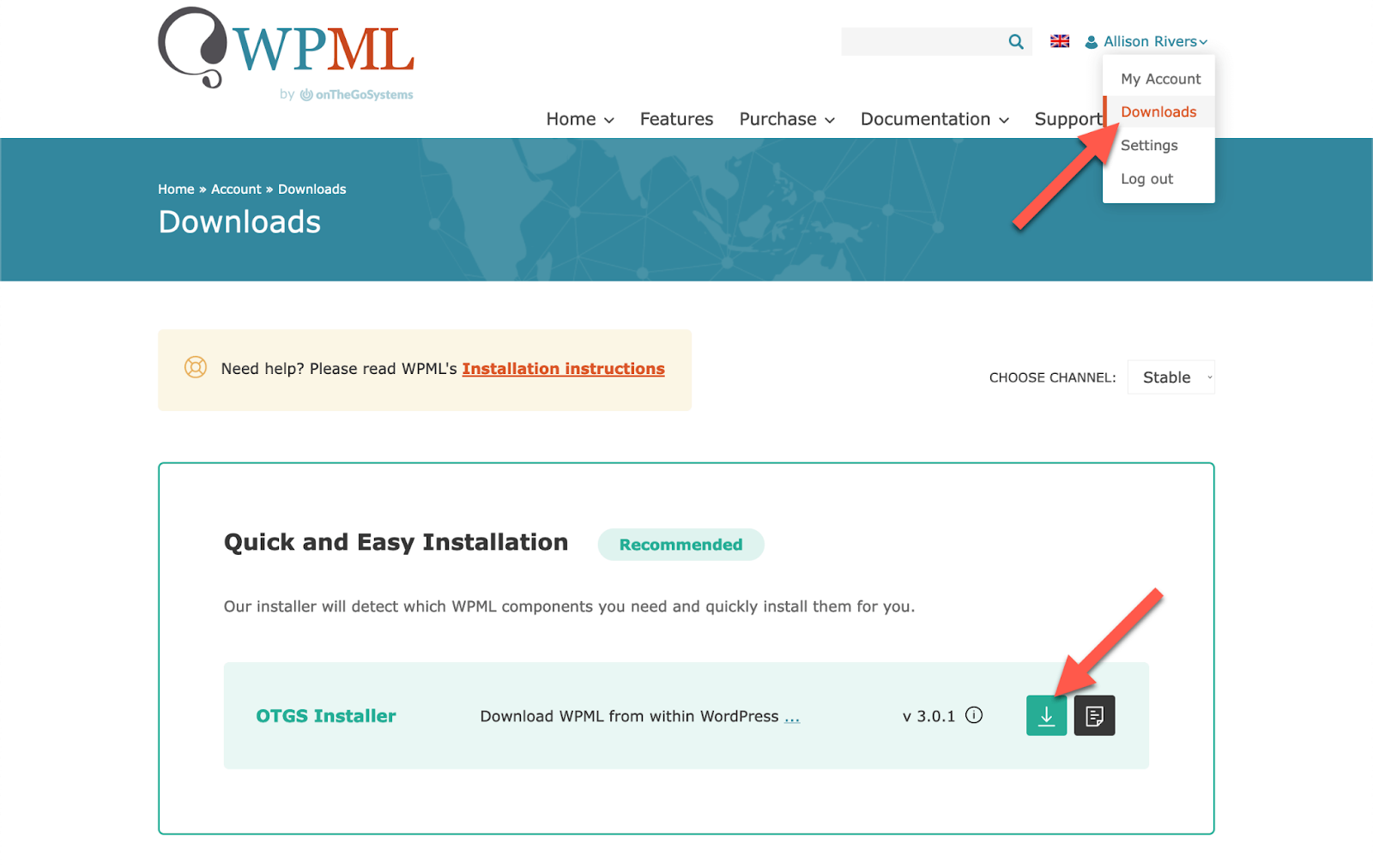 3. Choose Default and Translation Languages
To set the languages you'd like to translate with DeepL, first select your Default language. This is the language you're building your site in. Then, use the Translation languages field to choose the languages you'd like to translate your site into.
WPML doesn't limit the number of languages you can add, so choose as many as you need.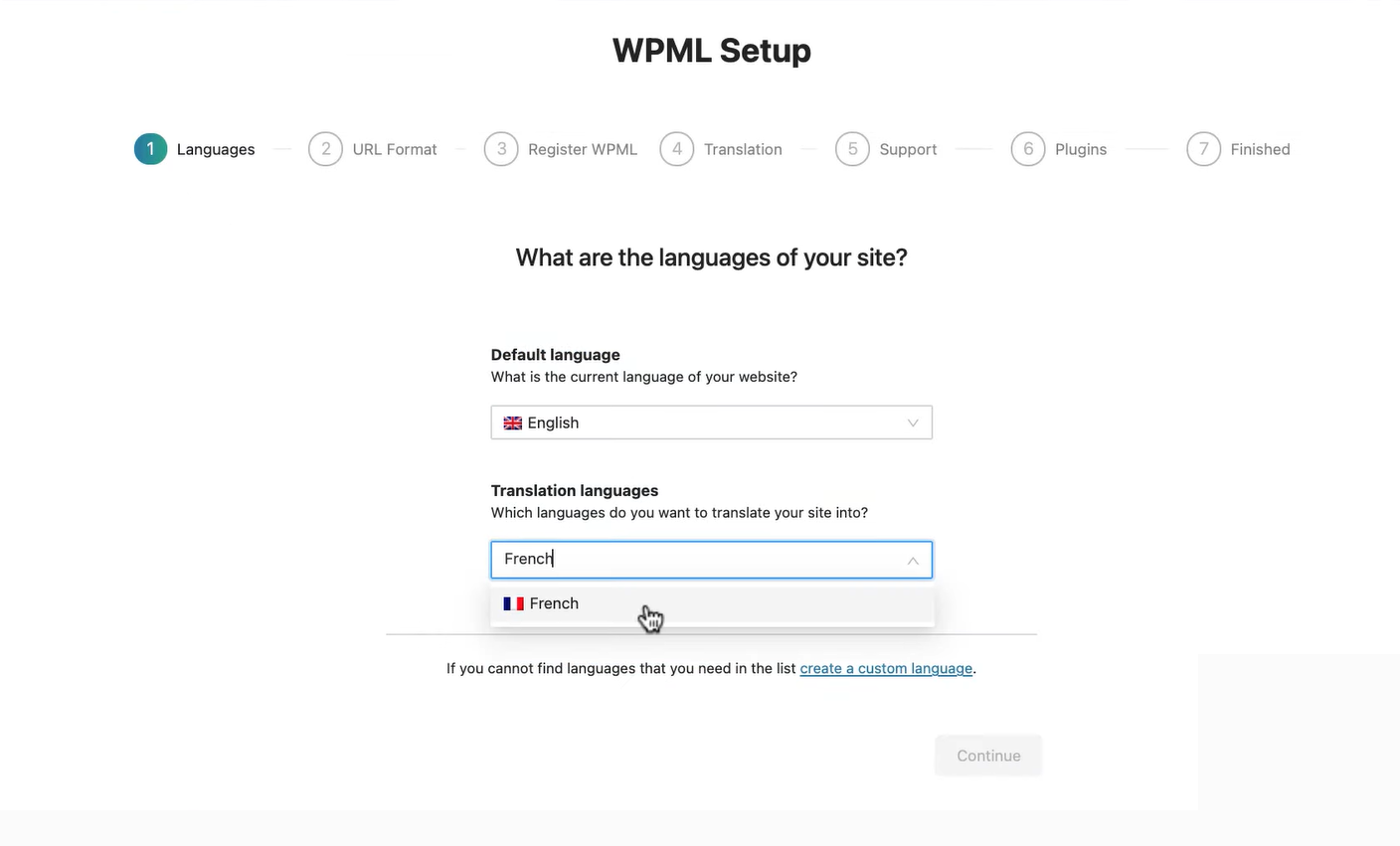 4. Enable Automatic Translation
WPML's Translate Everything Automatically feature lets you automatically translate your entire website with DeepL.
Choose this option to let DeepL automatically translate all the content of your website – pages, posts, custom post types, taxonomies, WooCommerce products, and more.
Then, specify what should happen after DeepL finishes translating your content. Depending on your preference, you can choose to:
Review the translations before publishing
Publish translations and review them later
Publish translations without review
As a best practice, it's a good idea to review your translations before publishing them on your site. Therefore, we recommend choosing the Review the translations before publishing option.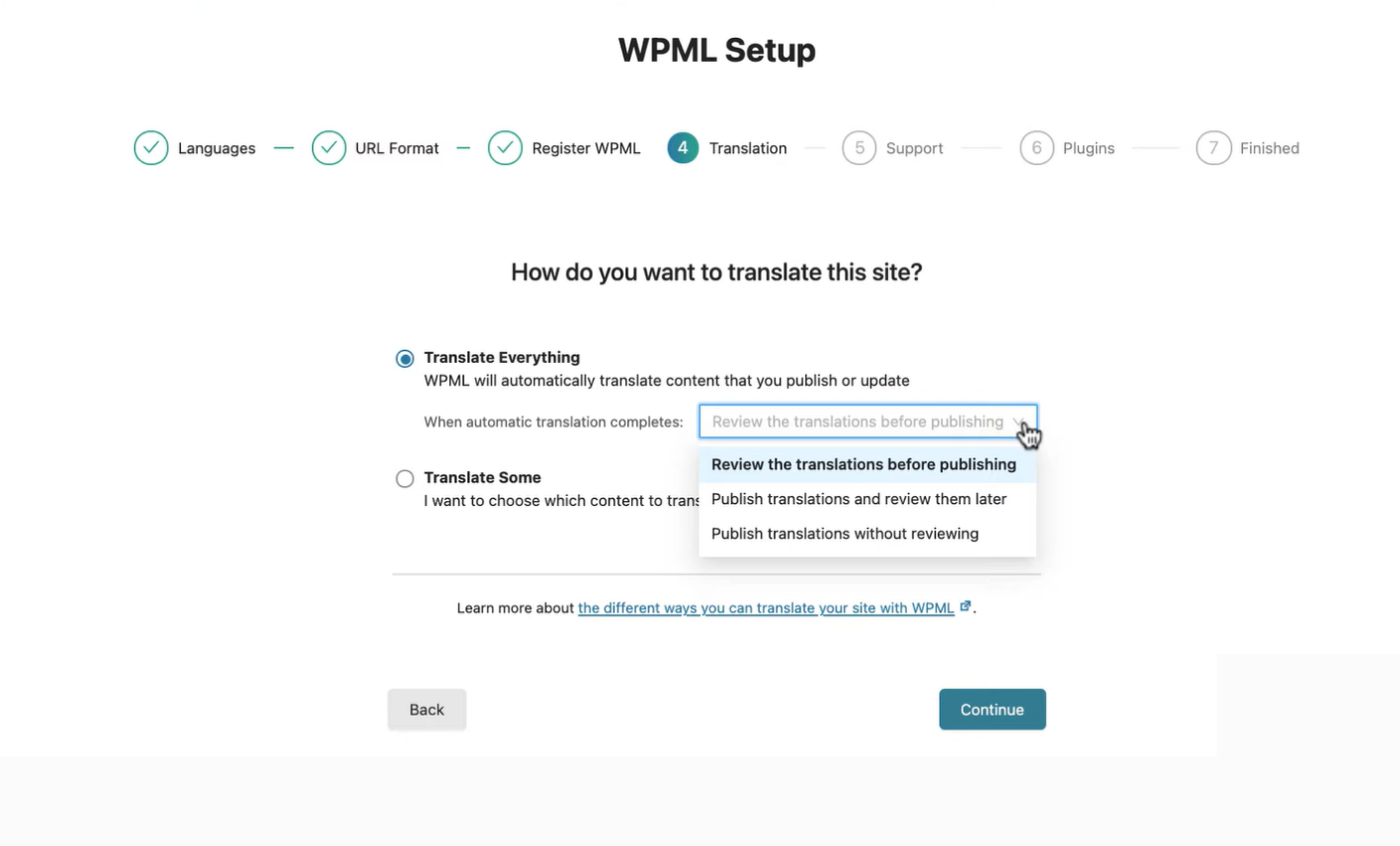 5. Automatically Translate With DeepL
Once the Setup Wizard is complete, WPML will immediately start sending content to DeepL for translation. This usually takes a few minutes but might take a little longer if you're translating a big site.
You don't need to take any further action while DeepL is translating your content. WPML will notify you when translations are complete.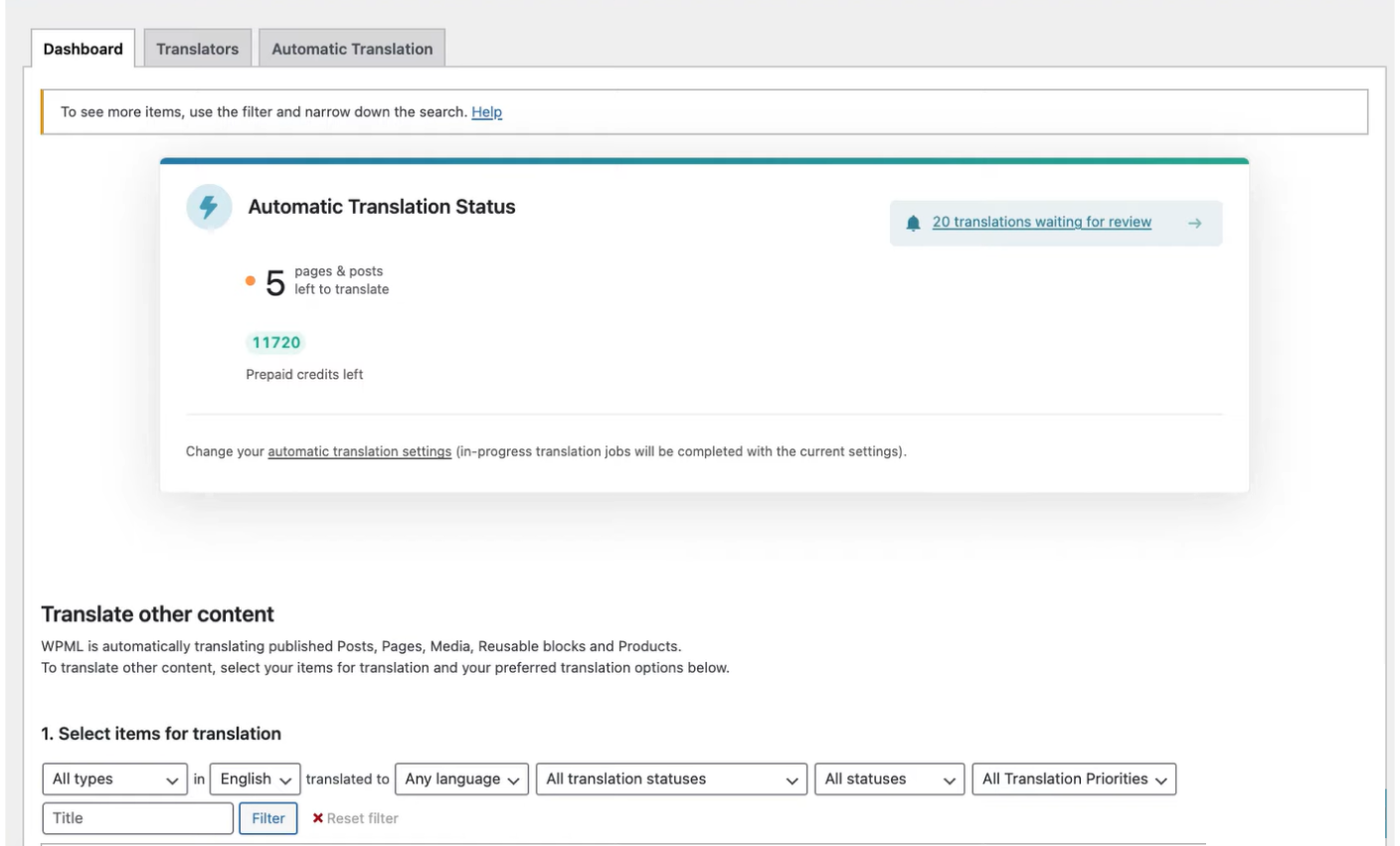 6. Review and Publish Translations
WPML lets you review your translations using a front-end editor. This allows you to view translated content as it appears on your site, before it's officially published. And if you don't speak the language yourself, you can also send translations to others for a review.
To review your translations, go to the Translations Queue page and select the translation you'd like to review. This will open the front-end preview.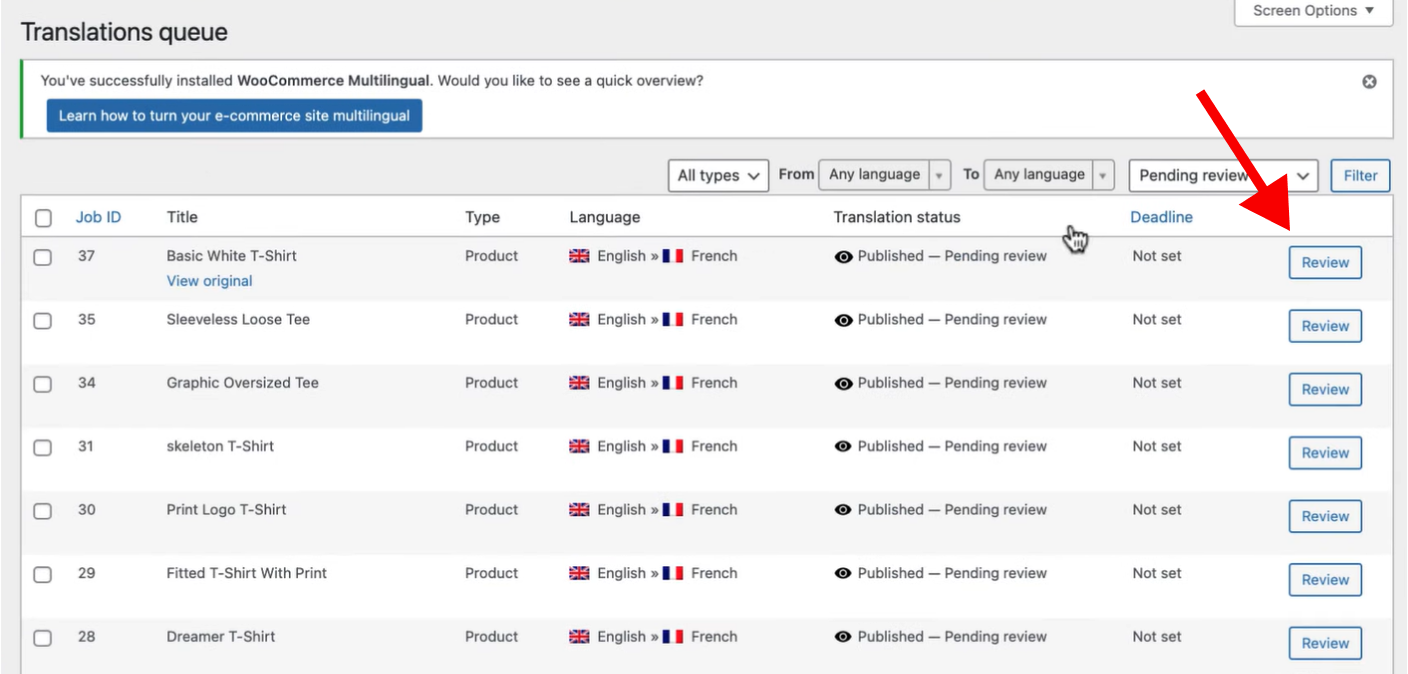 To approve and publish a translation, simply click the Accept this translation button. To make changes to a translation, click the Edit translation button.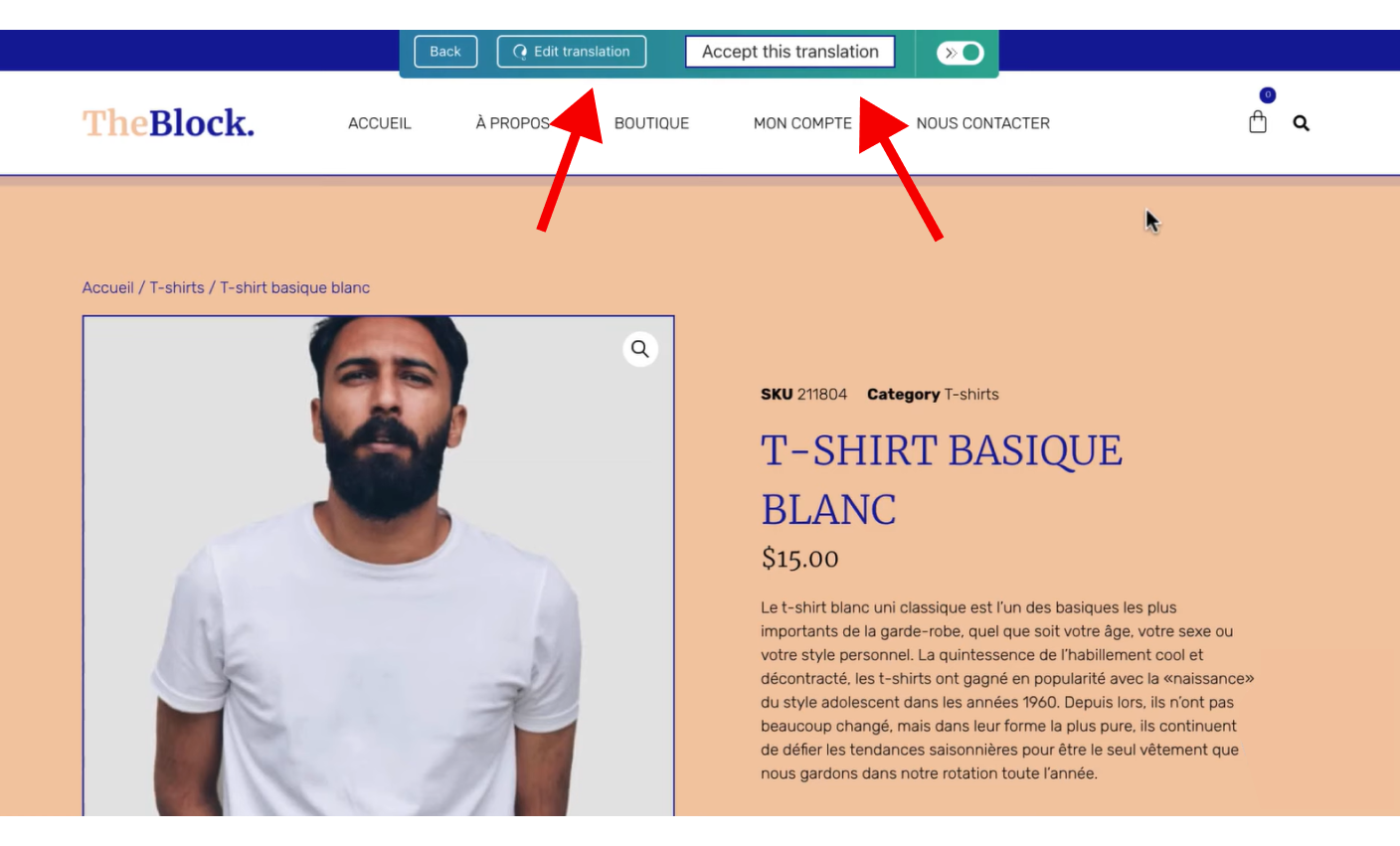 Whenever you edit translations, the Automatic Translation Editor (ATE) opens. Here, you can view all the content the page you're editing contains, both in its original and target language.
You can learn more about making changes to your translations at our reviewing translations with ATE guide.
How Much Does it Cost to Translate with DeepL and WPML?
Automatic translation with WPML is free for the majority of sites because you get a package of credits for free when you purchase WPML. It's enough to translate:
45,000 words with a WPML Multilingual CMS account (90,000 credits)
90,000 words with a WPML Agency account (180,000 credits)
Need more credits? WPML offers two convenient payment options. No matter which option you choose, you'll never pay more than a fraction of a US cent per translated word.
Start Translating With DeepL and WPML
DeepL can deliver clear and natural language translations, making it a popular choice for automatically translating content.
However, it doesn't have a natural integration with WordPress, making website translation a complicated, technical task. Thankfully, it doesn't have to be.
With a translation plugin like WPML, you can easily connect your WordPress site to DeepL, and automatically translate all your content within a few minutes. WPML also makes it easy to organize your translations, review and edit them, and save you money by not having to translate the same words twice.
As the leading plugin for translating WordPress sites, WPML is the go-to solution for over a million websites.
Visit the WPML Pricing page today to find the right plan for you, or contact our pre-sales team if you have any questions.
You can also learn more about WPML's automatic translation, as well as our support for alternative translation engines: