WordPress makes it possible for users to change the admin language. This allows different users with profiles on your site to see the WordPress admin in their own languages.
Admin Language is Independent of the Site's Front-end Language
When we talk about the site's language, we always think about the front-end language – the one visitors see. However, there's another case – the WordPress administration language.
Since WordPress version 4.7, different users can set their own preferred admin language using the native WordPress language selector. This way, they see the WordPress interface in their language and can more easily manage content.
To be able to set different administration languages, you should first install translations for WordPress into different languages. WPML does this for you and auto-installs translation for WordPress itself.
How Users Set their Administration Language
To choose their own administration language, users should go to the Users → Profile page and use the Language option in the Personal Options section.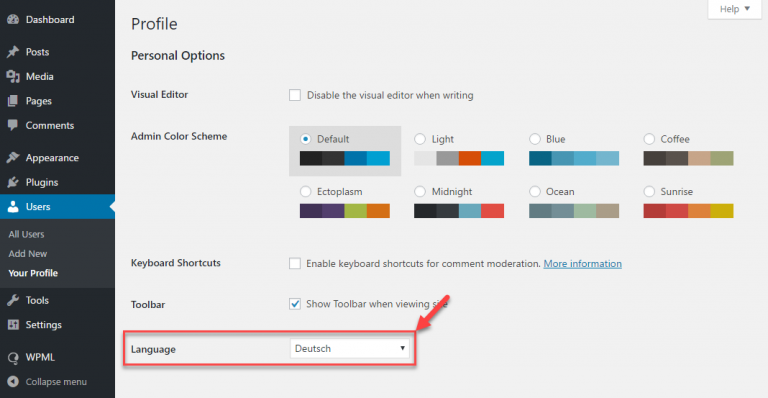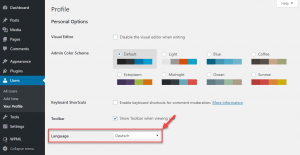 The site's main language is selected by default. Click on the drop-down to see the other available languages in the site.
Convenient Content Editing for RTL/LTR Sites
When you edit content, it is important for the WordPress administration to be displayed in the same direction (right-to-left or left-to-right) as the content. If you are editing RTL content (Arabic, Farsi, Hebrew, etc.) and the WordPress administration displays in English, editing may be difficult.
WPML provides you with an option to enable this on the Profile page.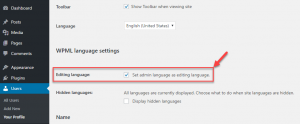 In the WPML language settings section select the Set admin language as editing language check-box to dynamically change the WordPress administration language, according to the content's language. This way, when you edit English content, the admin will be in English and arranged from left to right. When you edit Arabic content, the WordPress admin will show in Arabic and display from right to left.