The Formidable Forms plugin makes it easy to build advanced forms. Follow this tutorial to learn how to make your Formidable Forms multilingual with WPML.
On This Page:
Getting Started
Start by installing and activating the following:
If you're new to WPML, check out our Getting Started Guide. It quickly walks you through all the translation options you can use.
Translating Formidable Forms and Form Pages
To translate your forms created using Formidable Pro:
From the WordPress dashboard, go to Formidable → Forms and Edit the form you want to translate.
Go to Settings and click on the Translate Form button in the General tab.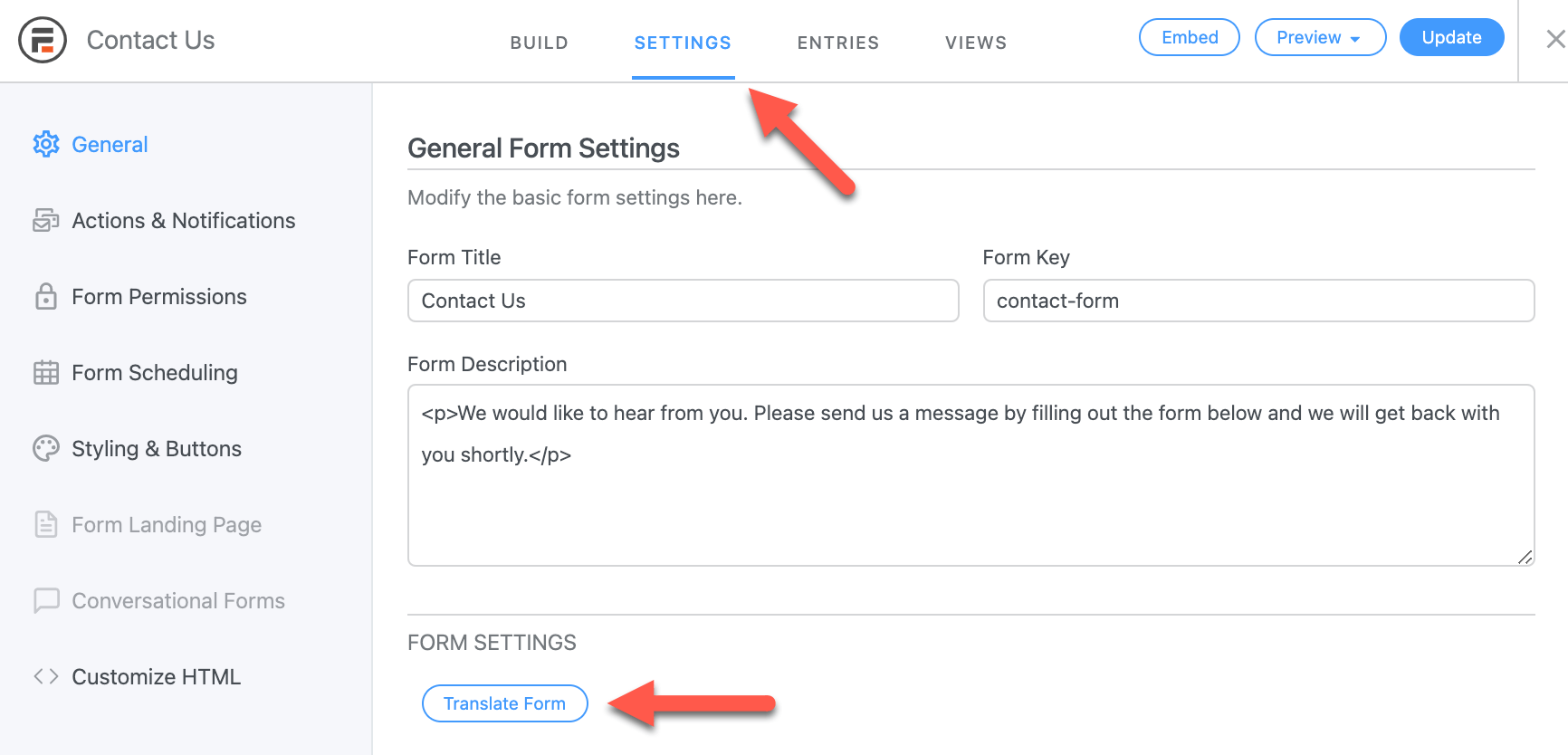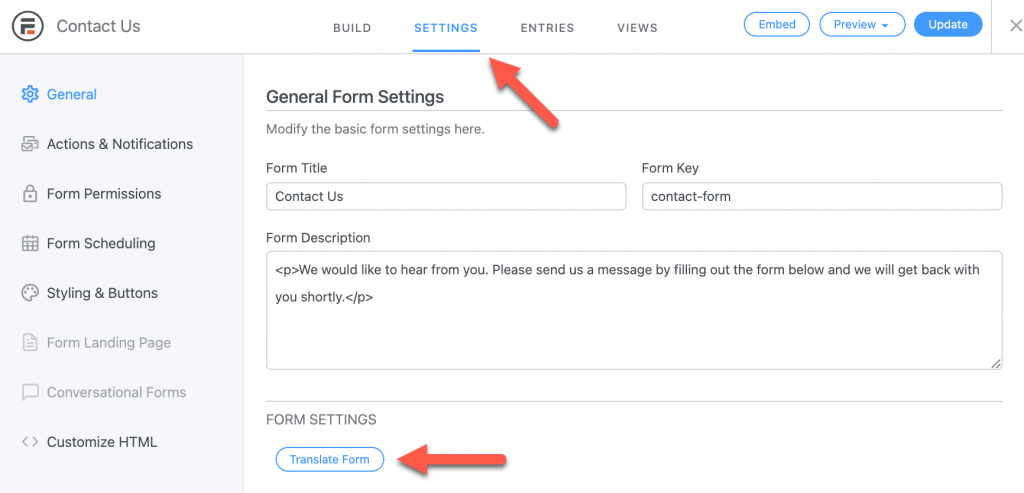 Add the translations for each line and tick the Complete box under each of them. Once you're done, click Update.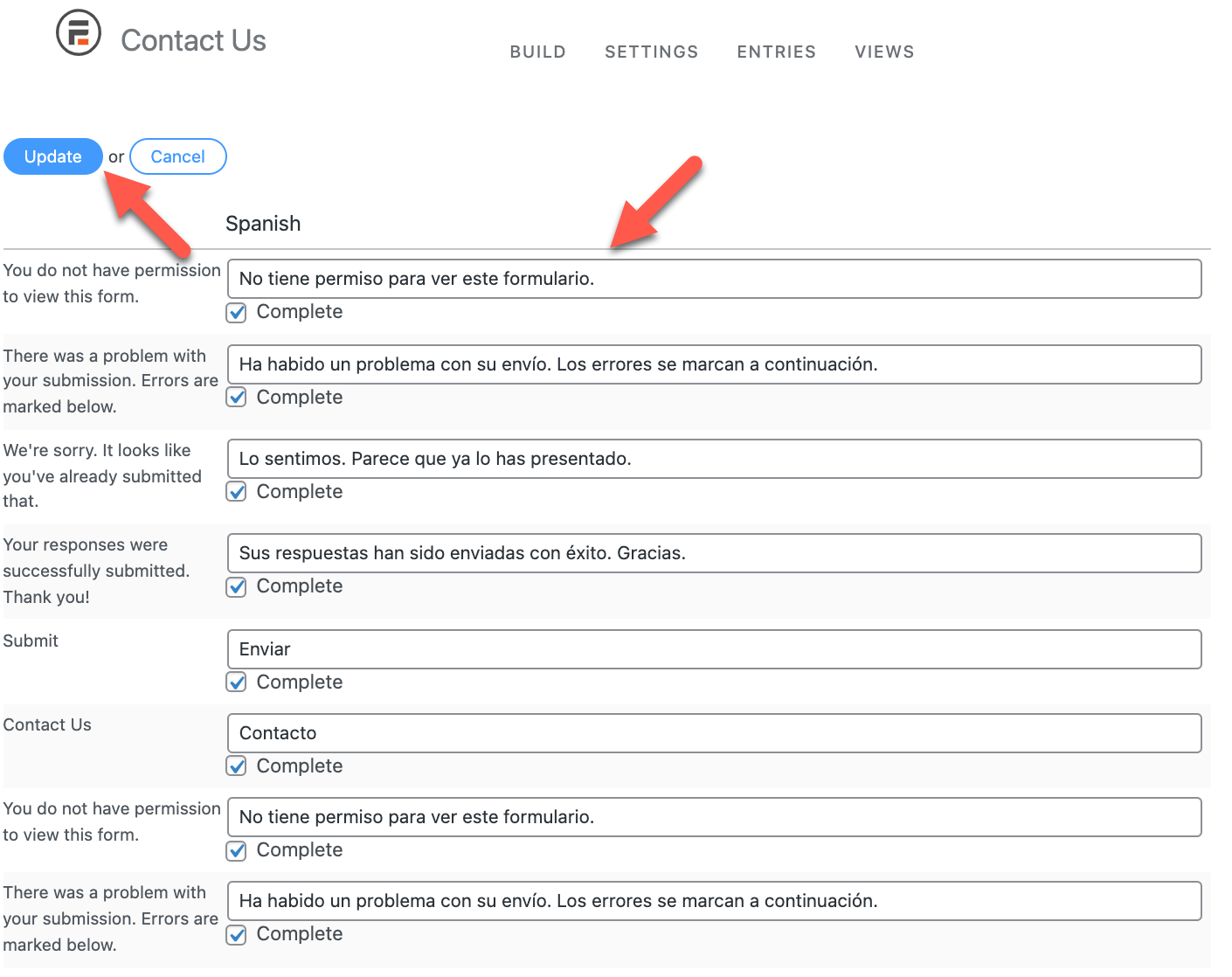 Translating Formidable Form Pages
Once you translate your form, you can add it to a page using the Formidable Forms block. With WPML, you can translate your posts and pages in two ways:
To translate a page with a form using the Translate What You Choose mode:
Go to the page editing screen. In the Language box, click the plus icon next to the language you want to translate your page into.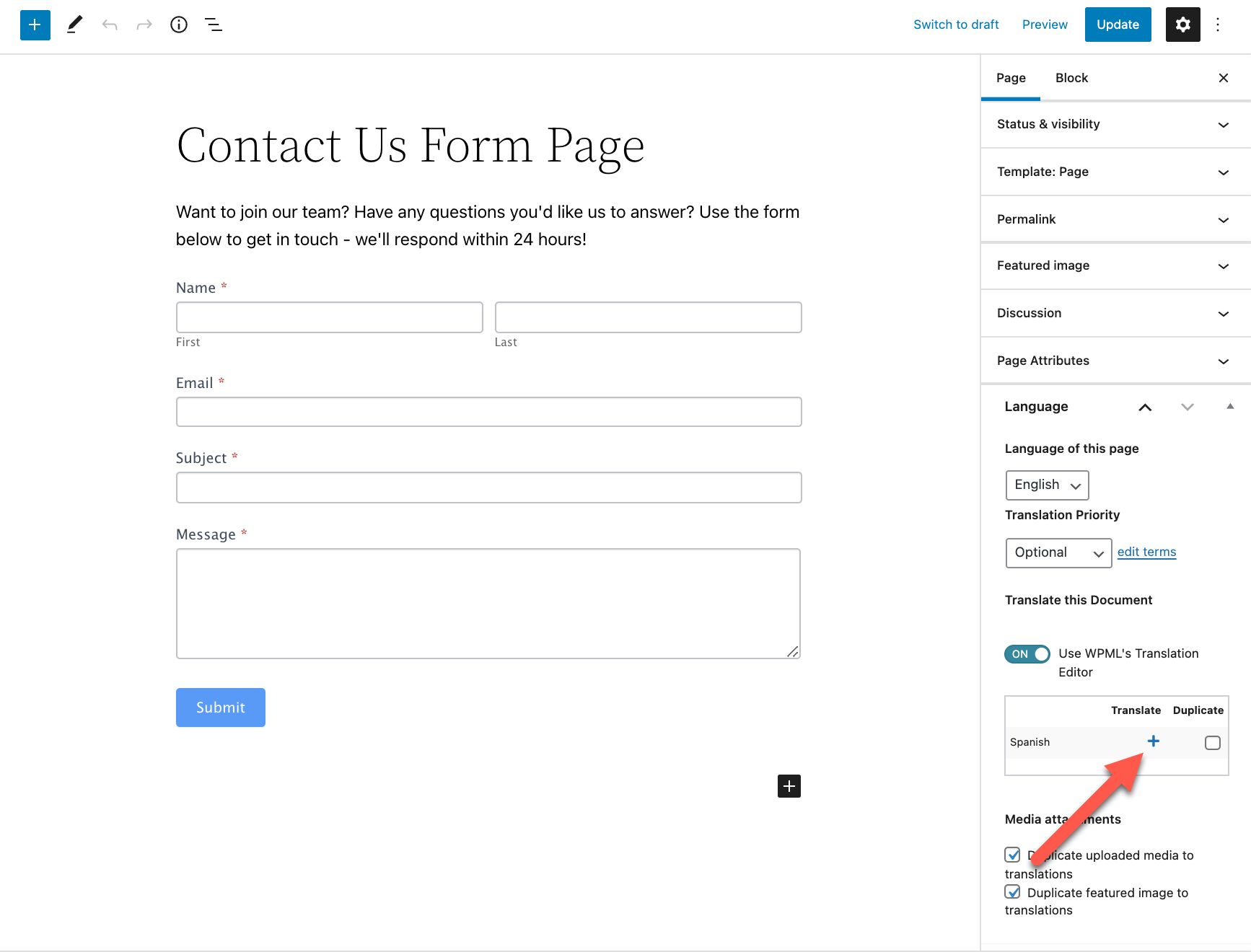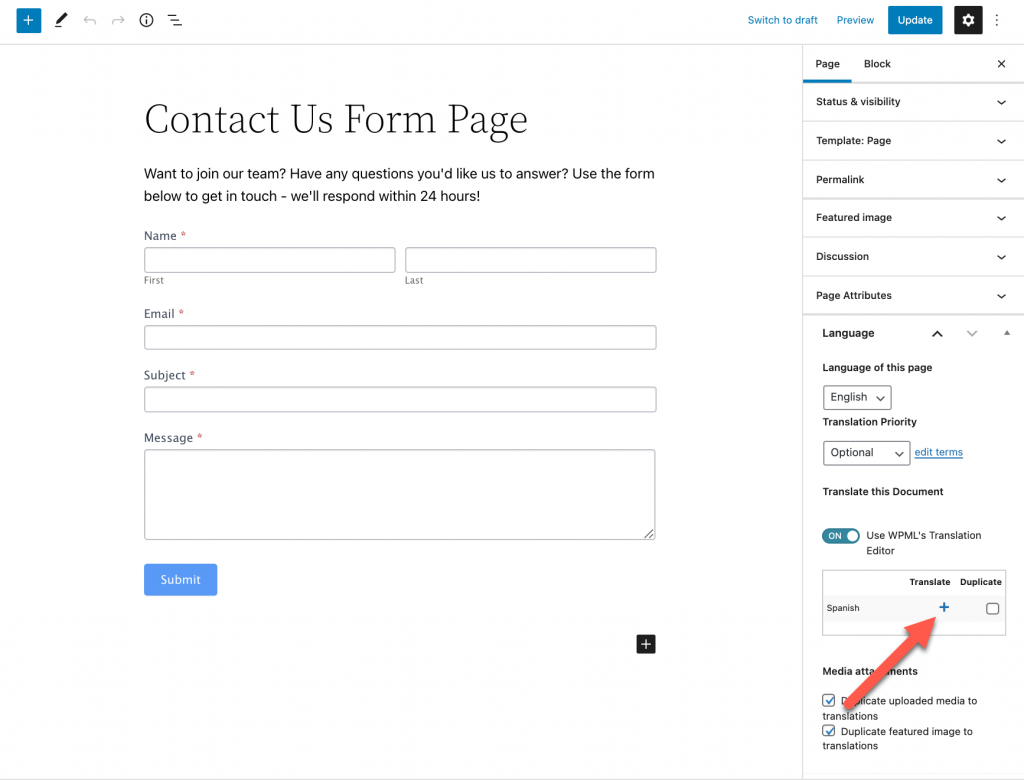 You'll be taken to the Advanced Translation Editor. If you have translation credits, you can automatically translate your content and review the translations. Otherwise, input your translations and click Complete when you're done.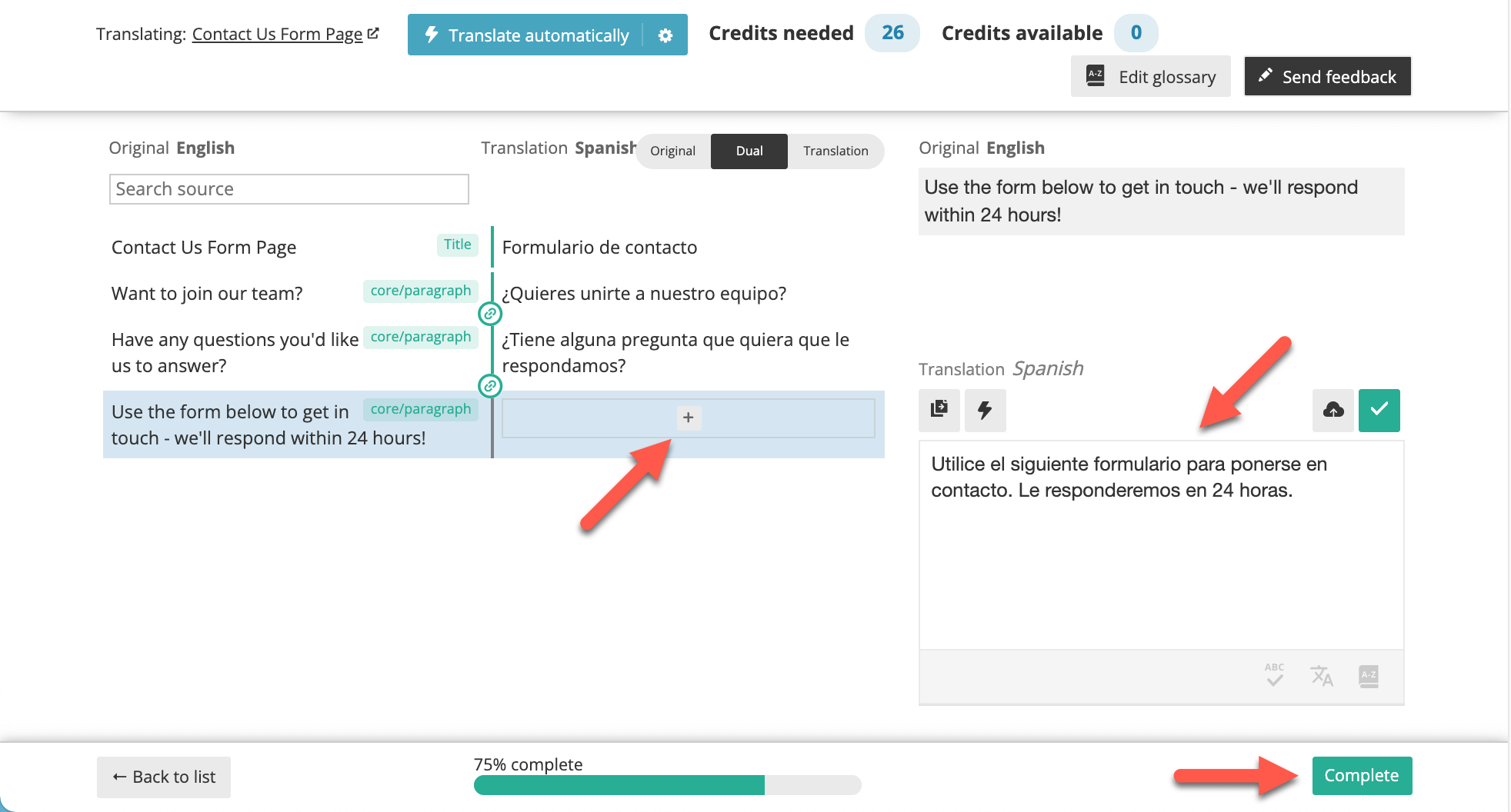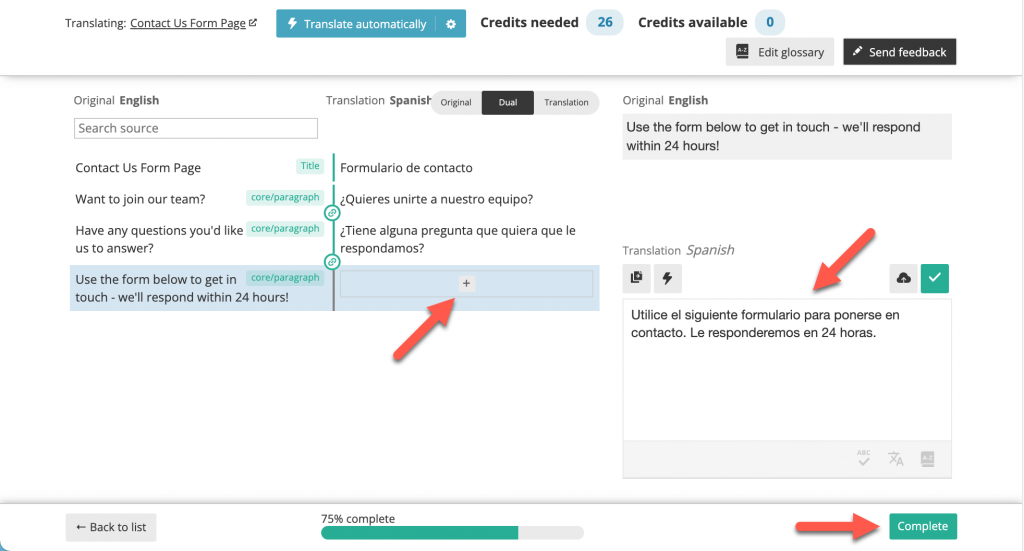 This is how the translated page looks on the front-end:
Translating Forms Created in Default Languages Other Than English
Before translating your form created in a default language other than English, you may need to change the language of the form strings:
Navigate to WPML → String Translation and search for the form text.
Select the string and then Change the language of selected strings to your website's default language.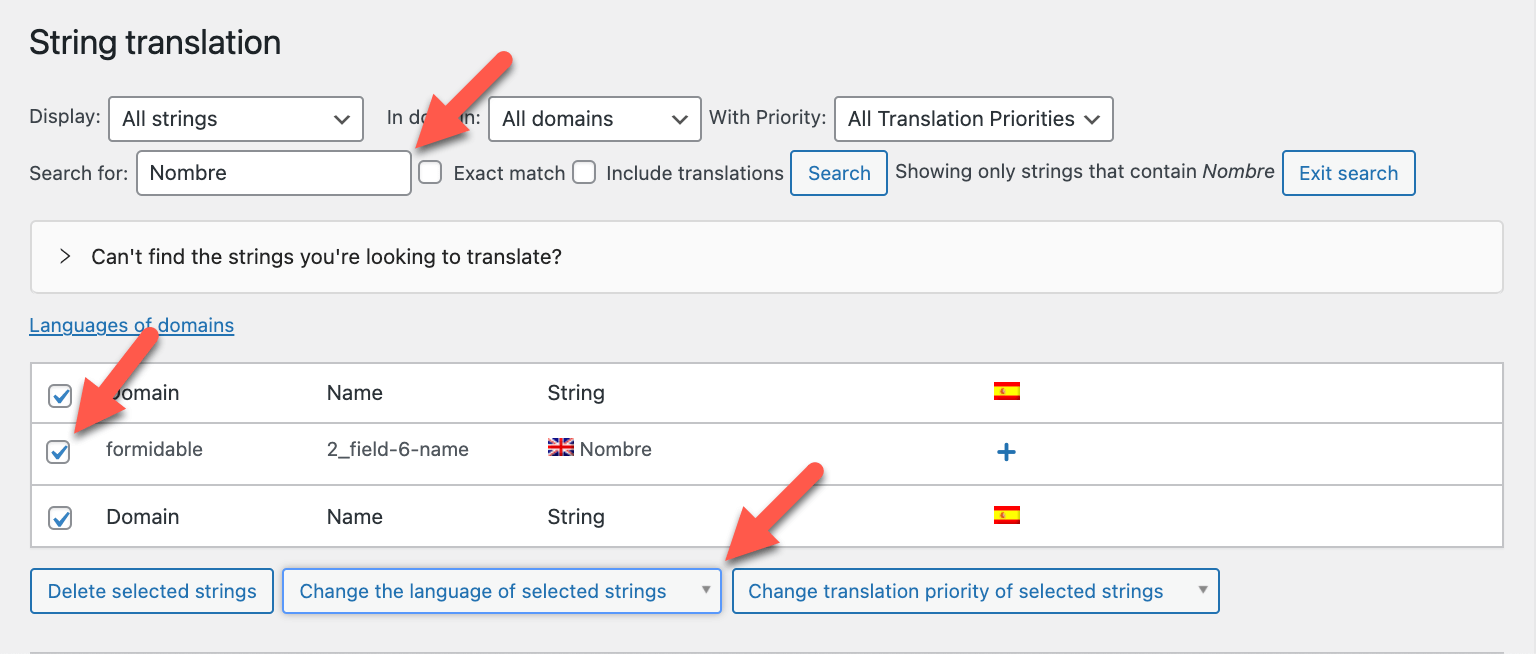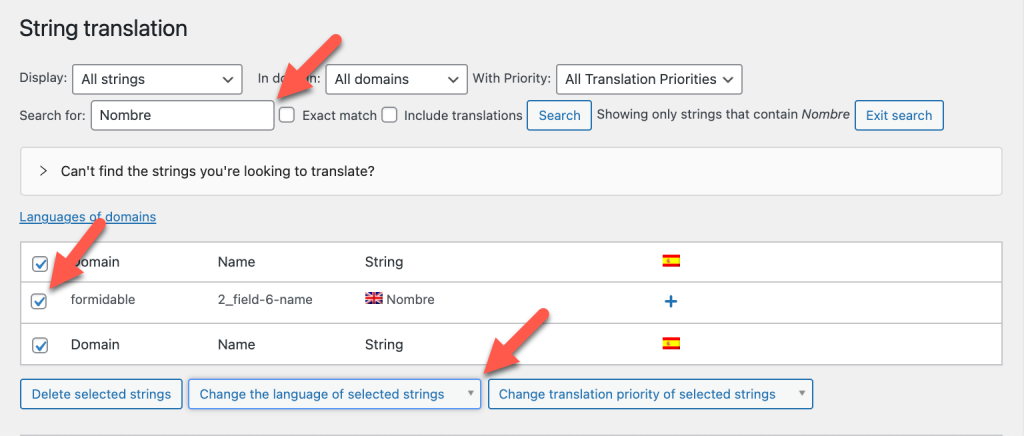 Your Formidable Form strings are now categorized in the correct source language. You can translate them into your site's other languages.
Translating Default Messages
To set your default messages, go to Formidable → Global Settings and click on the Message Defaults tab.
To translate these messages:
Go to WPML → String Translation and use the In domain drop-down menu to select the formidable domain.
Click on the plus icon next to the message strings to add your translations.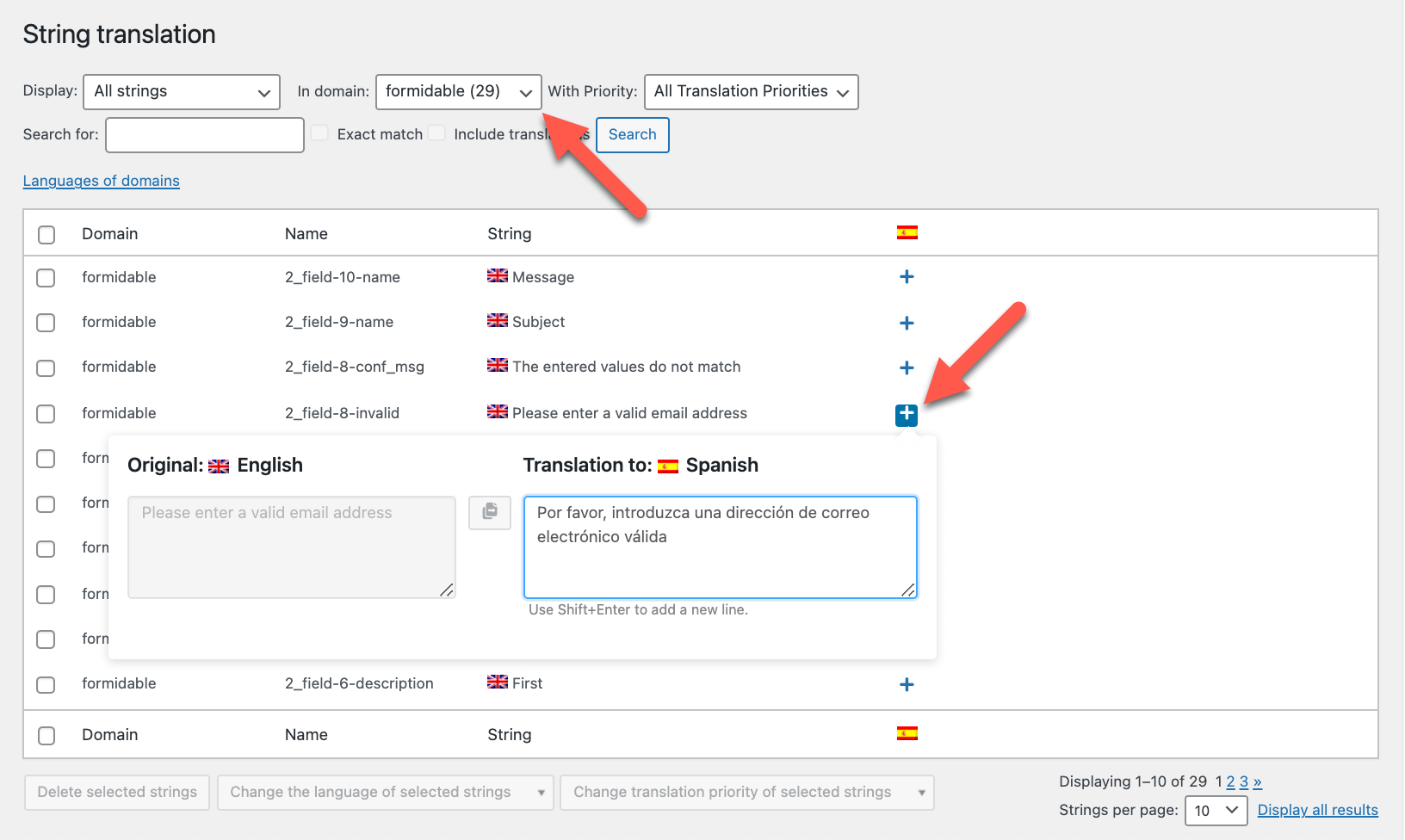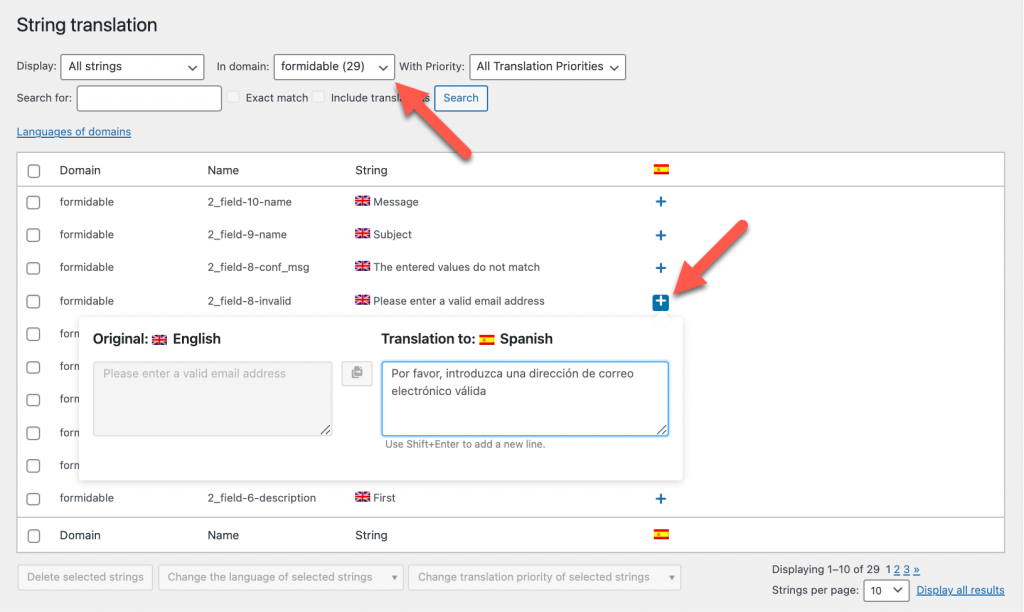 Sending Email Notifications in Secondary Languages
Formidable Pro allows you to send email notifications. To send notification emails to your users in the language they filled out your form in:
Go to Formidable → Forms and Edit the default language form. From the Add Fields tab, click the Hidden field to add it your form.
Set the language code of your default language as the value of the Hidden field and click Update to save your changes. In the example below, we are using "en" as the language code for English.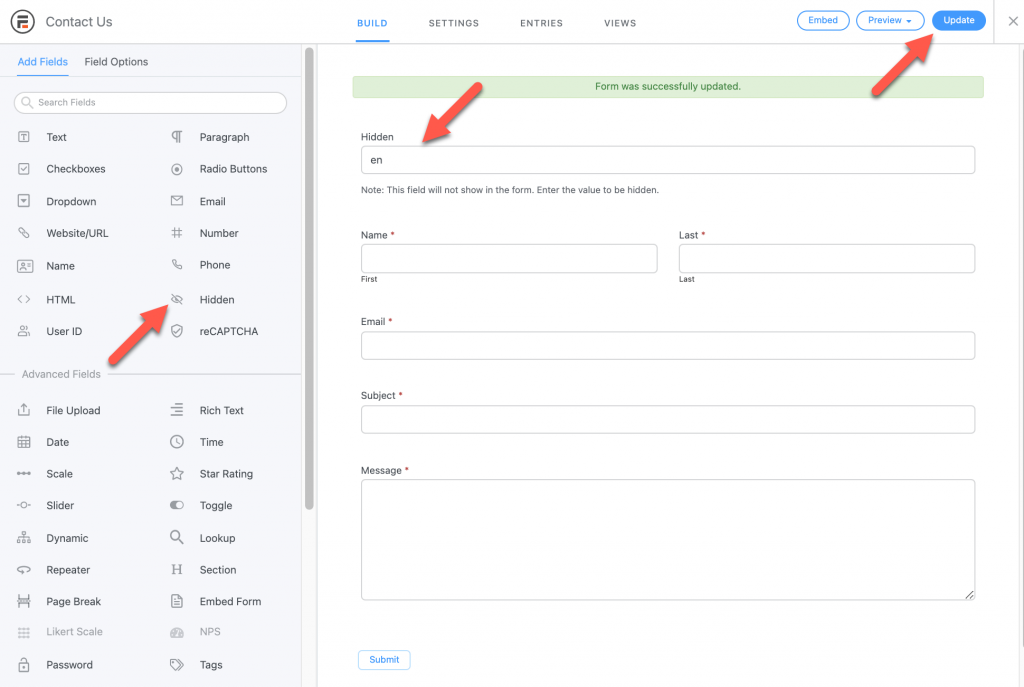 Click over to the Settings tab and press on the Translate Form button in Form Settings. Translate the default language code to your secondary language code and Update your changes.
Once again, click on Settings and then go to the Actions & Notifications tab. Click on Email Notification to set up email notifications for your default language.
Scroll down to Conditional Logic. Set the action to send the email when the Hidden field value is equal to your default language code. Here, we're using en for English.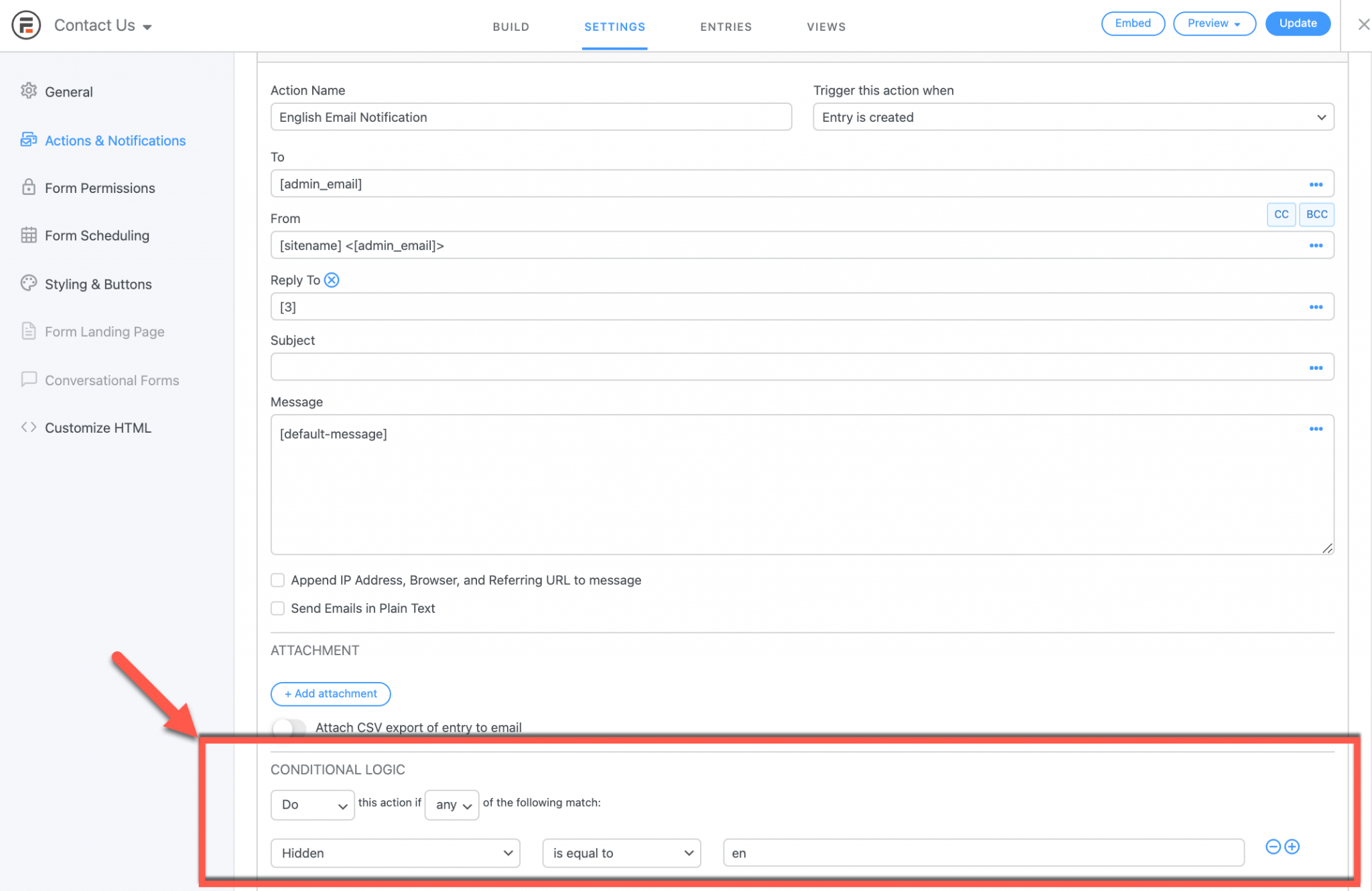 Repeat steps four and five for your secondary language. Our site's secondary language is Spanish, so we've set the Conditional Logic to send emails when the Hidden field value is equal to es.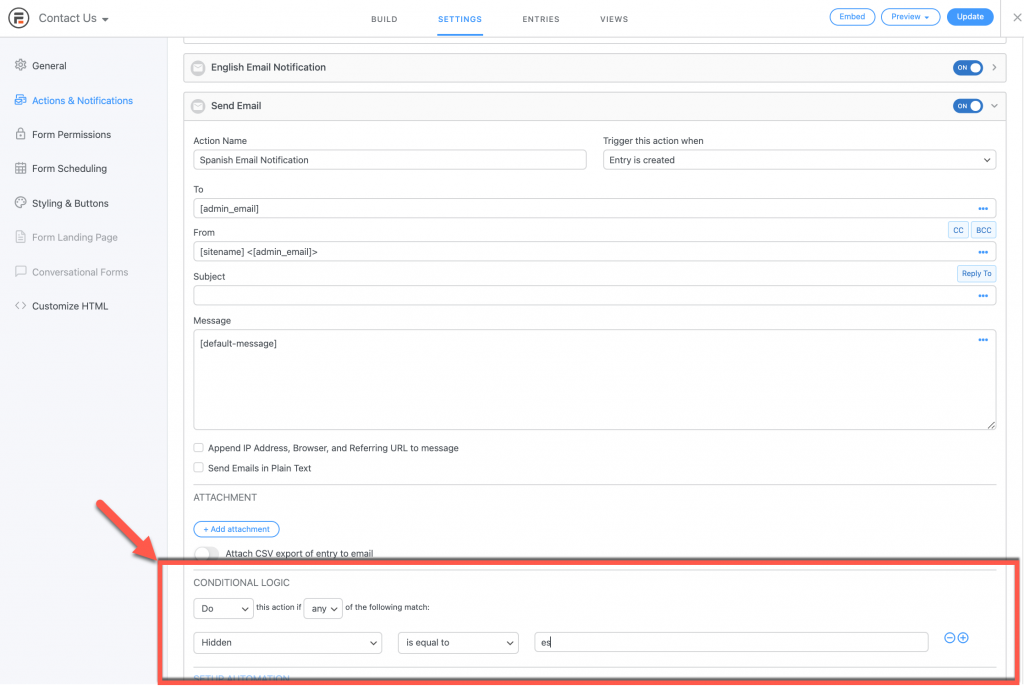 Translating Other Texts From the Formidable Forms Plugin
Besides the content coming from your site's posts and pages, there are usually some texts coming from other places. These texts usually come from your theme and your plugins.
To learn how to translate these texts, read our documentation page about translating strings.
Known Issues
There are no unresolved compatibility issues between this plugin and WPML. Search
all known issues
.
Getting Help
In case you need help translating your site built using Formidable Forms and WPML, visit WPML's support forum.