This guide teaches how to use All in One SEO (AIOSEO) Pack Pro and WPML to achieve multilingual SEO. You will learn how to optimize individual posts and pages and control site-wide settings, in the site's different languages.
Getting started and what to check
Make sure that the All in One SEO Pack is activated, by going to the Plugins page.
Make sure that the WPML Multilingual CMS, WPML String Translation, WPML Translation Management, and WPML Media Translation plugins are activated.
If you are running a website with WooCommerce, check that the WooCommerce Multilingual plugin is activated by going to the WooCommerce → WooCommerce Multilingual page. If you are not sure, ask your site's developer.
WPML translation tools
WPML offers two translation editors you can use for translating your site's content:
Besides translating your site content yourself, you can also:
Translating Title, Description and Keywords
To translate SEO settings follow the regular translation process:
Set-up the SEO options for the original page (Title, Description, and Keywords)
Click the plus button in WPML language box according to the language you want to translate to: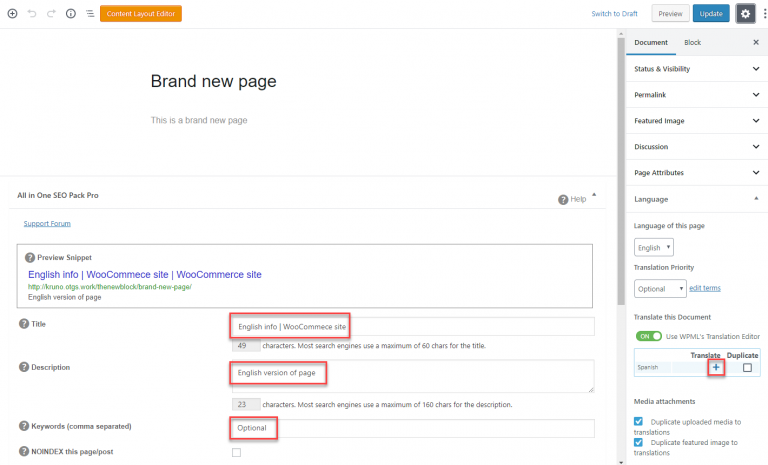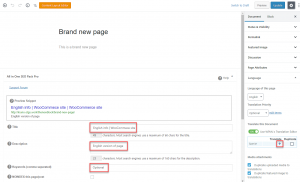 Using All-in-one SEO, WooCommerce and WPML
If you do not see metabox at your products page you must activate it. To activate it go to All in One SEO → Settings page and in the Content Type Settings section select Product.
A new meta box has been added to the product edit page, allowing the user to customize the product search engine settings.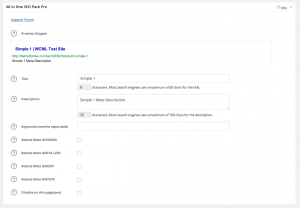 The user can translate the product meta title and description directly from the products page by clicking plus sign next to language.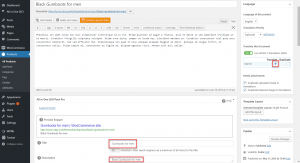 Known Issues
WPML works fine with this plugin, but sometimes there could be minor issues we're working on. This is expected as both plugins provide frequent updates.
Current issues:
Getting help from our support
In case you need help translating your site built using All in One SEO Pack Pro and WPML, visit WPML's support forum.