You can create a fully multilingual e-commerce site using Easy Digital Downloads and WPML. Learn how to translate your products and the rest of your site's content.
On This Page:
Getting Started
Start by installing and activating the following plugins:
If you're new to WPML, check out our Getting Started Guide. It quickly walks you through different translation options you can use.
The Easy Digital Downloads documentation will provide you with all the information needed to set up the plugin and add your products.
Please note: For Easy Digital Downloads Multilingual to work, you need to change the permalink structure to something other than the default. You can do this from the Common Settings section in Settings → Permalinks. For the purpose of this tutorial, we are using the Post name option.
Translating Pages
Easy Digital Downloads is compatible with WPML's Translate Everything Automatically mode, which translates your site's content as you add or edit it.
For more control over the content you send for translation, choose the Translate What You Choose mode. This option also allows you to choose from translating content yourself, assigning it to individual translators, or using a professional translation agency.
When you activate Easy Digital Downloads, you'll see some new pages automatically created by the plugin. These pages are:
Checkout
Purchase Confirmation
Purchase History
Transaction Failed
As an example, we will translate the Purchase Confirmation page.
Go to Pages → All Pages and click on the plus icon next to the page you want to translate.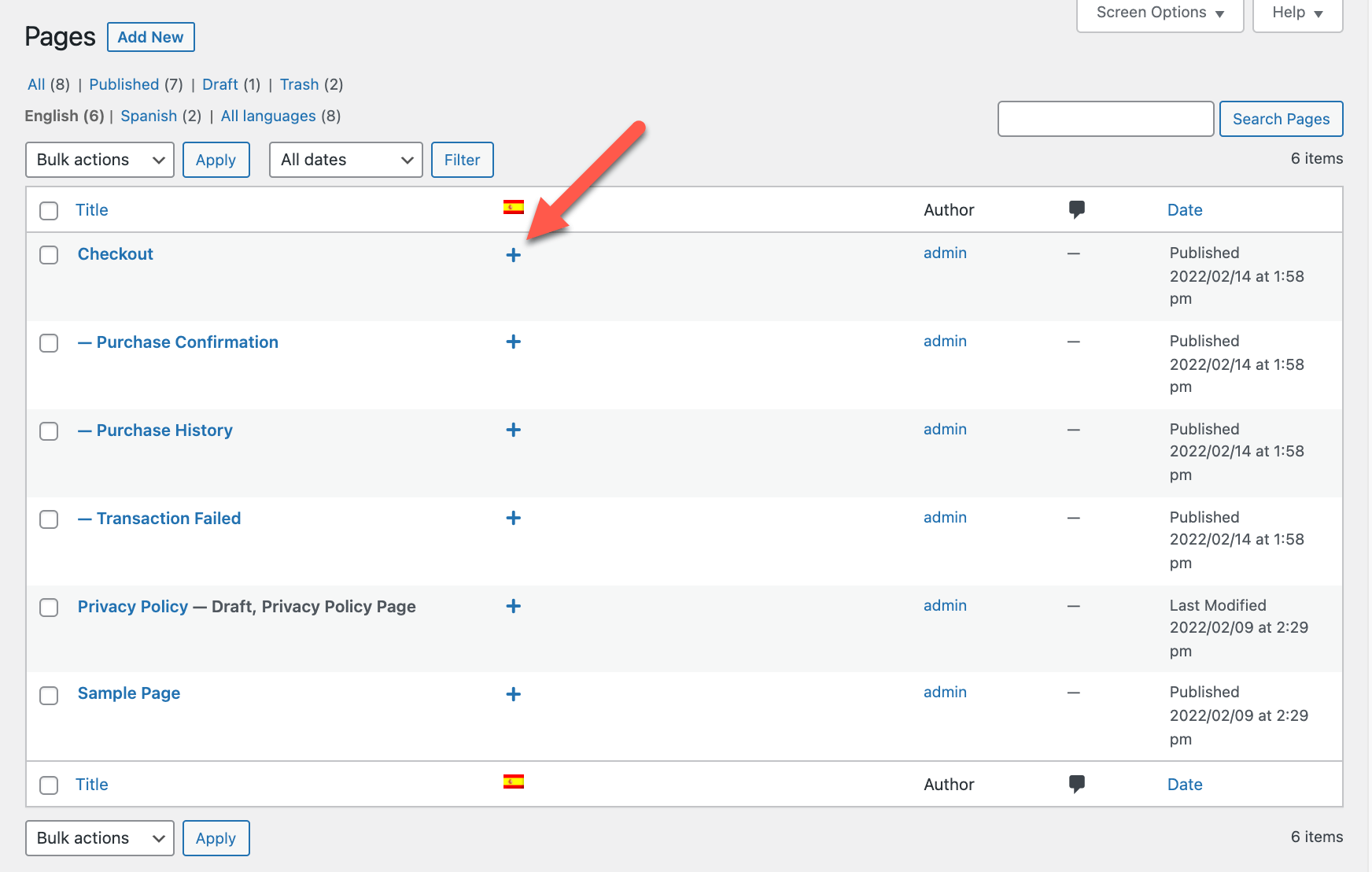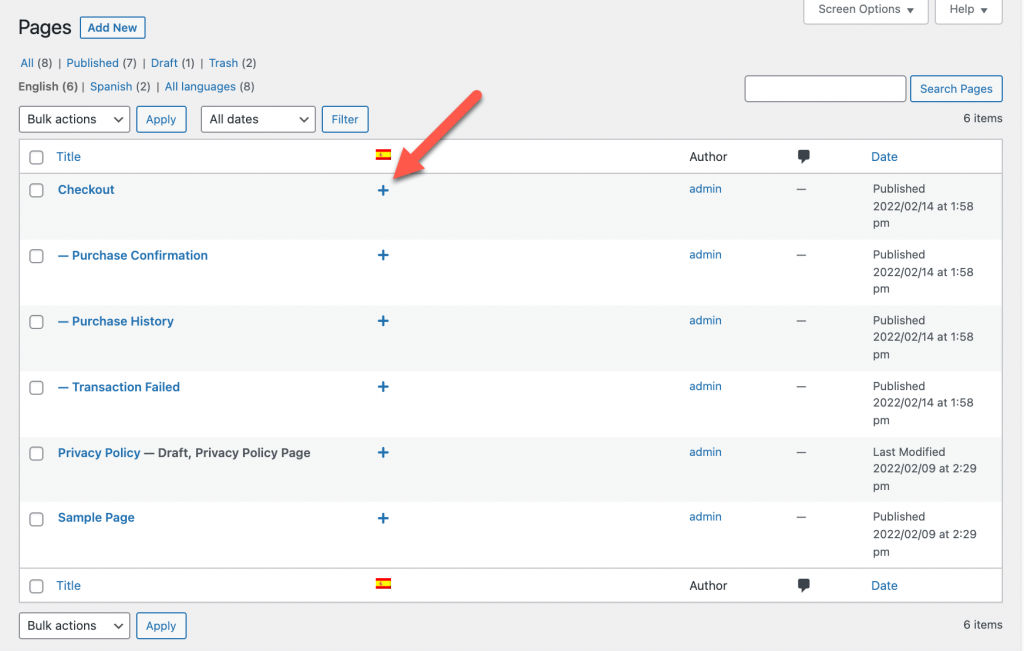 This will take you to WPML's Advanced Translation Editor. If you have translation credits, you will immediately see your content translated automatically. You can review and accept the translations. If you don't have credits, add the translations for each sentence by yourself and click Complete once you're done.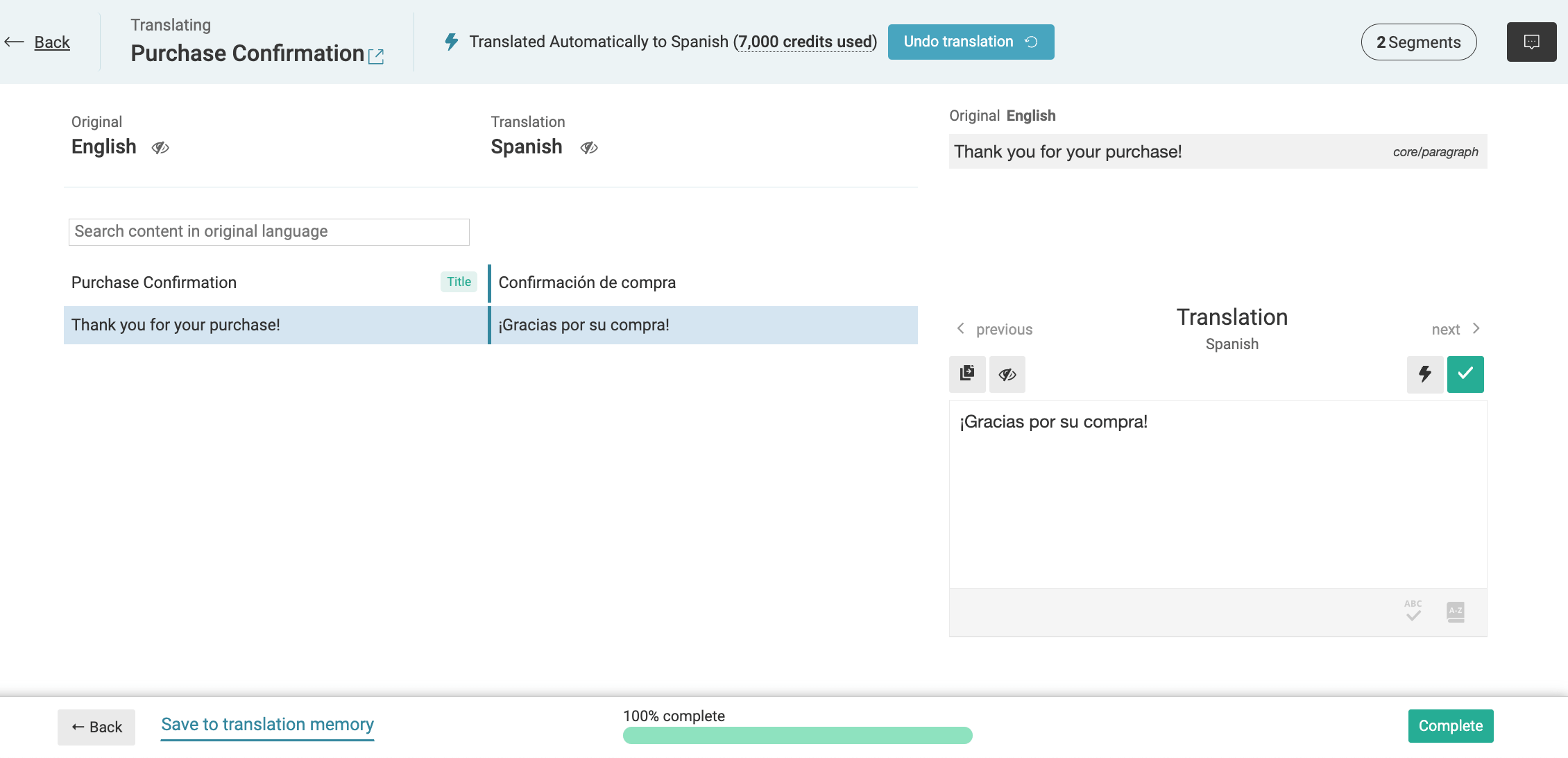 You can translate the remaining Easy Digital Downloads pages, or any new pages you create, in the same manner.
To learn how to send pages for translation in bulk, see our guide to translating pages via the Translation Management Dashboard.
Translating Categories and Tags
There are different ways to translate post categories and custom taxonomies. Below, we'll show you how to translate Download Categories from a central menu.
Navigate to WPML → Taxonomy Translation. Use the drop-down menu to select the taxonomy terms you want to translate.
Click the plus icon next to the taxonomy terms and enter your translations.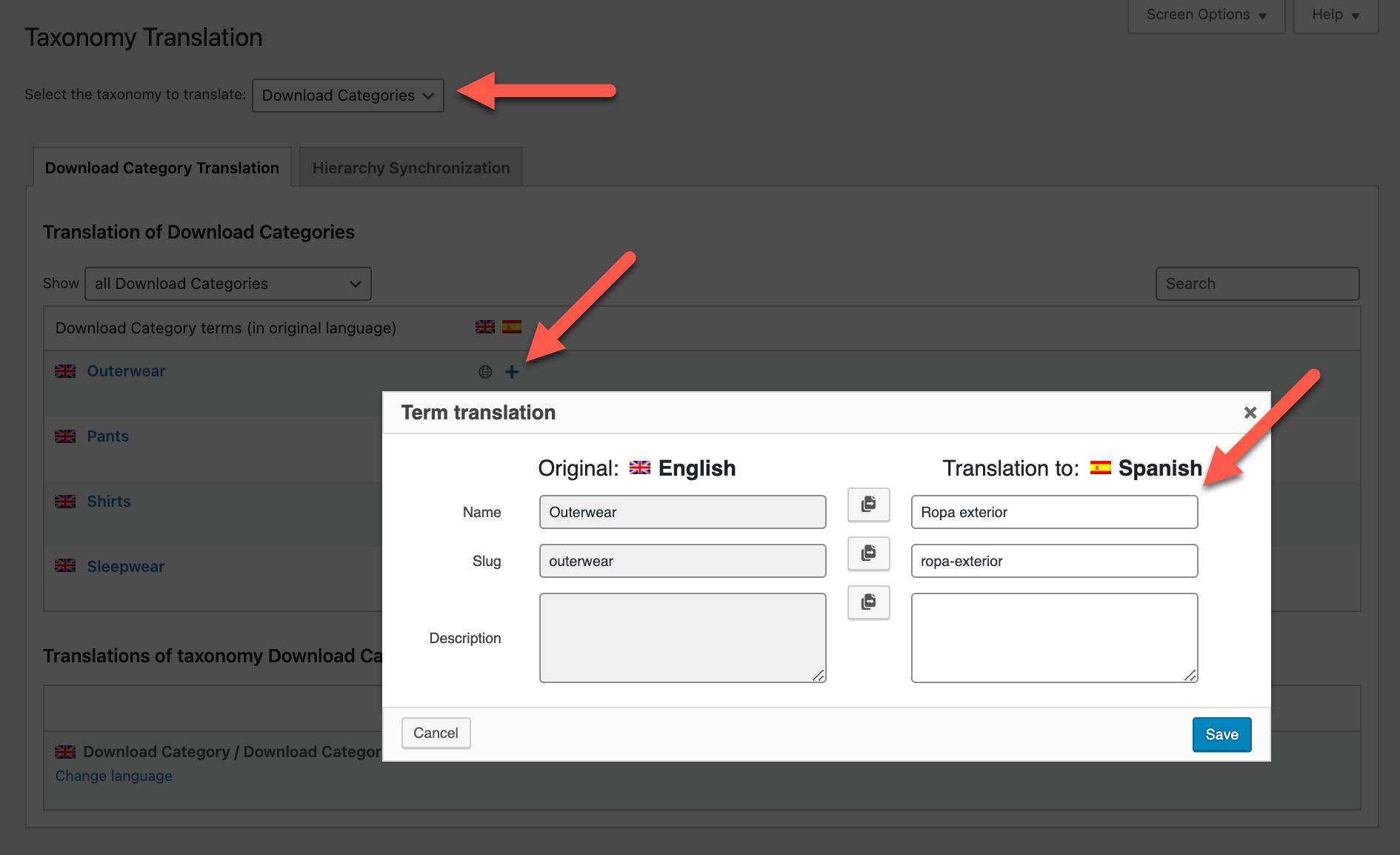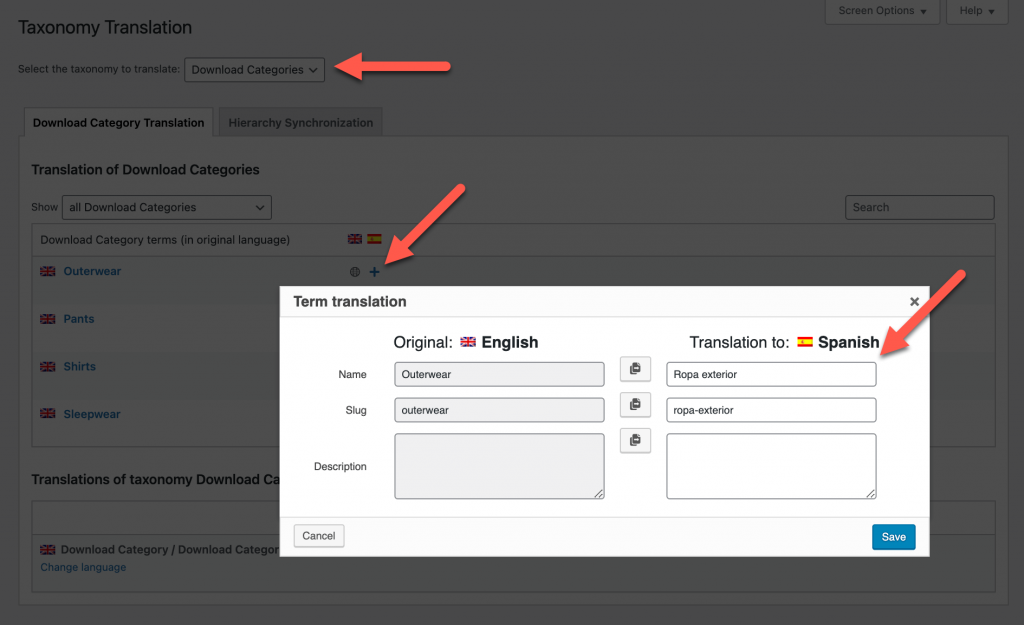 Translating Products
You can translate products in the same way you would translate posts and pages. In the example below, we'll translate a product from the product editing screen:
In your right sidebar, locate the Language box and click the plus icon next to the language you want to translate your product into.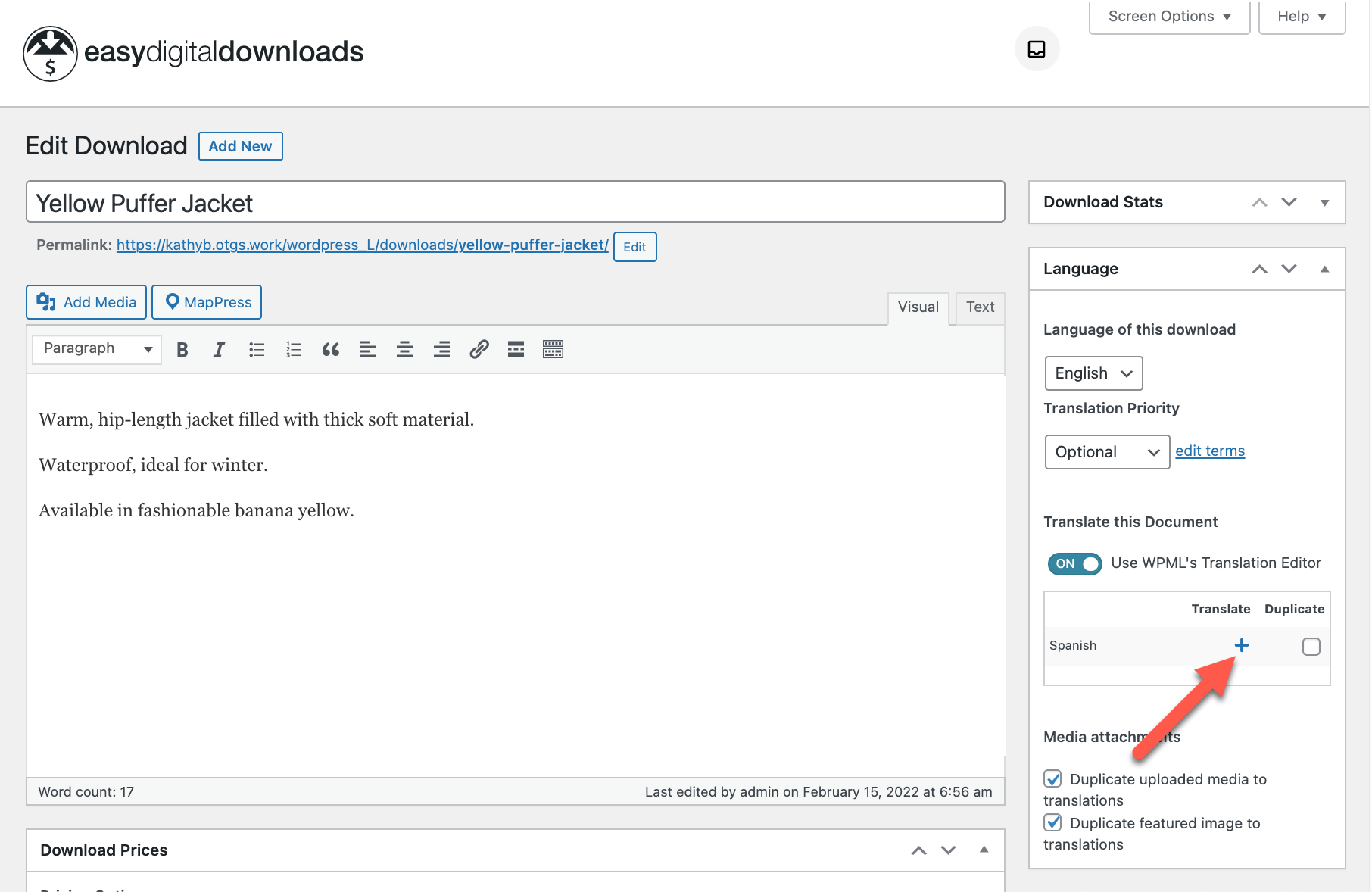 You'll be taken to the Advanced Translation Editor. You can review the automatic translations and accept them, or click the Undo translation button and enter your own translations. Click Complete once you're satisfied with all of them.
Note that WPML will automatically synchronize the non-text attributes of products. This includes the price and variable prices as they do not require translation.
Translating Texts From Easy Digital Downloads Plugin and Other Places

Besides the content coming from your posts and pages, there are some additional texts coming from your plugins and theme. You can learn more by reading our guide to translating strings.
In the example below, we'll quickly show you how to translate the text from the Add to Cart button:
Go to WPML → String Translation and search for the string. In our case, we are searching for Add to Cart in the easy-digital-downloads domain.
Click the plus icon to add your translation and press enter to save it.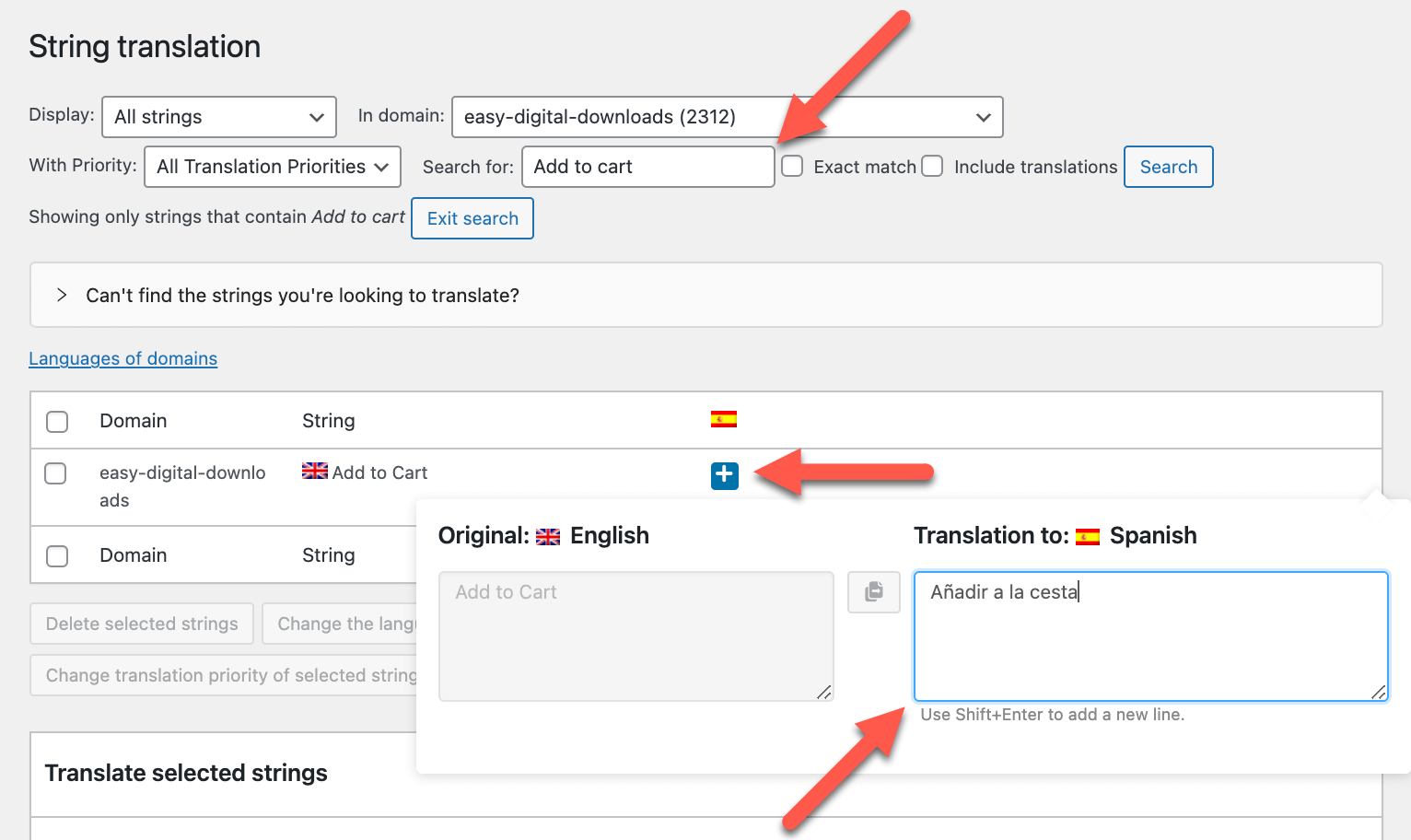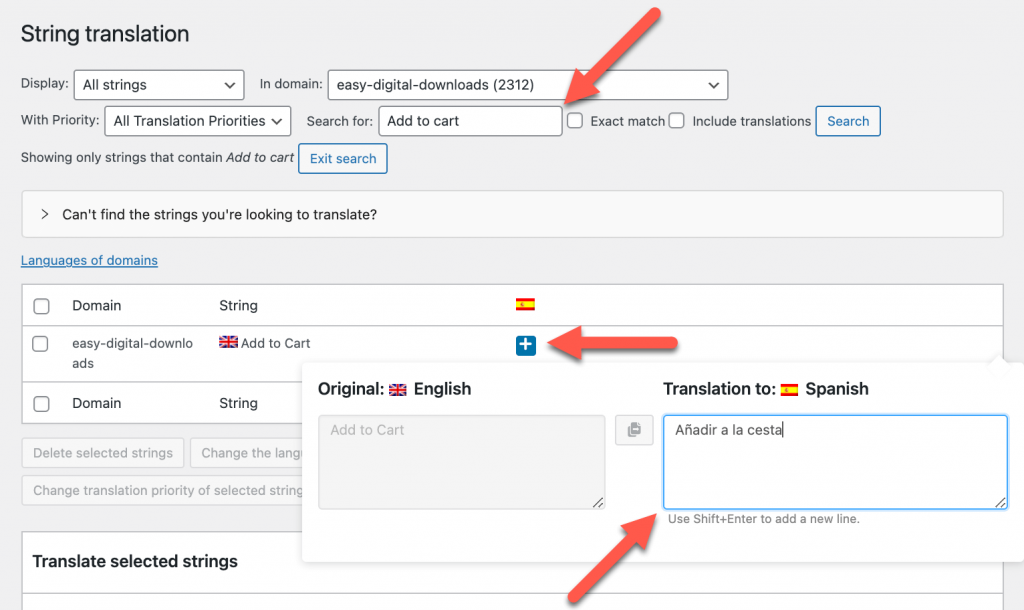 Known Issues
There are no unresolved compatibility issues between this plugin and WPML. Search
all known issues
.
Getting Help
If you need help translating your site built using Easy Digital Downloads and WPML, visit WPML's support forum.