Enfold theme allows you to build a website in a few minutes. It includes many features, and can be optimized based on your needs. It also comes with predefined content for easy setup. Whatever content you build with Enfold, you can translate it with WPML.
What you will need
The Enfold Theme, which is also available on Theme Forest (version 3.3 or above).
A recent version of WPML (version 3.3.6 or above), including the String Translation, Translation Management, and Media translation add-ons.
Contents
Getting started and what to check
Translating your pages
Translating Portfolio and custom taxonomies
Translating menus
Translating texts from Enfold theme, plugins, and other places
Translating the content from add-ons
List of Elements supported by WPML
Maintaining the Avia Layout Builder Compatibility with WPML
Getting help from our support
Get help with building and maintaining your site
Getting WPML
Getting started and what to check
Is your site already configured by your developer?
Check with them to make sure that the core WPML plugins (WPML Multilingual CMS, WPML String Translation, WPML Translation Management) are installed. Also, make sure that the Enfold theme with Avia builder is installed and activated.
Are you setting up WPML yourself?
Then you need to follow the steps below.
Set up WPML from the WPML -> Languages page. See our WPML Getting Started Guide for a complete reference. The initial, simple three-step setup is self-explanatory, asking you to choose your default language, a set of active languages, and a language selector. (For starters, choose the footer language selector; you can change this later.)
Next, install and activate the core WPML plugins (WPML Multilingual CMS, WPML String Translation, WPML Translation Management) followed by other WPML plugins that may depend on them.
Install the Enfold theme and activate it. Enfold documentation has a rich collection of tutorials and step-by-step videos that will guide you in your initial setup.
Activate the WPML Translation Editor. Go to the WPML -> Settings page. There, check the Use the translation editor option under the How to translate posts and pages section and click Save.
Translating your pages
With WPML, you can also translate any types of contents in your site, including pages and posts. For an easy start, read our Getting Started guide to site translation.
Translating pages built with Avia Page Builder
Visit our documentation page for exact steps on how to translate contents build with page builders.
You can also watch a short overview of translating pages built with Enfold in the following video.
.

Translating Portfolio and custom taxonomies
Translating pages and posts can be done by navigating to Pages or Posts on the WordPress dashboard and clicking on the plus icon to add the translated content to the secondary language.
As you can see, the custom post that comes with Enfold theme, like "Portfolio," and the custom taxonomy, like "Portfolio Categories," are preconfigured to be translated by the language configuration file, which we have created for Enfold theme.
Go to Portfolio items in your WordPress dashboard and click on the plus icon to add the translation. See the illustration below: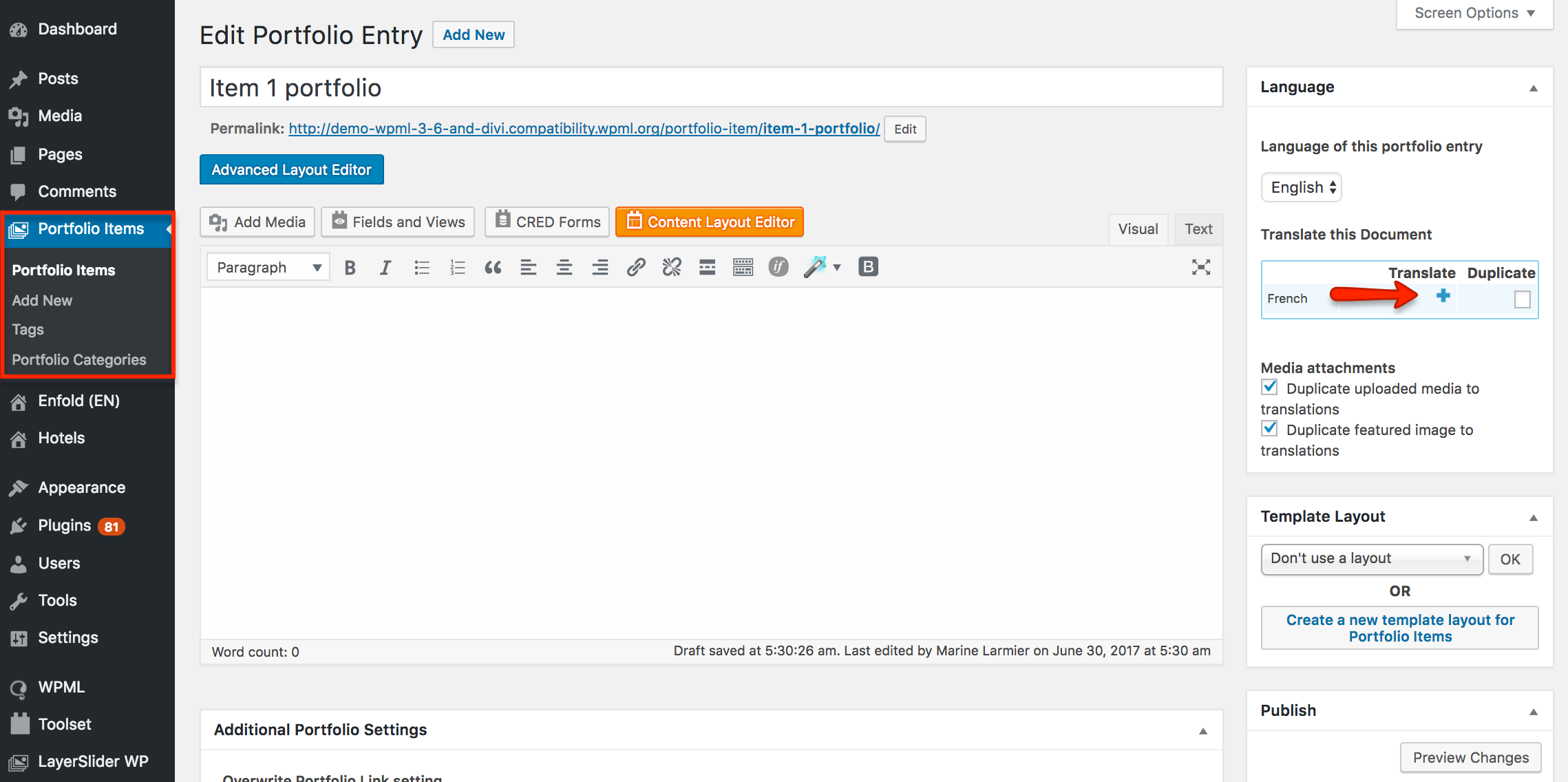 To translate the custom taxonomies, follow the steps below:
Go to WPML –> Taxonomy Translation.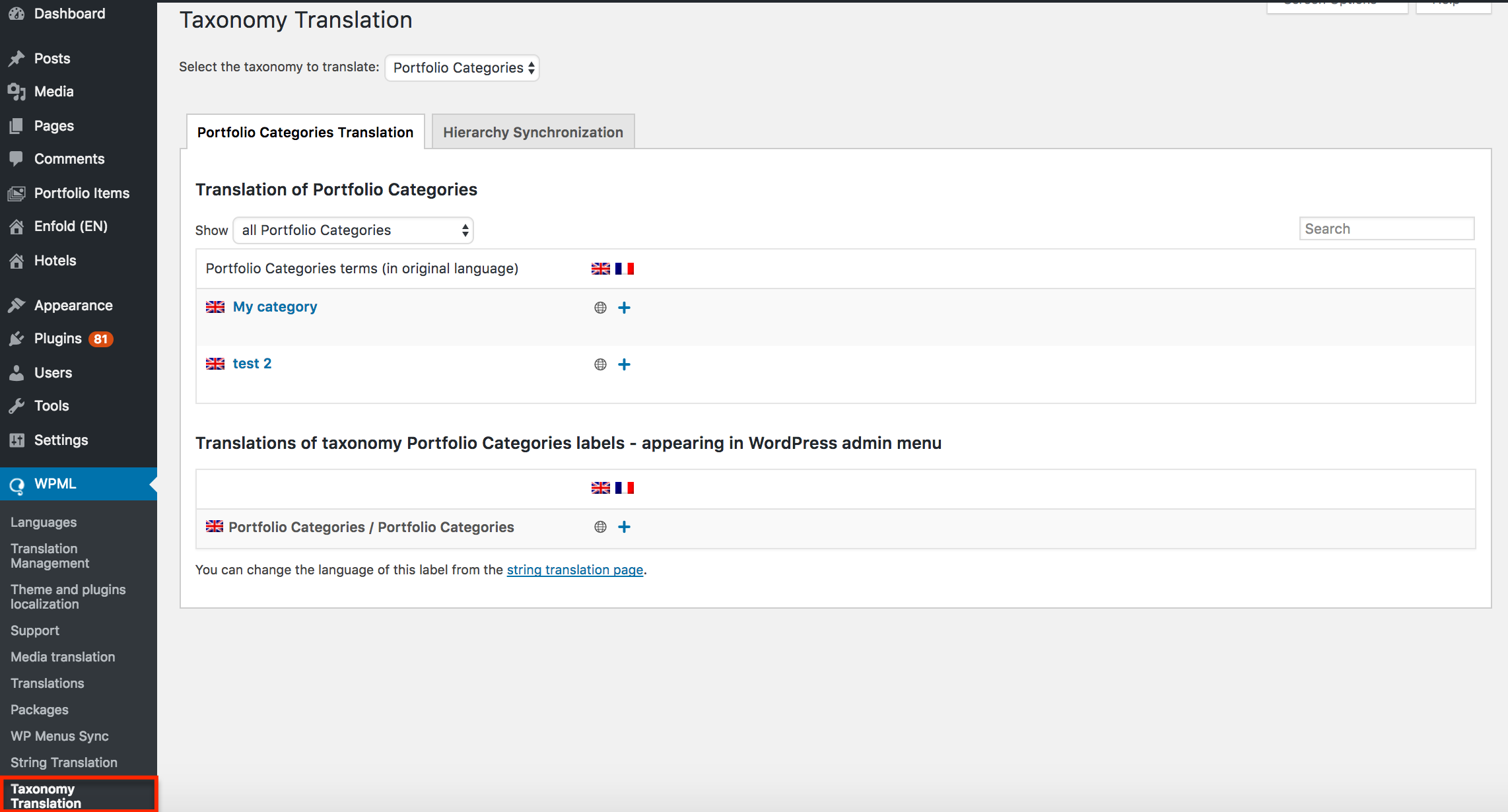 Select Portfolio Categories from the Select the taxonomy to translate drop-down menu.
Click on Translate to add the custom taxonomy translation by filling the required fields and then click OK as illustrated below.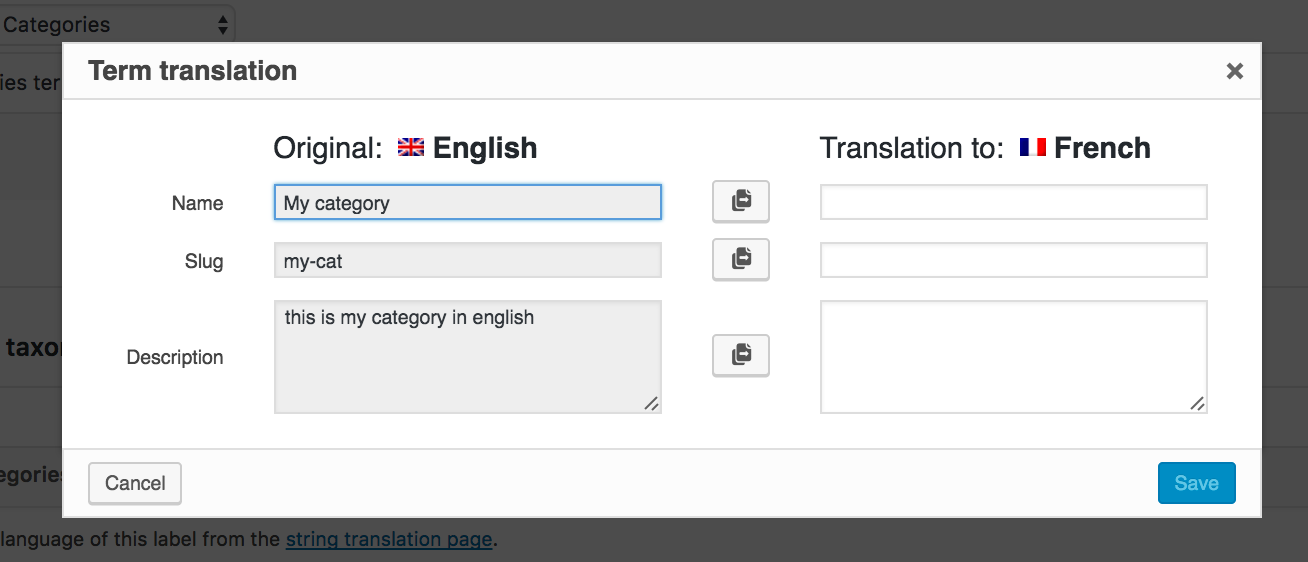 Translating Menus
WPML can synchronize menus for you. This means that if some entries, for example some pages, posts, or categories, are in the English menu, WPML can generate and keep in sync menus for other languages.
To learn more, read about synchronizing the menus and translating them.
Translating texts from Enfold theme, plugins and other places
Besides contents coming from posts and pages in your site, there are usually some texts coming from other places. Most common examples are themes and plugins.
To learn how to translate these texts, read our documentation page about translating strings.
List of all the current translatable Avia builder Elements
The following textual elements found in Enfold are currently supported by WPML:
Text Block
Special Heading
Icon Box
Icon List
Icon
Headline Rotator
Button
Fullwidth Button
Content Slider
Notification
Tabs
Accordion
Promo Box
Contact Form
Blog Posts
Post Slider
Magazine
Mansory
Team Member
Table
Progress Bar
Fullwidth Sub Menu
Testimonials
Catalogue
Animated Numbers
Animated Countdown
Mailchimp Signup
Code Block
Social Share Buttons
Image
Image with Hotspots
Easy Slider
Video
Fullwidth Easy Slider
Fullscreen Slider
Featured Image Slider
Accordion Slider
Advanced Layerslider
Partner / Logo Element
Google Map
Translating content coming from Enfold add-ons
Enfold ecosystem is wide and it features many useful add-ons extending its usability. We are constantly working on making these add-ons compatible with WPML, not all of them are yet integrated.
In case of you use a Enfold add-on that's not yet configured to work with WPML, you can fix it yourself. We recommend you to follow the instructions on integrating page builders that use shortcodes with WPML.
Maintaining the Avia Layout Builder Compatibility with WPML
We have prepared a documentation that explains how the Avia Layout Builder works with WPML. Additionally, it explains the process of updating the language configuration file in order to maintain the compatibility between WPML and the Avia builder. Feel free to check it here.
Getting help from our support
If you need help using WPML with Enfold theme, please visit our technical forum.
If you are working with a developer for your site, please use our Translation support forum to get help with translating your site's content.
If you are setting up the site and WPML yourself, please use our Technical support forum.
Need help with building and maintaining your site?
If you need help with building or maintaining your site, take a look at our list of WPML Contractors. They are experienced developers specialized in developing multilingual sites.
Get WPML
You can evaluate WPML for 30 days and see how you like it. If you are not happy with our plugin, we refund you without any questions in the 30 days.
Buy and Download