Translation Management is a WPML addon which allows working with teams of translators and translation services. In this guide, you will learn how to add translators to your site, how to send content for translation and how to track the progress of translations.
As the site's Translation Manager, you are responsible for setting-up translators or translation services and sending content for translation.
After you log-in to your WordPress site, go to WPML->Translation Management.
A wizard is waiting for you, which will guide you through the setup steps.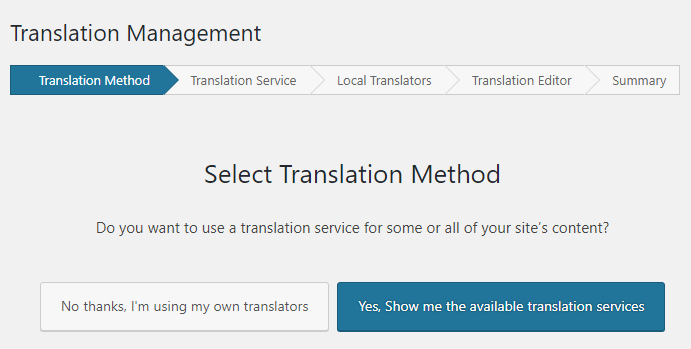 Your first task, as the site's Translation Manager, is to choose who will translate the content on your site.
You can bring your own translators to the site or use a translation service. WPML offers integration with the web's leading translation services, offering fast and accurate translations at affordable budgets.
You may opt to use both your own translators and translation services on the same site. When using both, you will need to choose who will translate each job.
The next steps of the wizard cover:
---
If you are a developer, building a multilingual site with WPML, be sure to read: