To add translations for your existing posts and pages, click the "+" icon for the language you want to translate into.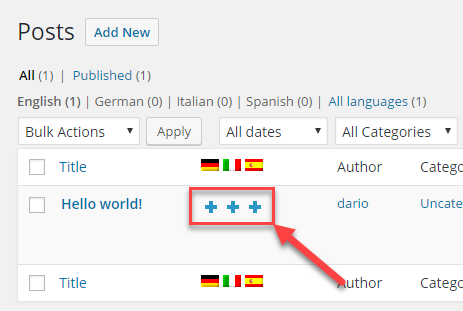 You are taken to an "Add New" page, for the language you selected. You can enter the translation, just like you create the original content.
The following image shows an example of clicking the "+" icon, under German, for the "Hello world" post. This creates a new German translation for it.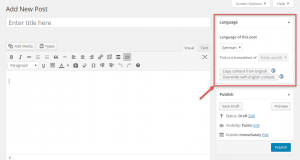 Notice that the language of this post is German and that it is the translation of the original Hello world post in English.
Please note that when the contents of the original language are changed, on the listing page, the icon for the translations will change to reflect this. This allows you to keep track of the changes made to the original contents.
Sometimes, you need to use the same, untranslated contents in other languages. For example, you might be running an online store with a large number of products and it is not practical to translate them all. In this case, you can set WPML to display the page contents in the site's original language. All the other parts of the site (header, sidebar, menus, etc.) are displayed in the current visitor's language. To learn more about this topic, please visit our page about displaying untranslated content using content duplication.