Professional translators typically work at least twice as fast as non-professionals. They use advanced tools and have years of experience. Professional translation always costs less and works better than translating for yourself.
On this page
How to choose the best translation service for your website
Use the list of Partner Translation Services (also available on the Translation Services tab, located on the WPML → Translation Management page on your site). These translation services are closely integrated with WPML and welcome clients running WordPress sites of any size. You can use them for large corporate sites, as well as tiny sites and blogs.
You will not need to give professional translators access to your WordPress website nor will they see the WPML translation editor.
When you send content for translation, WPML creates a file which is given to translators to edit in a separate software. They will be able to see the URL and preview of the content for context. When they have finished, WPML will ensure you receive the translation.
How to activate a translation service
Once you have selected a translation service that you like, you will need to create an account with that service. Next, acquire the authentication key from this service and insert it into WPML
Step 1 – receive the authentication key from the translation service

Step 2 – insert into WPML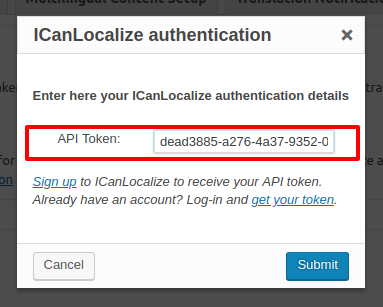 Before you even start translating you will want to make sure your visitors do not see that your target language is still a work in progress.
You can set a language to "hidden" to ensure that only those with access to the back-end can see the translated content. As a result, users on the front-end won't see any broken content or incomplete translations while you are still working on it.
You can hide your language on the WPML → Languages page under the Hide languages section.


Identify the key pages you want to translate
You will most likely not need to translate your whole website into your target language.
To select the most important content to translate, go to the WPML → Translation Management page.
Use the filter near the top of the page to find the content you want to send for translation. You can select the type of content (Page, Post etc.), languages, translation status and you can even type in the name of the content you are looking for.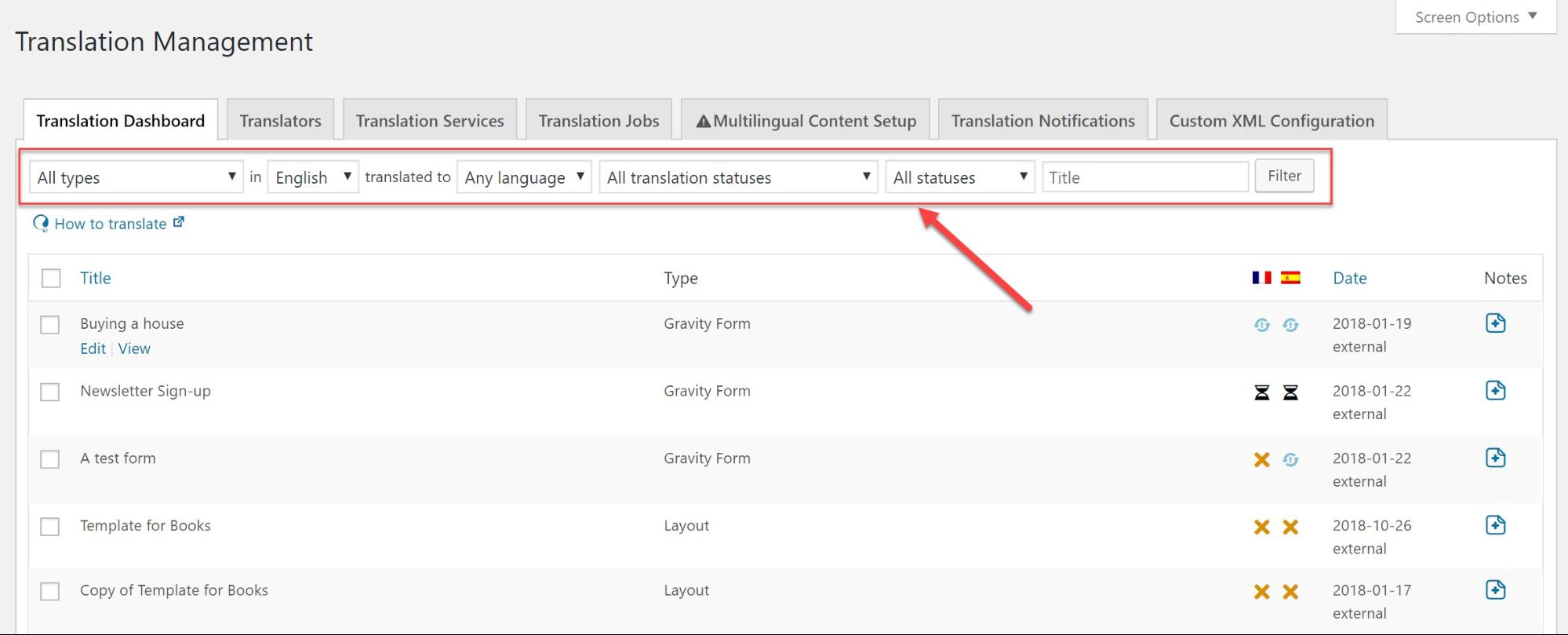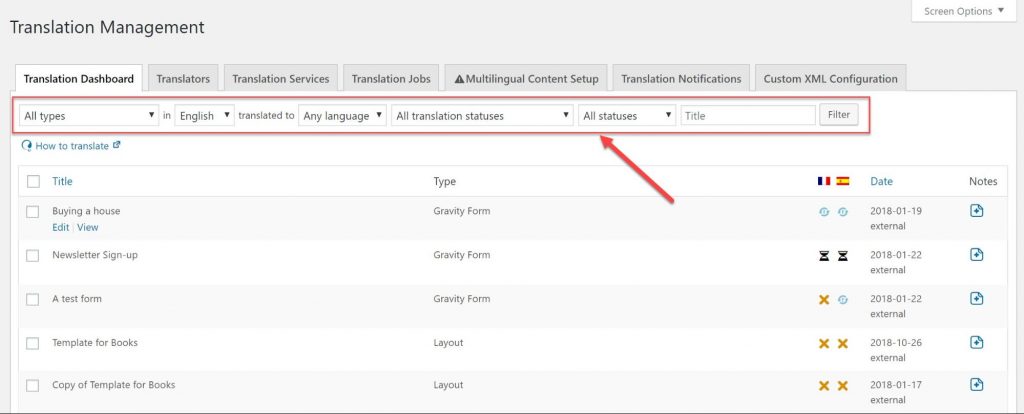 How much you are going to pay for the translation
Before you decide to send your content for translation you will want an idea of how much it will cost. There are things you can do which will not only give you an idea of how much it will be but can help reduce your costs.
Word count
You can get an estimation of costs by using the WPML word count.
Go to WPML → Translation Management and select the items you want to translate. At the bottom, you can see a Word count estimate.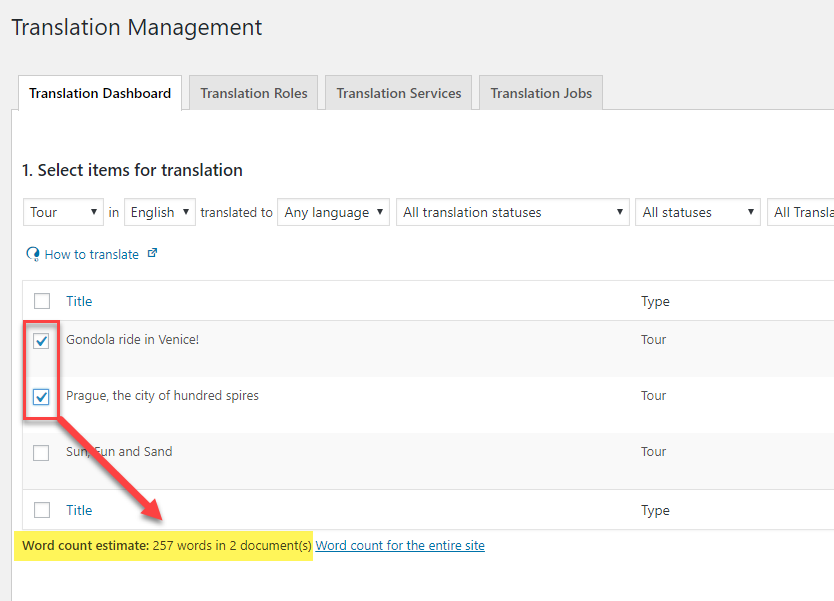 You can also get a word count for entire post types by selecting Word count for the entire site next to the estimate and choosing the relevant post types.
Use Translation Memory to avoid being charged for repeat segments
If your translator is using translation memory it will remember which sentences have already been translated.
How to send the first set of content to the translation service
Use WPML's Translation Dashboard to send your first pages to the translation service. After selecting the content you want to translate, it is added to the Translation Basket. Now, click the Translation Basket tab and click the Send all items for translation button. You will see a message telling you that items have been sent to the translation service.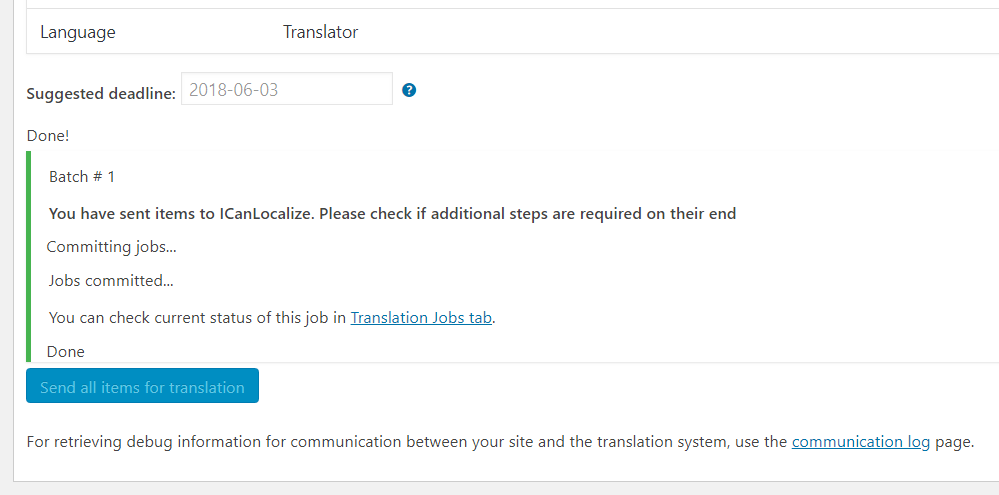 Identify and send your strings for translation
Anything that doesn't fall inside posts, pages or taxonomy goes into String Translation. You can use this module to send all missing texts to your translation service.
Go to WPML → String Translations and select the strings that you want to translate.


When you have chosen which language you want to translate into click Add to Translation Basket.
Head to Translation Basket where you can review your items before you click Send all items for translation.
Prioritize your translations
To ensure your most important content (including strings) is translated first, you can add priority status to your translations. It allows you to keep track of what needs translating next.
When you edit a post or page, a Translation Priority option is available in the Language box.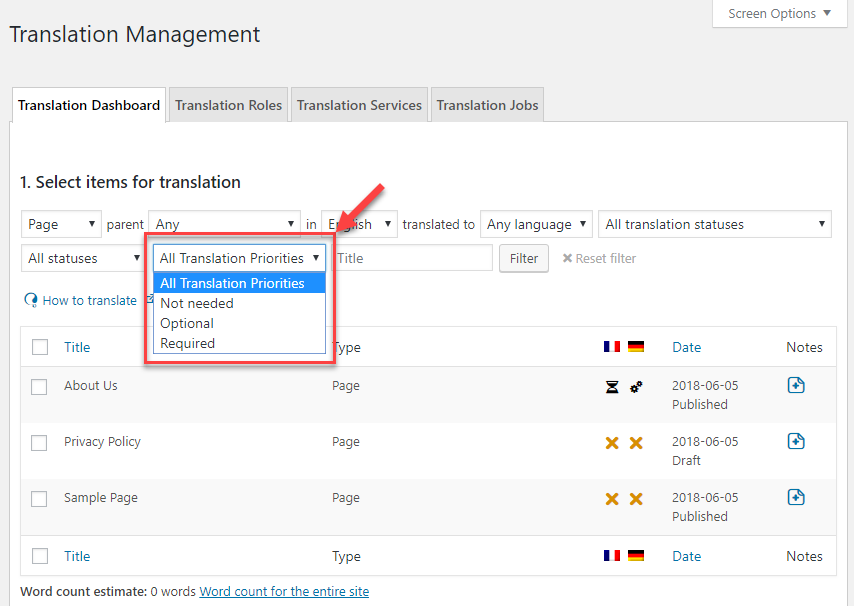 You can then filter your content on WPML → Translation Management by importance.
Pay for the translation
Once content has been submitted for translation, the translation service scans it and calculates its cost. Do not forget to go to the translation service website and pay for the work so that they can start working on it. Most translation services allow you to deposit additional funds, so you do not need to pay per job.
Receiving completed translations
If your site is set to pull content automatically from the translation service, the translation will appear directly on your site. On the WPML → Translation Management page, translated pages are marked with a green check icon.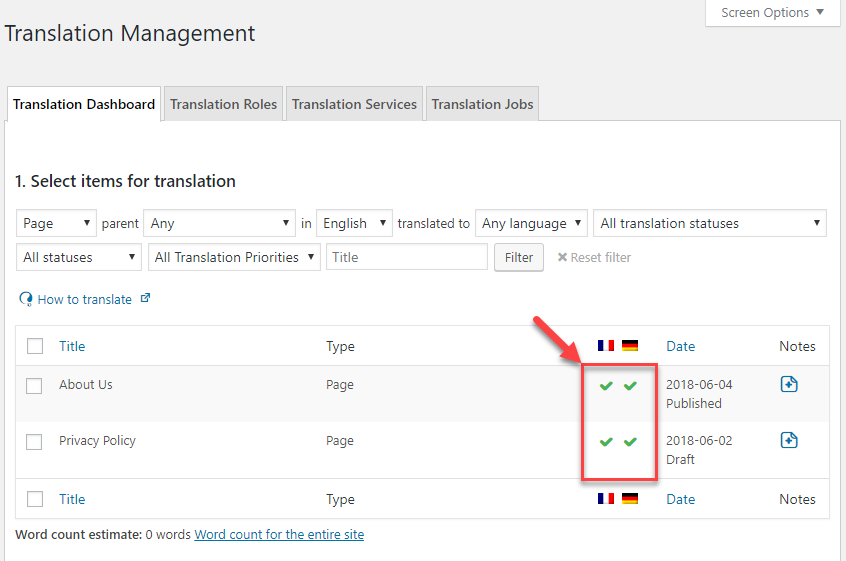 If your site is not set to pull content automatically from the translation service, go to WPML → Translation Management and click the Check status and get translations button.

Setting up translation notifications
If you would like the Translation Manager to receive email notifications when a translation job is completed, go to WPML → Settings. Click the Translation Notifications tab. On this page you can choose the frequency of the notifications.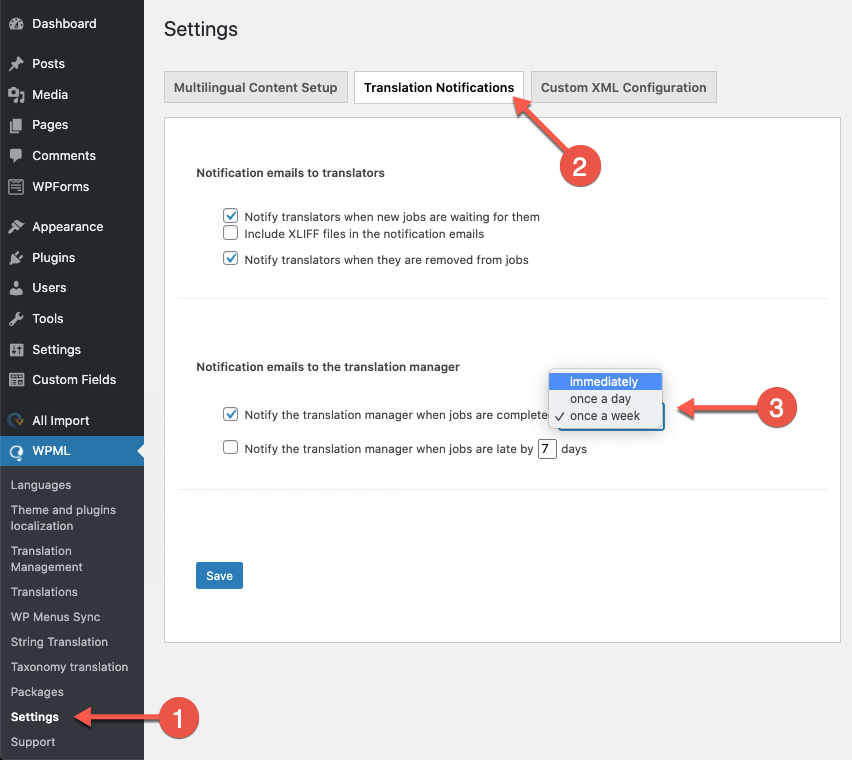 If you do not see the Translation Notifications tab, set up a Translation Manager to be in charge of your site's translations.
What to do if your received translations are not appearing
If you know that a translation job is complete but it is still labeled as "in progress" then there are four options you can try:
Head to WPML → Translation Management → Translation Dashboard and click on Check status and get complete translations.
Go to WPML → Translation Management → Translation Jobs and click the Synchronize status. After a few minutes repeat the steps for the first option above.
Go to the page in question – Pages → Edit Page and click Save and Close.
Go to the original page edit screen and select your target language in the admin bar. This will take you to your translation regardless of its status. Click Publish and you will see the translations on your website.
Translate your website's menu
Once you have received your translations for your menu elements you will want to display them on the front-end. A quick way is by using the menu sync tool which keeps your menus in different languages synchronized.
When you head to WPML → WP Menus Sync you can see which elements are translated and ready to be added. Click Sync to add them.
Translate your media
You can use WPML Media Translation to provide replacement images for different languages and to translate the meta texts of those images.
Media posts can be treated just like regular posts. To translate the media text, go to WPML → Translation Management and select Media as the type filter. You can now send your media posts to your translation service.
Keeping translations up to date
If you edit a translated page, WPML will indicate that the translation needs to be updated. You can send your page for professional translation by following the same steps as before.
If your edits are minor or you prefer to do the update page yourself, see our documentation about updating translations without resubmitting them to a translation service.