Single-screen translation status
WPML makes it easy for site adminstrators to stay on top of translation status. The Translation Dashboard displays a list of all documents in your site. This includes posts, pages and any custom types you are using.
From that single screen, you can view the current status of translations and send documents to your translators.
Select documents to translate and to which languages. WPML will put the documents into the translation queue and notify the translators.
Email Notifications to Translators and Admins
When you send jobs to translation, WPML notifies your translators. They receive emails that tell them what you have sent and can start with translation.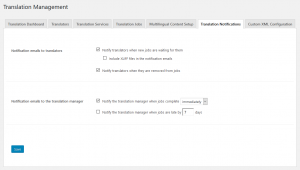 You select how to receive notifications about completed work.
WPML can notify you about each completed translation as it happens.
Individual Work Queues for Translators
Each of your translators will see only jobs assigned to them.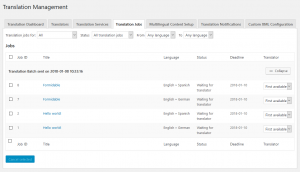 Translators do not need to search for what needs to be translated. They also cannot pick the content in your site themselves and edit it. They can only translate the jobs that you assign to them.
Powerful Translation Editor
Translators can have any type of an account, including Subscriber. They translate using WPML's Translation Editor. The same editor is used for different types of content.
Your translators only need to know how to translate. They do not need to learn anything about WordPress administration. WPML will automatically take care of all the technical part.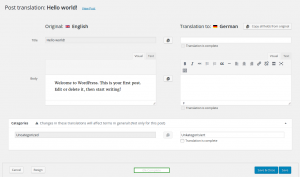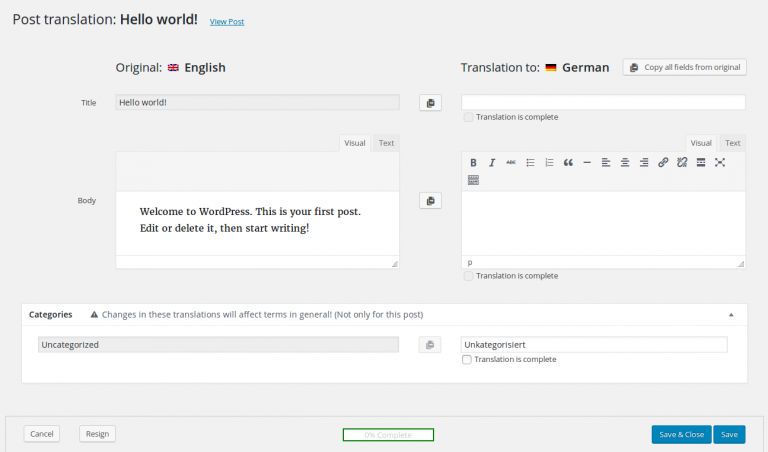 The Translation Editor tells translators what has changed, so that it is easier to keep translations up-to-date.
It breaks the document into different fields. WPML shows which fields are complete and which require translation. Additionally, there is a Show differences link for each field. It displays the changes between the last time it was translated.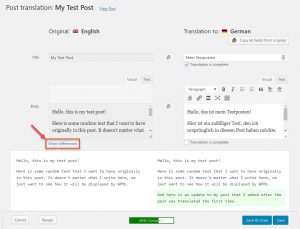 When translation is complete, WPML creates the content in WordPress and automatically handles the whole process. This includes:
Inserting pages into the right hierarchy
Applying tags and categories to posts
Creating custom fields
Updating links to other translated pages