Diseñado por CSSIgniter — visita Acoustic
El Tema Acoustic fue probado más de 5 meses atrás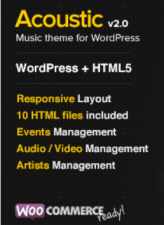 Tema de WordPress para DJ, artistas independientes, bandas, propietarios de clubes, productores de música y de eventos y de todos quienes participan en la industria de la música.
Compatible con WPML Probado por el equipo de WPML.

Theme's Category:
Música
Versión 2.2 Última prueba realizada el: 14/02/14
Themes designed by CSSIgniter
Blockchain is a business / cryptocurrency / ICO WordPress theme. ICO Advisor? Maybe focused on Bitcoin / Altcoin trading? Whatever your trade, Blockchain is here to help you build the perfect WordPress website.

Tema para WordPress, adaptable a las pantallas de los distintos dispositivos, diseñado para mostrar su hotel o resort.

Transform your WordPress website into an eCommerce store.