Diseñado por Elegantthemes — visita AskIt
El Tema AskIt fue probado más de 5 meses atrás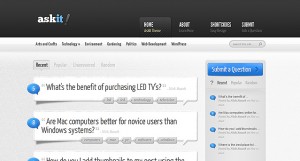 AskIt transforms your blog into a fully functional question and answer site. AskIt allows your visitors to post their questions and have them answered by fellow members. Any visitor can post answers to these questions which are then voted on by the community until a «correct» answer is chosen by the question author.
Compatible con WPML, Probado por el equipo de WPML. Los cambios nuevos no afectan su compatibilidad, según lo declarado por el autor. Tested by WPML team.

Theme's Category:
Comunidad
Versión 4.1.7 Última prueba realizada el: 12/10/18
Themes designed by Elegantthemes
Extra takes the Divi Builder framework and extends its advanced Drag & Drop builder power to work on your homepage and categories with a brand new set of post-based modules.

Aggregate proporciona una infinidad áreas para contenido que ya incluyen widgets y presenta todo de una forma clara y legible. Es un Tema de estilo revista para blog.

Divi Builder fue diseñado con el usuario como primera preocupación. El constructor transforma los elementos constitutivos en bloques visuales, lo cual permite comprender y editar la estructura de su página sin modificar una sola línea de código.