The WPML support team can nearly always help you resolve issues faster when we know the theme and plugins that you use.
The WPML plugin can send us a report of the plugins and theme that you are using. When this option is selected, we will include your currently active theme and plugins on your wpml.org account profile (which only you and WPML support can access) and update it as needed.
Controlling whether WPML plugins send information to wpml.org
There are three places where you can modify the setting to allow or deny WPML to collect your active theme and plugins.
WPML Wizard
When installing WPML on a new site, you must complete a wizard to properly set up the initial features. The last step of this WPML wizard provides the following registration setting: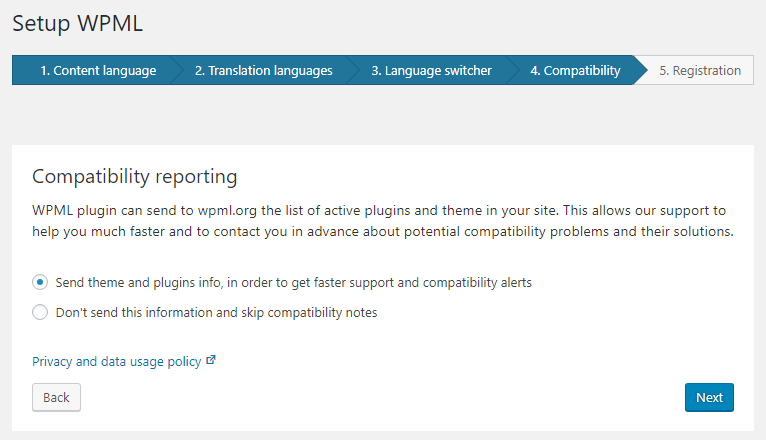 WPML settings page
If you WPML has already been registered on your site, you can always find this same setting by navigating to WPML->Languages, where you will see the following: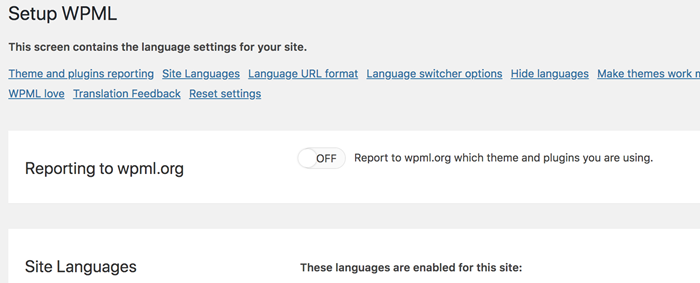 When your site sends reports
Once you provide WPML support with the ability to collect this data from your site and enable reports to be sent once a month, we will send the first report to the WPML server if you change the active plugins or theme.
How to stop sending reports and delete information that you have already sent
In case you no longer require this compatibility information, you can always prevent WPML from sending additional reports. You can also delete information that WPML has already sent.
To prevent WPML from sending reports, go to WPML->Languages (just as you did to enable reporting) and change the "reporting" toggle to OFF.
To delete the information about plugins and themes that you have already sent, go to your wpml.org account, click on WPML Compatibility, and delete the information from there. You can remove information for individual sites or for all sites at once.
Viewing the compatibility report
You can access the compatibility and translation instruction reports from two locations.
In your site, navigate to WPML->Translation Management and click on the link, How to translate.
Log in to your wpml.org account and click on WPML Compatibility. Then, select the site to view the compatibility report.