WPML 2.8.1 brings in long waited features and also series of bug fixes and refinaments.
Support Different Domains for Languages in WordPress Multisite
If you are running a large multisite network for your different websites, now you can assign different languages to different domains.
To do this, WPML comes with a new drop-in file for sunrise.php.
This is done with a drop in that's included the new plugin release.
For complete details, read about Languages in Domains for WordPress Multisite Mode.
Mobile-Friendly Language Switcher
Until now, the only mobile-friendly language switcher for your site was the footer links (or if you build a custom language switcher). We've added a 'mobile-friendly' mode to WPML's drop-down language switcher, opening it to visitors on tablets and phones.
The mobile-friendly language switcher looks exactly like the ordinary one. The difference is in the way it works. When you select a mobile-friendly language switcher, visitors click once to show the list of languages and twice to select their language. There is no 'hover' operation, which doesn't exist on mobile devices.
You can enable the mobile version always, for mobile browsers (recommended), or never.
Allow logging in from on different domains
Up until now one could only log in on the domain corresponding to the default language while using the multiple domains options for language urls. The new version offers the possibility of logging in on each separated domain.
Drag-and-Drop Ordering for Languages
I hate it when languages move around in our footer for every language. There is some logic behind it, but it seems so un-logical.
WPML 2.8.1 includes a new interface that lets you drag languages and order them.
The ordering from this GUI will be the default language order for WPML's language switchers. If you are using WPML's API to build your own language switchers, you can choose between this ordering, language name or ID.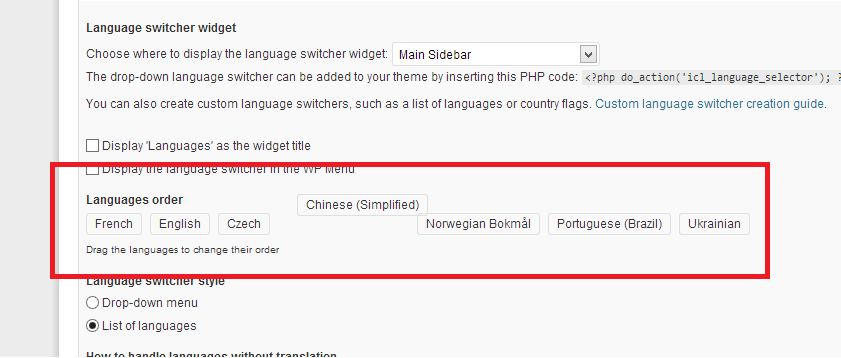 Correct Sources for WordPress Core Translations
This version of WPML changes the location from which WPML loads translations for WordPress. Instead of the old and abandoned SVN repo (don't worry if you don't know about it), translations are now coming, in real time, from the WordPress Translation project.
If this is new to you, you can read all about automatically downloading WordPress translations.
It's the same GUI as before, but now, translations are coming from the best location.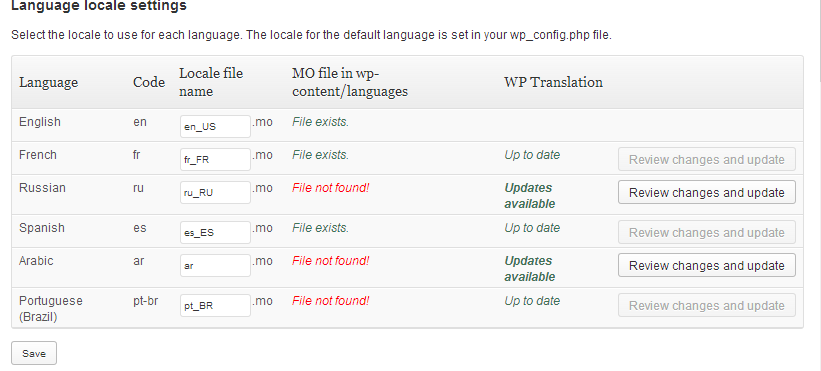 Bugs Fixes and Tweaks
This new version brings beside the new features a series of bug fixes and refinements.
WPML Media – problems with duplicating attachements
Added a filter for _parse_wpml_config – allow setting translation properties to custom types, fields etc without using a wpml-config.xml file
Fixes for parsing wpml-config.xml for certain situations when multiple configuration files were present
Tags of secondary language get deleted when editing post
Translate by WPML option is disabled
Admin language as edit language is not working
Media Translation produces incorrect URLs in Windows
Warnings approving and replying to comments
Notices and Warnings when resettign a language
Translation Editor: Insert/edit link dialogue does not filter by page list by language
Updating WPML
As always, the recommended way to install and update WPML is by using our Installer plugin. Installer will let you get WPML updates directly to your WordPress admin.
You can always download WPML manually from your account.
Interested in WordPress 3.6 Support?
WPML 2.8.1 runs pretty well on the latest WordPress betas. There are a small glitches that we're handling and we'll be ready with an update for WordPress 3.6, before the new WordPress is released. If you try WPML 2.8.1 with WP 3.6 and see any issues, please report in our technical forum.