Conçu par Crivion — Découvrez 123 WPML Redirect Based on IP Country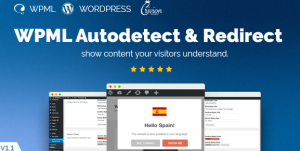 Shows a popup when a user from a country visits the website and there's a content in their language.
Alert
Version 1.4 Dernier test le : 26/Mar/2019
Compatible avec WPML, Testé par l'équipe de WPML. L'auteur a confirmé qu'aucune des nouvelles modifications n'impacte la compatibilité.