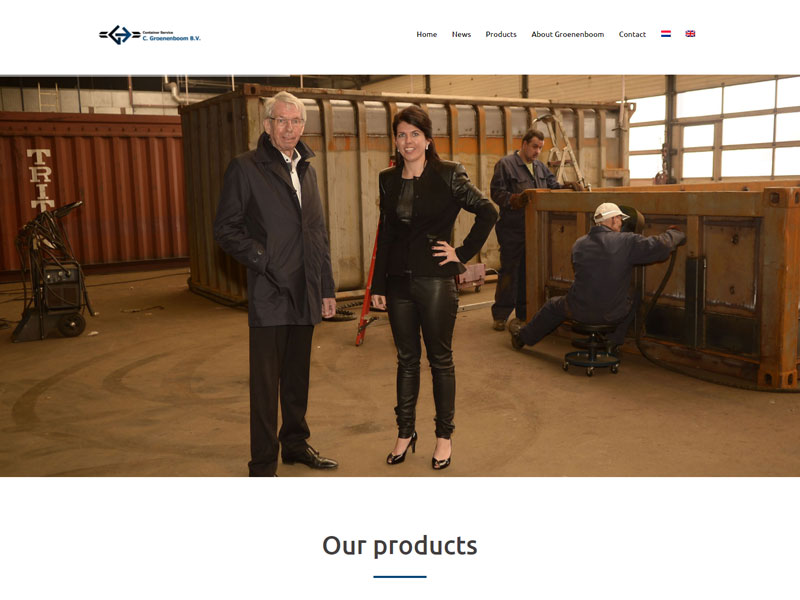 Container Service C. Groenenboom is a family business with more than 30 years of experience, based in Oosterhout (North Brabant, Netherlands). They repair both old waste containers and reefers. At the same time, new containers are constructed, blasted and painted at the same location for the Ministry of Defence and the offshore industry.
To reach more people across the Netherlands, they needed a multilingual website that is available in English and Dutch languages.
Familiebedrijf Groenenboom is opgericht in 1986. In 2009 nam Kristel Groenenboom het bedrijf over van haar vader. Sindsdien won zij verschillende prijzen en awards.
De kracht van het bedrijf zit in veelzijdigheid en vakmanschap. Het Container Service bedrijf voorziet in een totaalpakket aan diensten op het gebied van containers. Het bedrijf levert in binnen- en buitenland en daarvoor is een meertalige website onmisbaar.
Van reparatie van oude afvalcontainers en reefers, tot nieuwbouw van containers voor defensie, onshore en offshore. Zowel het bouwen, stralen, spuiten en aanpassen van containers doen zij in eigen beheer. Het Container Service bedrijf in Oosterhout (Noord-Brabant) beslaat een oppervlakte van 25.000 m2 met 27 overdekte bedrijfshallen, een straalloods en een spuiterij
https://groenenboomcs.nl/en/
Report a problem