Conçu par ThemeBlvd — Découvrez Akita
Le thème Akita a été testé il y a plus de 5 mois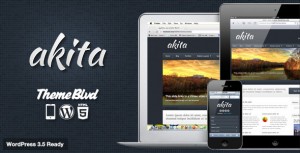 Akita est un thème moderne pour les affaires. Conçu pour tous les appareils et compatible avec tous les modules d'extensions Theme Blvd.
Compatible avec WPML Testé par l'auteur du thème

Theme's Category:
Affaires
Dernier test le : 04/07/12
Themes designed by ThemeBlvd
Le thème Alyeska de WordPress répond à vos besoins

Thème WordPress adaptatif

A WordPress theme that empowers you to do more.