Transifex is the leading provider of localization and translation of digital content for websites. The Transifex platform enables companies to produce high-quality translations by connecting their sources of digital content to the translation team of their choice.
Démarrer avec Transifex
To be able to send files for translation to Transifex, you first have to login to your wpml.org account, and download and install the following plugins on your website:
WPML Multilingual CMS: the core plugin.
WPML Translation Management: this plugin will allow you to connect to Transifex.
WPML String Translation: this plugin will allow you to translate interface strings.
If you do not have a wpml.org account yet, you can create a new one by simply choosing between our WPML Multilingual CMS or Multilingual CMS Lifetime plans.
As soon as you get access to your wpml.org account, check our detailed step-by-step guide on how to download and install WPML. Please remember to register your site to receive automatic updates and gain access to Transifex services.
If you need any help with the WPML plugin configuration, you can go through our getting started guide or just ask a question on our support forum.
Connecting your site to Transifex
Once all the required plugins have been installed and activated, all you need at hand for connecting WPML to the translation service is your Transifex username, password, organization slug, and if project is public, a link to its repository.
Transifex account configuration
If you do not have Transifex account yet you can freely create one by visiting Transifex homepage and signing up by clicking Try for free button.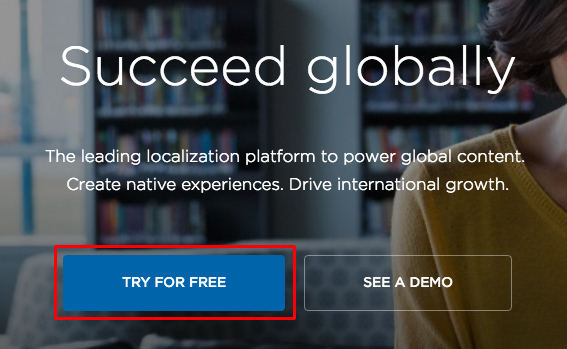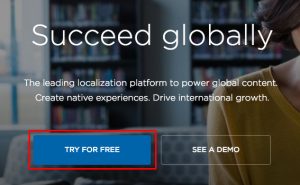 This will take you to a form, which you can fill with the required data or you can use OAuth via LinkedIn, Google, or Github.
If you use the OAuth option (Github, Google or LinkedIn), you must set your password on the profile page later because it is mandatory for connecting with WPML.
After you have created an account, you must create an organization (if you have not been invited as collaborator).
Select your organization from the dropdown on top right corner and click on Organization settings.
On the new page please check your organization slug, which will be required later to authenticate with WPML. Further, please make sure that you are an administrator of that organization (it is required if you want to use that organization with WPML).
Activating and authenticating Transifex
Login to your WordPress website, visit the WPML->Translation Management admin page, and click on the Translation Services tab.
Scroll down to I'm looking for translation management systems and click the link.


Locate Transifex from the list and click Activate button to activate it.
Once the service is activated, click the Authenticate button to authenticate the service.
This is where you will need your username, password, and organization slug obtained in the previous steps. If you enter Repository URL, the project created will be considered public and anyone will be able to contribute.
A popup window will appear in which you can enter your Transifex username, password, and organization slug. After entering the values, click the Submit button.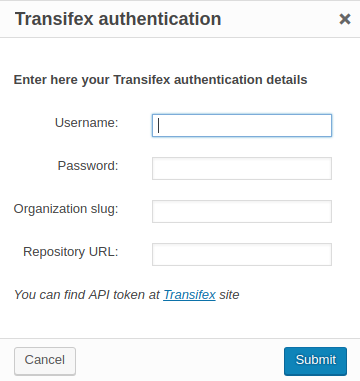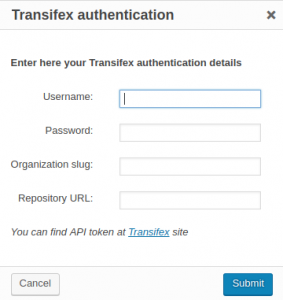 After a few seconds, Transifex will display as an authorized service.
Congratulations! Your Transifex account is now connected to your WordPress instance.
Now, you are ready to send content for translation.
Sending content for translation
To send documents for translation, open the Translation Dashboard (WPML->Translation Management) and select the posts and pages you want to have translated by clicking the checkboxes in the first column.
Next, scroll down to the list of languages, select the target languages, and click the Add selected content to translation basket button.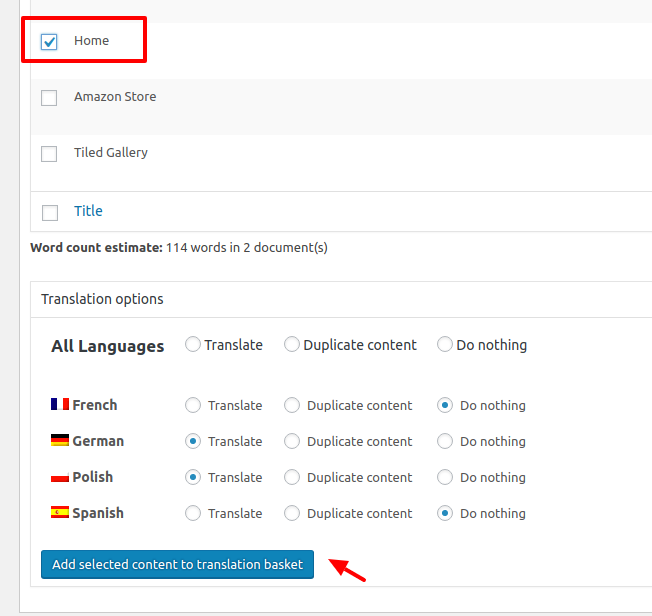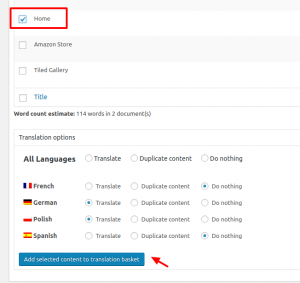 After the page reloads, a new tab appears at the top of the page, called Translation Basket. By clicking this tab, you will find the list of all the items (posts, pages, and strings) that you have added to the basket, as well as the languages these items are to be translated into.
Here, you can verify the content you wish to translate, remove posts and pages mistakenly added, and change the Batch name. The Batch name will be visible on the Translation Jobs tab and will help you to find projects. When you are ready, simply click the Send all items for translation button to send everything to Transifex.
When the translation basket's contents have been successfully sent to Transifex, you will see a confirmation message, as shown in the following figure.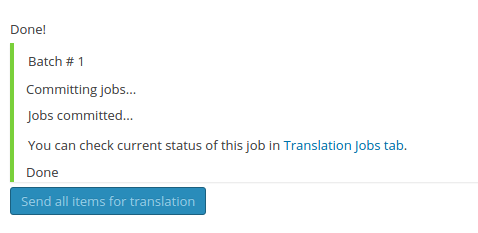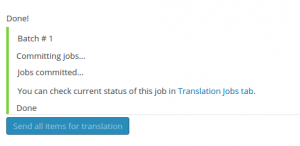 Click on the Translation Jobs link you are given in the confirmation message, or click on the Translation Jobs tab at the top of the WordPress administration screen. From the next administration screen, you can click on the Batch Name to be redirected to Transifex's dashboard.


Transifex admin panel
If you open the Translation Dashboard, you will see a new project being created on behalf of WPML. By clicking on it, you will notice that it contains all the target languages as specified in WPML.
You can start translating manually or order translation from third-party translation services.
For more details on how to start the translation or hire a third party service, please refer to the Transifex animated guide. Note that for translation to be downloaded by WPML, it must be 100% translated.
Receiving completed translations
As soon as a translation job is ready in Transifex it is also ready to be delivered to your website.
Checking for completed translations
Check for completed jobs by visiting  WPML -> Translation Management and clicling on Translation Jobs.
Locate the batch you want to check and click on the Synchronize status button.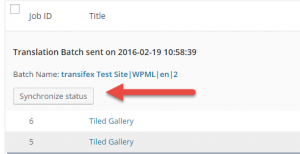 Having your completed translations delivered to your site
Depending on your configuration, translations will be delivered automatically or can be manually fetched from your WordPress admin panel.
To check your configuration settings, open WPML->Translation Management and click on the Multilingual Content Setup tab. Find the Translation Pickup mode section and check the selected option.


The Translation Service will deliver translations automatically using XML-RPC option implies that a translation will be delivered to your website automatically as soon as it is ready.
The site will fetch translations manually option implies that completed translations can be downloaded from the Translations Dashboard (WPML->Translation Management) using the Check status and get translations button found at the top of the Translations Dashboard page.

Canceling translation jobs
Although you cannot cancel individual translations, you can delete an entire project from Transifex. This will be seen as cancelation in WPML, and any pending jobs will be reset to the state in which they can be sent for translation again.
Note: Deleting a project in Transifex can cause a loss in the history log of deliver translations.
When you click on the Delete project button, you will be prompted for a password for confirming this step because it cannot be reversed.
Note: Deleting your project will permanetly erase all its resources and translations along with its Translation Memory.
When a project is canceled, you can synchronize what appears under the Translation Jobs tab in WPML by clicking on the Synchronize status button.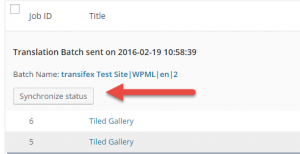 Having your canceled translations returned to your site
Depending on your Translation pickup mode configuration, your cancelled translation jobs will be returned to your site automatically or after you have manually checked for cancelled translations by clicking the Check status and get translations button from the Translation Dashboard.
Thus, if you select the Translation Service will deliver translations automatically using XML-RPC option, all you need to do is wait for its delivery.
If you select The site will fetch translations manually option, you will need to click on the Check status and get translations button.
---
Découvrir ce que les autres en disent
There are no reviews yet.