It's time to renew your WPML account but you're no longer getting paid for maintenance work for the sites that you built. You don't want to pay for updates for sites that are not paying you. You also don't want to neglect sites that you built. What do you do?
Now there's a solution. WPML allows you to transfer the payment for renewal of sites to the clients for whom you built them. Clients will pay for their own renewals. You receive a commission and additional free sites to register.
Step 1) Invite your clients to pay for WPML updates to their sites
Log-in to your WPML account and client on Sites. Click on the Invite button for the sites that you want.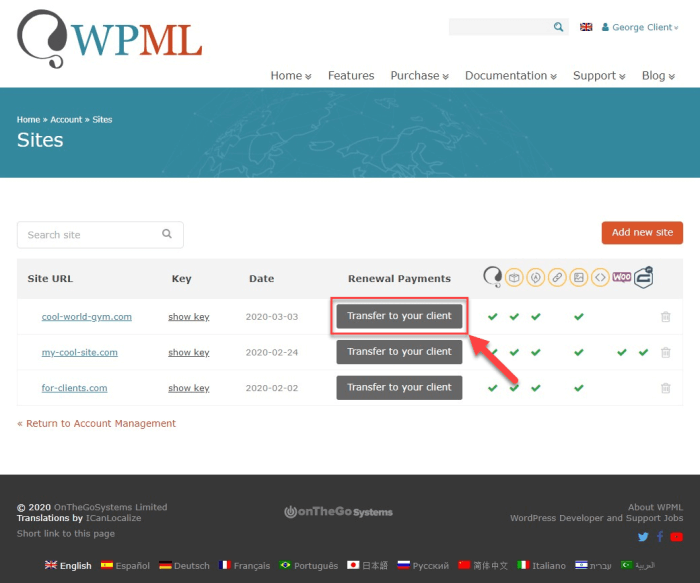 Step 2) Your clients pay for a discounted WPML account
Write your own invitation email for your clients and use the unique purchase link from our invitation. Since your clients know you, it's best that you invite them with your own words.

Step 3) Your yearly renewal cost goes down and you receive free sites to register
Your Sites page will show which updates have moved to your clients.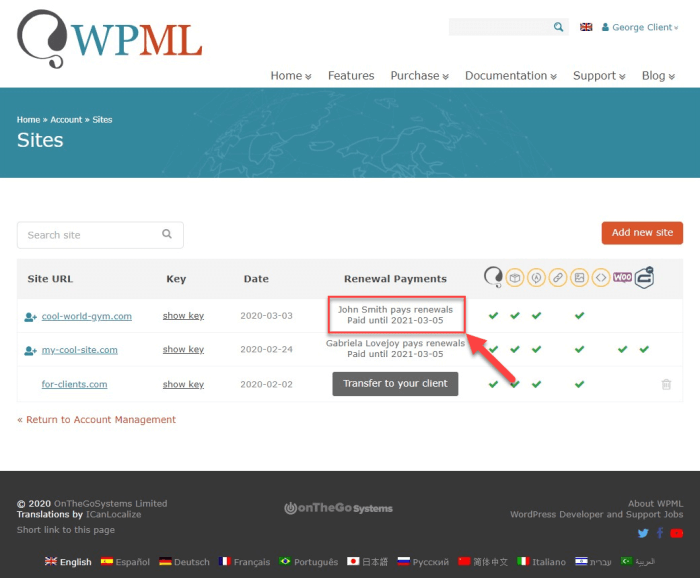 When your next renewal comes, your payment goes down by $20 for every site that your clients are renewing.
Sites that your clients are paying for are not counted under your account. So you can build new sites for new clients.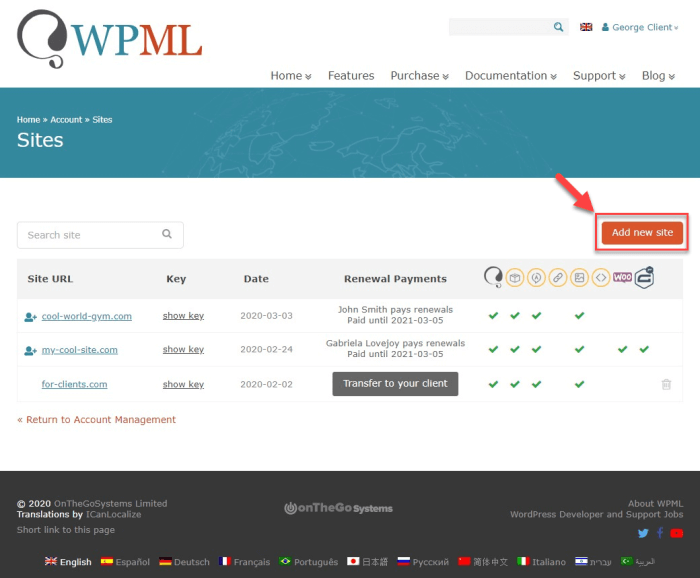 Who can transfer renewal payments?
Any WPML client with a CMS or Agency account can transfer renewal to clients. Please note that if you stop supporting your clients and they assume the renewals on their own, you will not receive the $20 discount or the extra free site. So it's a good idea to explain about renewal payments early and invite your clients to pay for the renewal as soon as you're done building the site for them.
What happens if you don't renew or don't transfer an account?
WPML is a crucial part of a website and just like WordPress itself, it's crucial to keep it up to date. When a site's WPML account (transferred or original) is not renewed, you lose access to WPML plugin updates, our support, and more.
That being said, your site will continue functioning as before and you will not lose any data.  However, in general, sites tend to break and their security can be put at risk if you don't update plugins for a long time.
For more information, read what happens if you don't renew your WPML account.
Questions? Suggestions? Ideas?
Leave your comments and we'll get back to you.