WordPress 6.3 will drop support for PHP 5.6 in favor of PHP 7 and newer versions. We're doing the same for the next WPML release and it will allow us to further optimize WPML on many levels.
The Importance of PHP Requirement Update
WordPress 6.3, the next major version, is scheduled for August 8, 2023. The decision to drop support for PHP 5 in this version is a welcome update for the whole community. It's great because it will allow WordPress itself and theme and plugin developers to provide improvements across the board.
Naturally, we will do the same PHP requirements upgrade for the next WPML release. It's planned for a release a few days before WordPress 6.3 which means it will be a seamless match.
The shift from PHP 5.6 to PHP 7 brings improved performance, better memory management, and enhanced security. We're excited about the ways this will allow us to deliver greater performance and stability to your multilingual sites.
In our latest release WPML 4.6.4, we also added full PHP 8 support for even better performance.
What This Update Means for You
If your site is already running on PHP 7 or newer, you're all set and don't need to do anything.
If you're still running PHP 5.6 you should upgrade to PHP 7 or newer as soon as possible.
How to Check Your PHP Version
Not sure what PHP version your site is running? You can check by using the Site Health feature in WordPress.
In your WordPress admin go to Tools → Site Health and click the Info tab. There, under the Server section, you will find your PHP version.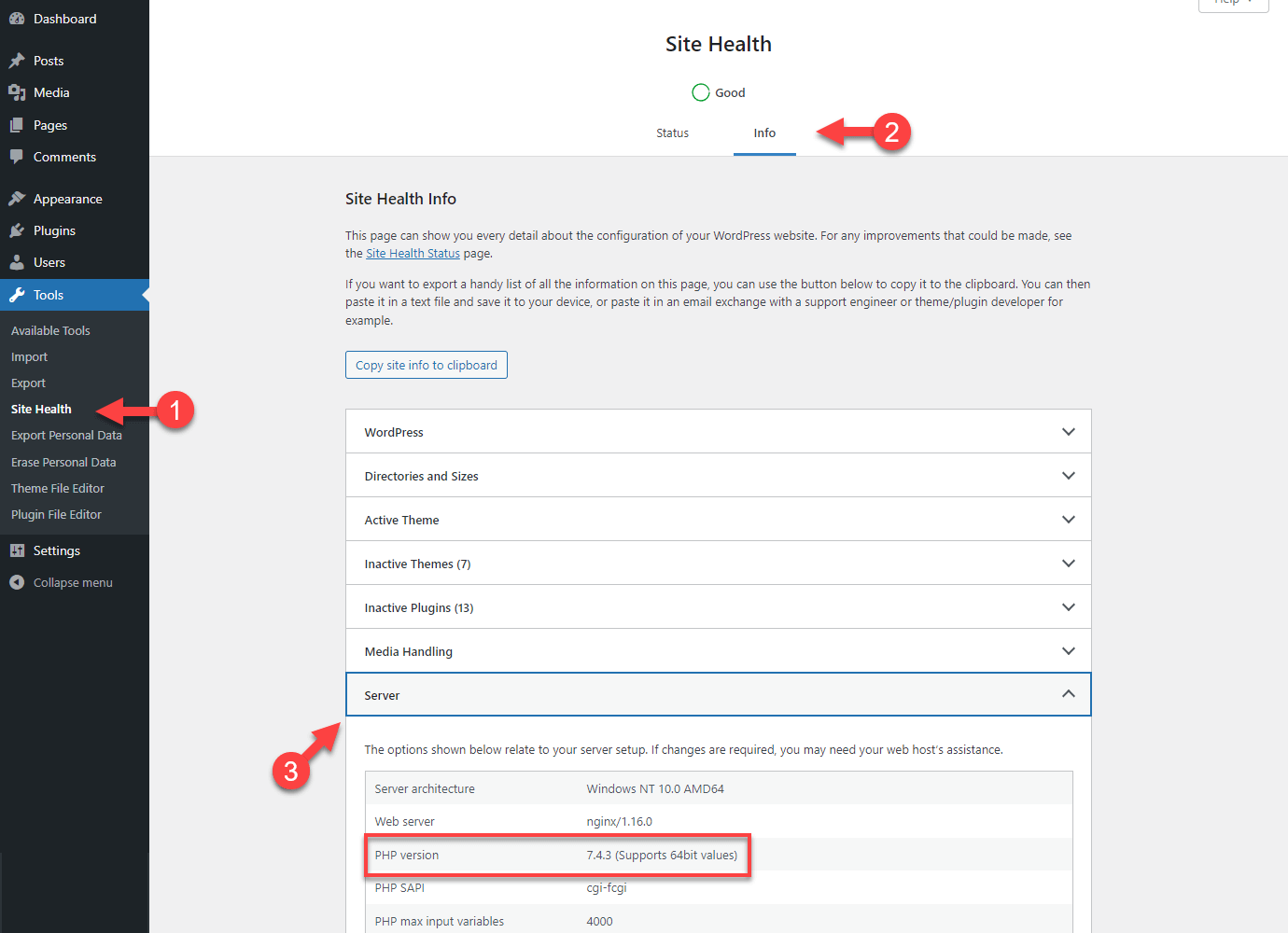 How to Upgrade Your PHP Version
The process of upgrading your PHP version is usually handled by your web hosting provider. We recommend contacting them and asking them to do this change for you.
Alternatively, many hosting providers also offer an easy way to upgrade your PHP version directly from your hosting control panel.
The following image shows an example of doing this in cPanel using the MultiPHP Manager page.
What if You Cannot Upgrade Just Yet
We understand that some of our clients might not be able to upgrade their PHP version for different reasons. If that's the case for your site, don't worry!
If for some reason migration is not feasible right now, you can continue using WordPress 6.2.2 and WPML 4.6.4. Both are great, stable versions fully compatible with PHP 5.6.
Feedback? Comments?
We're excited about these changes and look forward to offering you an even better WPML experience.
What's your take on this? Which PHP version is your site running? Let us know in the comments!