WPML 4.0.5 brings improved compatibility with the Elementor page builder. You can now translate Elementor templates and global widgets. As always, this release also brings numerous new features and bugfixes.
Translating Elementor's global widgets and templates
With Elementor Pro you can create global widgets. They allow you to reuse the same widget across different parts of your site. This way, when you update your global widget in one place, all instances across your site get updated as well.
Elementor Pro also allows you to create custom templates and use them in any page on your site. This includes templates for sections and footer.
There are two main steps for translating Elementor templates and global widgets:
Translate the global widget or a template.
Translate any page that features this global widget or a template.
Go to the Elementor -> My Templates page. All templates and global widgets will appear there. Simply click to translate any of them, using the + icon for the desired language.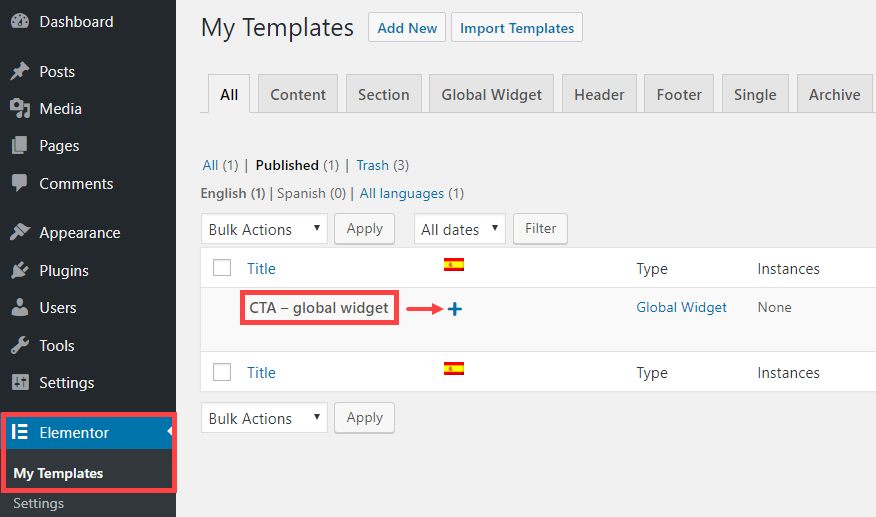 Translation Editor page will open and you can easily translate your global widget or a template.
Visit our documentation page for detailed information about translating Elementor templates and global widgets.
Other Features and Bugfixes
WPML Core
Besides the improved Elementor compatibility, we fixed some important bugs:
Fixed an issue with language information being added to the database when "attachments" were set as not translatable.
Fixed an issue with Enfold causing the translated elements to not appear on the translated front-end pages.
Resolved issues occurring during concurrent requests when upgrading to 4.0.4.
Resolved CORS error when creating a page in the secondary language and languages per domains are set.
WPML String Translation 2.8.5
We implemented the new Translation Memory feature in String Translation. It automatically fills the translation field in the database with the translated value if that value already exists in the database.
WPML Translation Management 2.6.5
Features
Added highlighting for already translated fields in the translation editor.
Implemented the Translation Memory feature for exported XLIFF files. Now if a string has already been previously translated, its translation will be pre-populated in the XLIFF files.
Added grouping for Translation Services in the respective tab of Translation Management.
Fixes
Fixed the translated terms included in the translation job regardless of related setting.
WPML Media Translation 2.3.5
Fixes
Resolved compatibility exception between Formidable Forms Pro and WPML Media.
Fixed tooltip text in media translation icon.
Added a tooltip in media translation page for translation control buttons.
Fixed an issue when reverting media to original before clicking in the "Save media translation" button.
How to update
As always, you will receive this update for WPML plugins automatically to all registered sites. You can download and install manually from your WPML account. Please be sure to update all of WPML's components.
Finally, remember that it's always a good idea to back up the database before updating anything on your sites.