ICanLocalize's seamless WPML integration ensures quick delivery of translations while our professional linguists focus on quality and accuracy. ICanLocalize provides a safe environment for the translation of your website in 45+ languages. Choose ICanLocalize by OnTheGoSystems, the makers of WPML.
תוכן
התחלת עבודה עם ICanLocalize
To send the content for translation to ICanLocalize, please ensure that you have the following plugins installed on your website:
WPML Multilingual CMS – the core plugin
WPML Translation Management – this plugin will allow you to connect to ICanLocalize
WPML String Translation – this plugin will allow you to translate interface strings
You can download them from your wpml.org account. If you do not have an account yet, you can create a new one by choosing WPML Multilingual CMS or Multilingual Agency plans.
ICanLocalize will be visible at WPML → Translation Management → Translation Services tab, which is available only after registering WPML. The entire process only takes a few seconds.
If you need any help with the WPML plugin configuration, you can go through our getting started guide or simply ask a question on our support forum.
Connecting your site with ICanLocalize
Once all the required plugins have been installed and activated, all you need to connect to WPML is your ICanLocalize API Token. If you don't have an account at ICanLocalize, you can sign up now.
Activating and authenticating ICanLocalize
Login to your WordPress website, visit the WPML → Translation Management admin page and switch to the Translation Services tab. Find ICanLocalize in the list of Available Translation Services or use the search field and activate ICanLocalize.
Once the service is activated, click the Authenticate button.
If you already have an ICanLocalize account, click the get your token link to get your API Token. If you don't have an account yet, click the Sign-up link to create one and receive your API Token.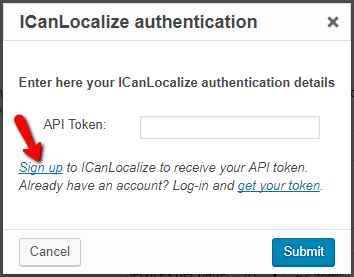 Creating an ICanLocalize account
After clicking the Sign up link, fill in the blanks with the requested information to create your account and get your API Token.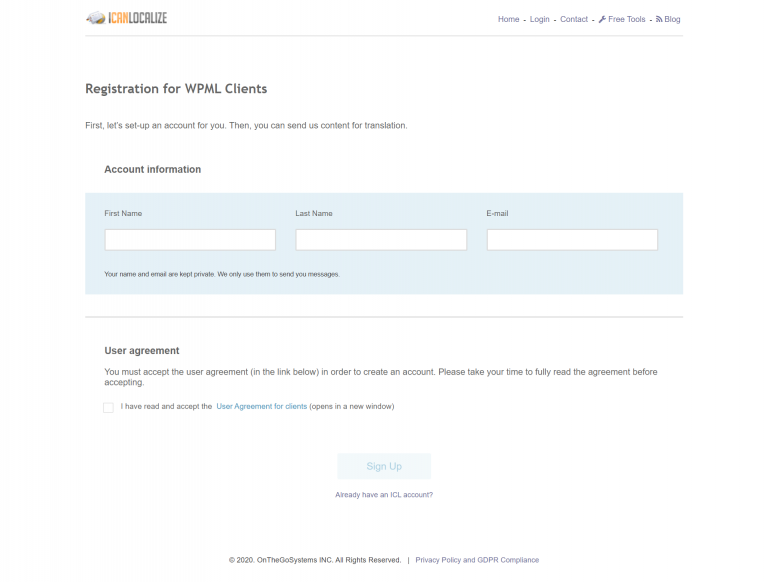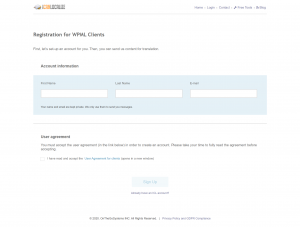 Perfect! Your account has been created. Now just copy your token and go back to WPML.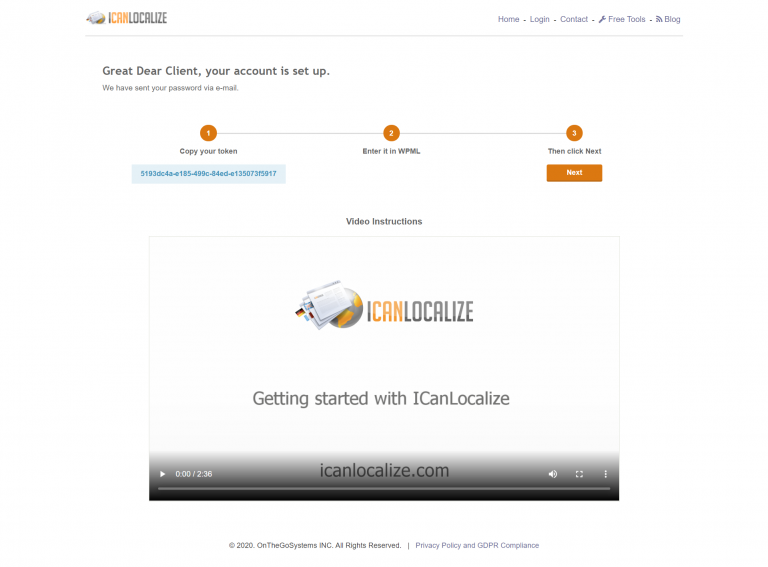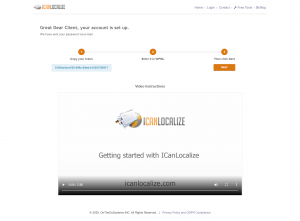 Back in WPML, enter your API Token and click the Submit button.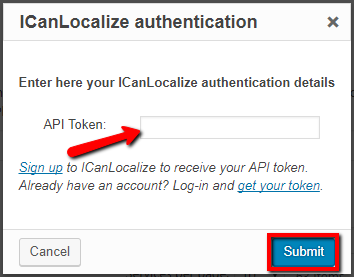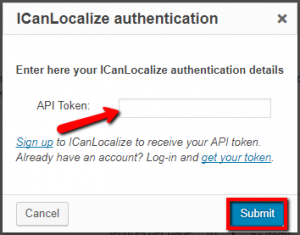 Congratulations! Your ICanLocalize account is now connected to your WordPress site.
Now, you are ready to send content for translation.
Sending content for translation
To send pages for translation, go to the Translation Management module (WPML → Translation Management).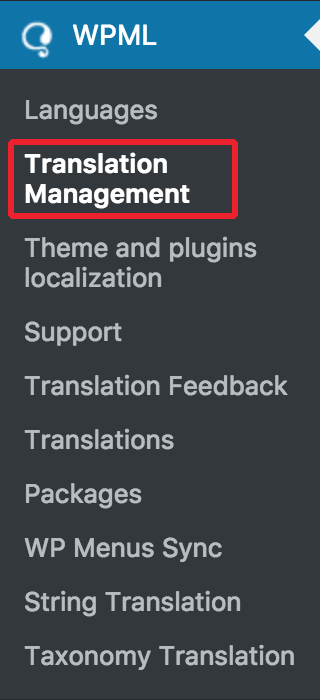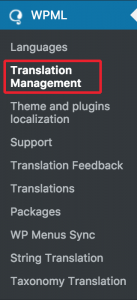 Select the pages you want to translate by clicking the checkboxes in the first column. Next, select the target languages by checking the boxes, and click the Add to translation basket button.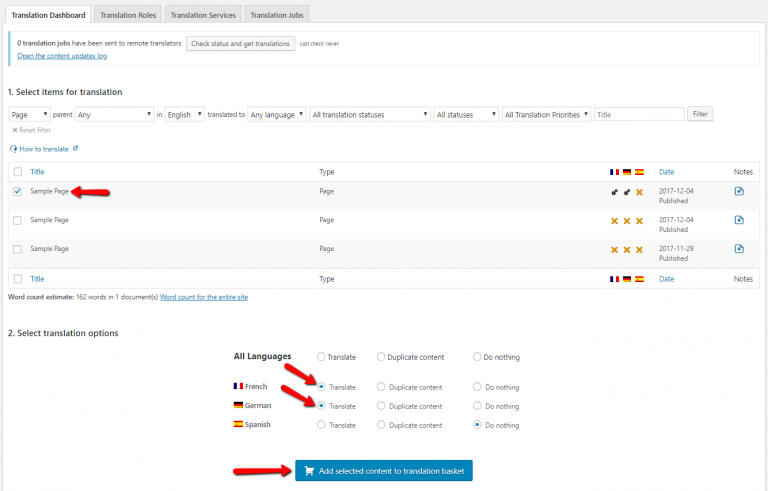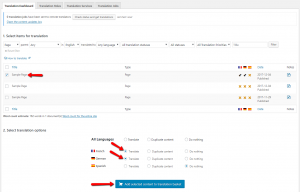 Go to Translation Management and click on the blinking tab at the top of the page, called Translation Basket. By clicking this tab, you will see a list of all the pages (jobs) that you added to the basket, as well as the languages these items are to be translated into.
Here, you can verify the content you wish to translate, remove pages you incorrectly added, and change the Batch name. The Batch name will be visible on the Translation Jobs tab and will help you find projects. When you are ready, simply click the Send all items for translation button to send everything to ICanLocalize.
NOTE: If you need to send strings for translation (theme, plugins and widgets elements), you will need to install and activate the WPML String Translation module. You can find and select the strings to send to the Translation Basket on the WPML → String Translations page.
When the translation basket's contents have been successfully sent to ICanLocalize, you will see a confirmation message, as shown in the following figure.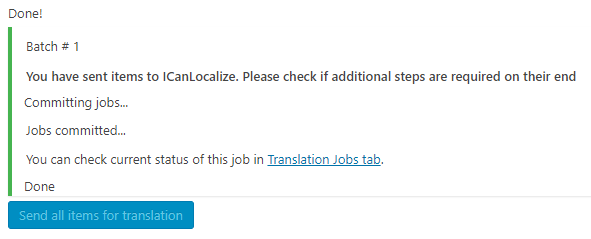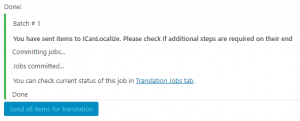 Starting translations
Click on the Translation Jobs link you are given in the confirmation message or click on the Translation Jobs tab at the top of the screen to see the batch you just sent for translation. Next, click on the batch's name to complete the setup of your project and get translations started.
ICanLocalize translation panel
Once you click on the batch link, you will be redirected to ICanLocalize translation panel. Enter your credentials to log in.
Click the Pay and start translation button to see a summary of the jobs sent and the quote.

In this section, you can select the translators' expertise and enable and disable the review service (proofreading performed by a second professional translator). You can also and see a summary of the jobs sent, including languages, word count, cost per word, cost for your content and estimated date of completion.


Automatic assignment of translators
If you want ICanLocalize's system to automatically assign your translators and have translations started right away, just select the field you want your translators to be expert on and click the Pay and begin translations button. Translations will get started as soon as payment is made. As simple as that!
Manual assignment
If you want to invite and select the translators yourself, click the I prefer to interview translators and negotiate the rate button.


Click the Let me choose translators link. By selecting this option you can browse the translators' profiles, invite them to the project and check their rates, and then assign the ones you prefer.
Next, click the Invite translators button to get quotes from translators.
ICanLocalize's pool of translators will pop-up. After filling in the requested info about your site, you can choose either to Invite all translators or invite specific translators from the list.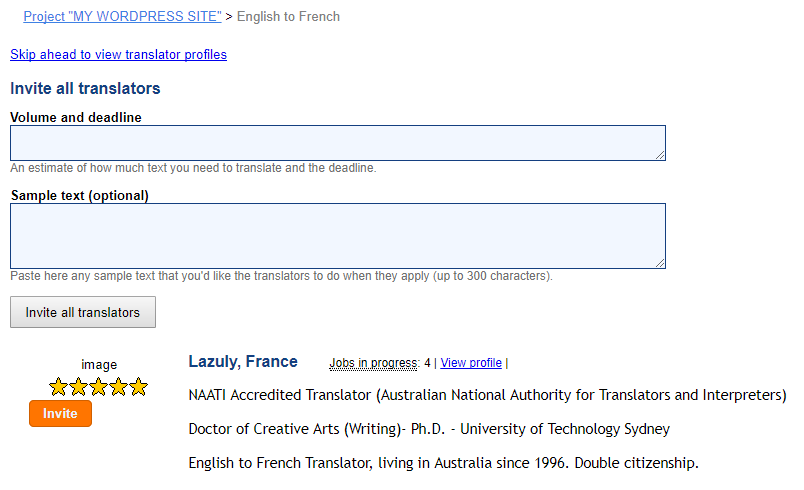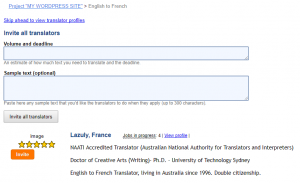 If you invited all translators, you will start receiving applications shortly. If you invited specific translators, you will need to wait for them to reply to your invitation.
Accepting applications in manual assignment mode
It is important to interview the translators that apply and select the ones who are best suited for you and your website project's needs. You will be notified (by email) each time you get a new application.
When you have found the translators you like, go ahead and accept their application.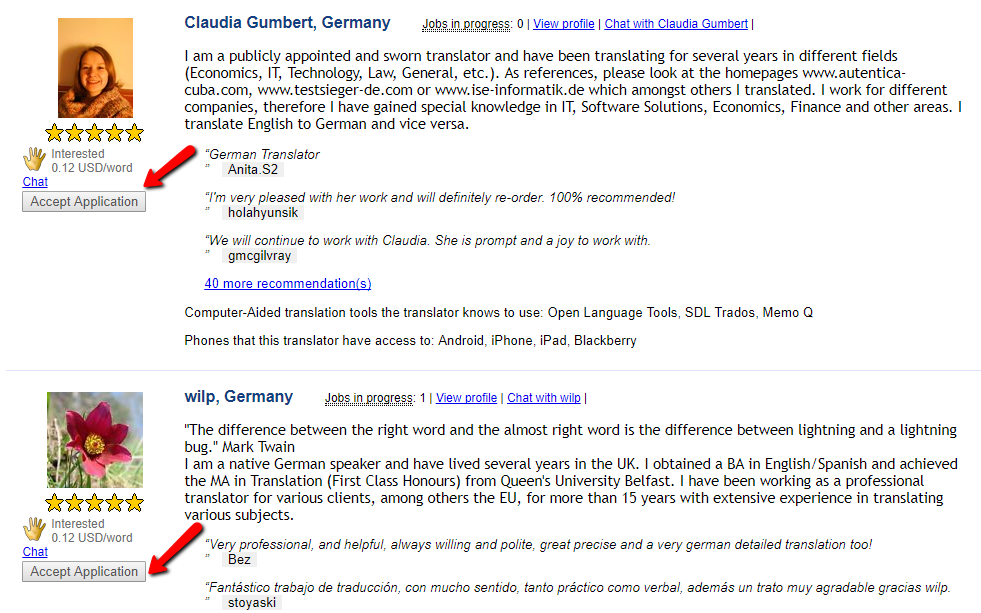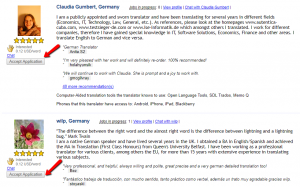 Once your translator is selected and payment is made, translations will get started immediately.
Receiving completed translations
As soon as a translation job is finished by ICanLocalize, it will be ready to be delivered to your website.
Having your completed translations delivered to your site
Depending on your configuration, translations will be delivered automatically or can be manually fetched from your WordPress admin panel.
To check your configuration settings, open WPML → Settings. Find the Translation Pickup mode section and check the selected option.


The Translation Service will deliver translations automatically using the XML-RPC option implies that translations will be delivered to your website automatically as soon as they are complete.
The site will fetch translations manually option implies that completed translations can be downloaded from the Translations Dashboard (WPML → Translation Management) by using the Check status and get translations button at the top of the page.


Canceling translation jobs
You can cancel a translation project from your ICanLocalize account page. After logging in, go to the Translation Projects tab, select your project and click the View translation jobs button.


In the next screen, click the Cancel translation button for each job you want to cancel.
Having your canceled translations returned to your site
Depending on your Translation pickup mode configuration, when a project is canceled, information will be returned to your site automatically or after you have manually checked for canceled translations by clicking the Check status and get translations button in the Translation Management Dashboard.
You can change your Translation pickup mode by going to WPML → Settings and scrolling down to Translation Pickup Mode.
If you select the Translation Service will deliver translations automatically using XML-RPC option, all you need to do is wait for its delivery.
If you select The site will fetch translations manually option, you will need to click on the Check status and get translations button.


When a project is canceled, it is removed from the Translation Jobs tab in WPML.
FAQ
Translations are ready but haven't been delivered to my site. What should I do?
Go to the Translation Jobs tab and click the Synchronize status button next to the batch you want to fetch. This will trigger a synchronization with ICanLocalize's servers and all translation jobs belonging to that batch will be downloaded to your site in a few minutes.
You may also have to click the Check status and get translations button at the top of the Translation Dashboard page if XML-RPC is not available for your site.
---
ראה מה אחרים אומרים
There are no reviews yet.