If you have not renewed your WPML account you will be missing out on several important developments and improvements which will make it easier for you to build a multilingual website.
Don't forget that renewing your WPML account is easy and takes just a few seconds. All you need to do is log in to your account and click to either set automatic payments or to renew the account.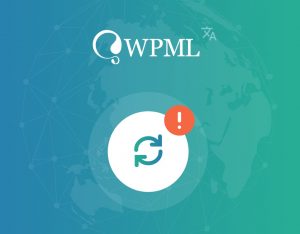 New developments in the next few months
With your WPML account you will be able to take advantage of a number of upcoming updates and improvements which will be arriving by the end of the year:
Reduced page load times
We are reducing the number of queries with WPML String Translation to next to zero.
This means WPML will contribute next to nothing to your page load time, giving you optimized performance on your website with WPML.
Automatically translate content
WPML will enable you to automatically translate large batches of content as soon as it is added to your website.
This new feature is perfect for those who run an e-commerce or listing website that has a lot of items (such as products) with very little text.
Easier to translate yourself
If you are using Advanced Translation Editor you will love how you can use it on the same page as your content.
Instead of having to wait to be redirected to another page, you can translate your content on the page you are working on, saving you lots of time.
What happens if you do not update your site with the latest WPML developments
At the moment your expired WPML account means that not only will you be missing out on the latest developments mentioned above but also the regular updates that we carry out.
These updates are important because without them your website could be vulnerable to hackers. There are countless examples of websites being hacked because they failed to update. In fact, over a 12 month period, half of the small businesses in the United States were hacked according to the 2016 State of SMB Cybersecurity Report. The main reason is that businesses fail to update their software and check for new security patches.
Keeping your apps and plugins updated will ensure you do not become the next victim.
Here are the updates you will be missing out on without renewing your WPML account:
Security
We are constantly adding additional security improvements so that you don't need to worry about your multilingual website being compromised.
But if you don't renew your WPML account you will be leaving yourself vulnerable to data loss or hacks without these critical updates.
Bug fixes
WPML releases hundreds of important bug fixes to improve your user experience. Without these fixes, you will be missing out on future improvements.
Compatibility
We are continuing to make WPML compatible with some of the more important WordPress plugins as well as ironing out any minor bugs.
WPML is compatible with a number of important plugins including page builders such as Elementor and Beaver Builder as well as a host of Gutenberg Blocks plugins such as Toolset Blocks and Kadence Blocks.
If you fail to renew your WPML account you will not be able to take advantage of these integrations and many more that we are working on.
How you can renew your WPML account
The good news is that renewing your WPML account is easy. All you need to do is access your account and set either automatic payments or to renew it and you will be ready to go!
If you've been enjoying using WPML then we'd love to hear from you with a testimonial! Don't forget if you need our help in any way then all you need to do is open a support ticket and we will get back to you quickly.