Today, we released BuddyPress Multilingual 1.7.0, an update to the glue plugin that makes it possible to translate sites built with BuddyPress. This release also makes WPML compatible with the BuddyBoss platform.
Build Online Communities in Multiple Languages
Online community plugins allow you to build completely custom social networks, forums, and groups, just for your site users. It's a great way to foster connections between you and your clients, or for your site users to connect with each other.
Here are some examples from real clients:
iCouponU is a coupon aggregator site. BuddyPress allows their site users to group their coupons under their profiles, which is available in both English and Arabic.
Pictoflash is a platform for sharing files like photos and documents within family, friend, or work communities.
Alamakamlah.com is a social learning platform that uses LearnDash and BuddyBoss. Even though their clients speak English, the creators of the site quickly realized that they were much more likely to consume content and complete purchases in their native language.
Growing your online community globally is easy, thanks to WPML and BuddyPress Multilingual, the glue plugin that makes it possible to translate online communities.
Support for the BuddyBoss Platform
As of version 1.7.0, we now extended support to sites that use the BuddyBoss platform as well.
The BuddyBoss platform is a free plugin that includes all the same functionality as BuddyPress, but adds a more modern look and feel. You can also upgrade to the premium version, which consists of the BuddyBoss theme and BuddyBoss Platform Pro plugin.
All together, the BuddyPress platform allows you to build robust online communities, including social media sites, web courses, and membership sites.
Translate Group Names and Descriptions
Also new to BuddyPress 1.7.0, you can now translate Group names and descriptions using WPML's String Translation add-on. This makes it quick and easy for your users to view groups in their language.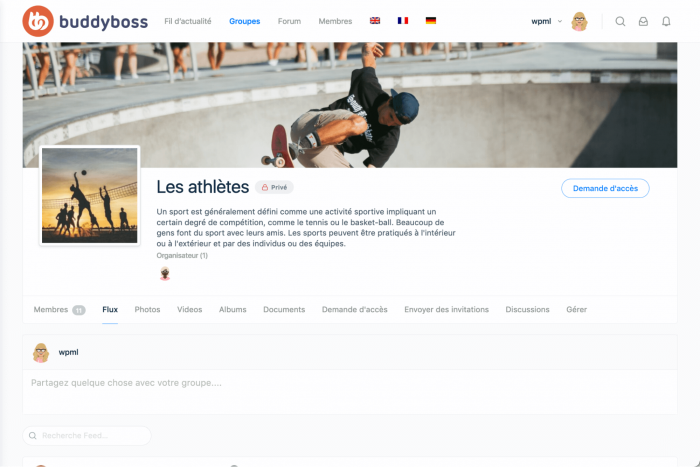 Check out our documentation for more information about translating sites built with BuddyPress or BuddyBoss.
See the full changelog for everything included with this update.
How to Update to BuddyPress Multilingual 1.7.0
As with all of our releases, we are rolling this out gradually.
To update your plugin, go to Plugins → Add New and click the Commercial tab. If the update is not available for you yet, you can click Check for Updates.
You can also download this update from the Downloads page in your WPML account.
Your Feedback Will Drive Our Future Development
Before we build major new functionality for BuddyPress Multilingual, we'd love to know what you are doing with it. To see more features coming in the near future, please help us by leaving your comments below, telling us:
Are you already using BuddyPress or BuddyBoss?
Maybe you are planning to build a multilingual online community?
Do you need your community to be multilingual?
Are you missing any multilingual features for your online communities?
And of course, anything else about this topic you might want to share.
Please let us know in the comments below.