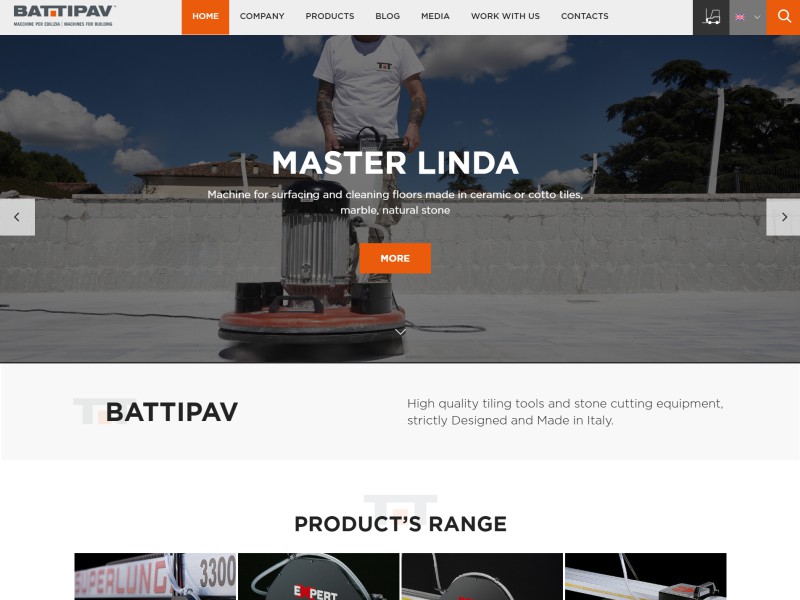 Battipav produces and sells tile saws. They requested the intervention of SED Web for the creation of a responsive and multilingual website that emphasized the reliability and historicity of the brand, the experience of the team and its production.
The site is presented as a vast catalog of products that can be explored and divided into categories. We have highlighted the sales network through an interactive map, emphasizing the language of interest. In fact, for the English language, we showed the worldwide network while for the Italian language we put more emphasis on the national territory.
We have developed a multimedia section with high definition material available to the user. The download of the material makes it possible to understand how to use Battipav brand products correctly, improving customer loyalty and user experience.
Having contributed to making space on the web for the production and quality of Battipav has been a source of great enthusiasm and pride for us. Certain of having produced a result worthy of the historicity and solidity of the brand, we are sure we can continue to give our best as suppliers of a cutting-edge technological service for the customer.
http://battipav.com/en/
How to build a multilingual brochure website with Toolset and WPML
To build a multilingual brochure website with Toolset you will need to:
To translate your brochure website with WPML you will need to:
If you are assigning translations
You will want to follow the steps above but you will need to send content for translation.
You can find more details on each step within our guide on how to translate a WordPress website.
Report a problem