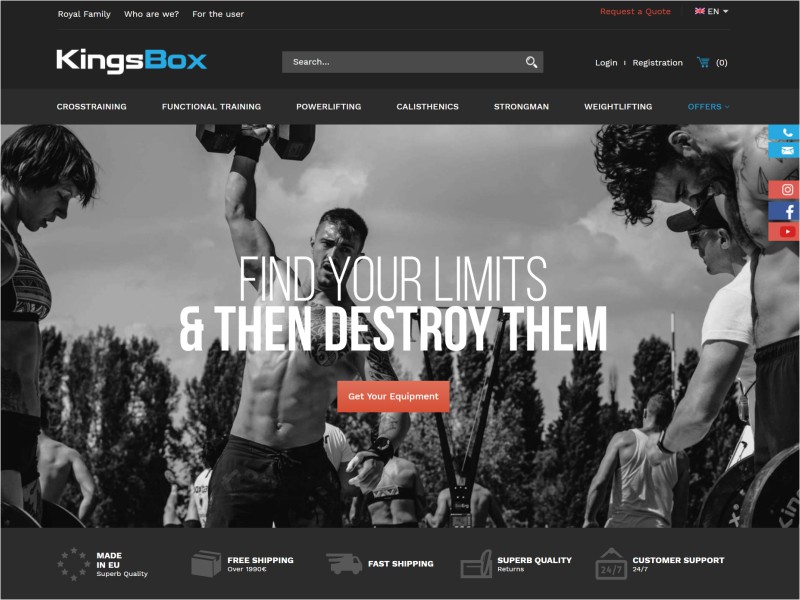 KingsBox is a manufacturer of state-of-the-art equipment for functional training with an amazing quality-price ratio and with a vision to connect all European athletes who share their enthusiasm over this sport. KingsBox equipment is characterized by high quality, certified by the label "Designed and made in Europe". Their great advantage is also a very strong customer support – they're quick, friendly and they know how to listen to all of their clients.
E-commerce project using WPML enables them to address customers from different countries, in different languages, which enables them to reach as wide audience as possible.  The website is available in Italian, Slovak, Croatian, English, German and Turkish.
https://www.kingsbox.it/en/
How to build a multilingual e-commerce website with Toolset and WPML
To build an e-commerce site similar to this one with Toolset and WooCommerce you will need to:
Optional steps
Add a product categories slider
Create front end forms so users can add and edit products using Forms
Display information on store orders and which customers bought a product
You can find more details on each step within our guide to creating an e-commerce WordPress site. We have also created an example of a multilingual shop.
To translate an e-commerce website with WPML you will need to
If you are assigning translations
You will want to follow the steps above but you will need to send content for translation.
Report a problem