Progettato da ThemeBlvd — visita Akita
Il tema Akita è stata testata più di 5 mesi fa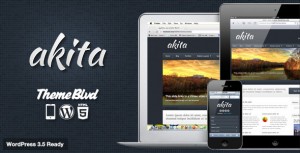 Akita è un tema commerciale moderno. Progettato per qualsiasi dispositivo e compatibile con tutti i plug-in esclusivi di Theme Blvd.
Compatibile con WPML Testato dall'autore del tema

Theme's Category:
Commerciale
Ultimo test in data: 04/07/12
Themes designed by ThemeBlvd
Alyeska: tema di WordPress reattivo

Tema di WordPress reattivo

A WordPress theme that empowers you to do more.