MateCat is a free, professional translation platform. You can use MateCat to translate all your Wordpress content. You have three options: (a) translate the content yourself; (b) assign the translation to a professional translator; (c) get free machine translation from MyMemory.
Inizio con MateCat
To send files for translation to MateCat, you first have to log in to your wpml.org account, and download and install the following plugins on your website:
WPML Multilingual CMS: the core plugin.
WPML Translation Management: this plugin will allow you to connect to MateCat.
WPML String Translation: this plugin will enable you to translate interface strings.
If you do not have a wpml.org account yet, you can create a new one by simply choosing between our WPML Multilingual CMS or Multilingual CMS Lifetime plans.
As soon as you get access to your  wpml.org  account, you may refer to our detailed step-by-step guide on how to download and install WPML. Please remember to  register your site to receive automatic updates and gain access to MateCat' services.
If you need any help with the WPML plugin configuration, you can go through our getting started guide or simply ask a question on our support forum.
Connecting your site to MateCat
Once all the required plugins have been installed and activated, all you need to connect WPML to the translation service is your MateCat API Keys.
Requesting a MateCat API Key
You can request a MateCat API Key by simply visiting the MateCat website and clicking the Get Support tab at the right side of the screen.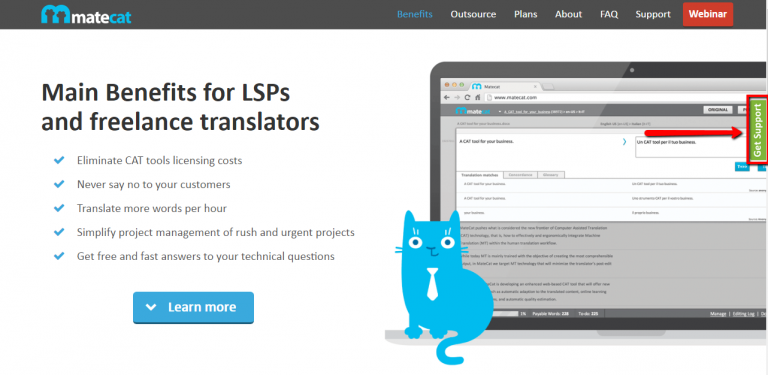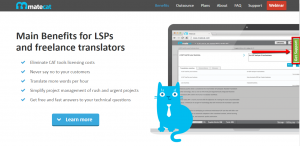 Alternatively, you can simply send an email to support@matecat.com and request your API KEYS.
Receiving your API Keys
After submitting your request, a member of the MateCat team will email you an API Key and API Secret Key. You will need these API Keys to connect with MateCat through WPML.
Activating and authenticating MateCat
Login to your WordPress website, visit the WPML->Translation Management admin page, and click on the Translation Services tab.
Scroll down to I'm looking for translation management systems and click the link.


Locate MateCat from the list and click Activate button to activate it.
Once the service is activated, click the Authenticate button. Here, you will need the API Keys obtained in the previous step.
A popup window will appear in which you can paste or enter your MateCat API Keys. After entering the values, click the Submit button.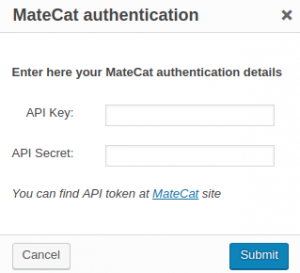 After a few seconds, MateCat will display at the top as the authorized service.
Congratulations! Your MateCat account is now connected to your WordPress account.
Now, you are ready to send content for translation.
Sending your content for translation
To send pages for translation, go to the Translation Management module (WPML->Translation Management).
Select the pages you want to translate by clicking the checkboxes in the first column. Next, select the target languages by checking the boxes, and click the Add selected content to translation basket button.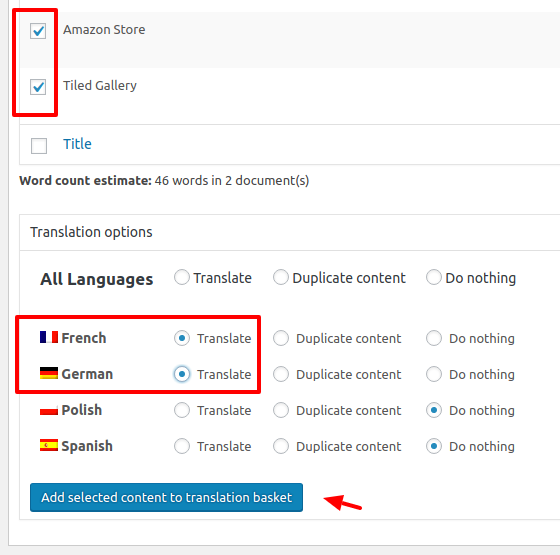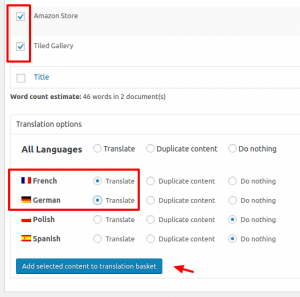 Go to Translation Management and click on the blinking tab at the top of the page, which is called Translation Basket. On this tab, you will see a list of all the pages (jobs) that you added to the basket, as well as the languages these items are to be translated into.
Here, you can verify the content you wish to translate, remove pages you incorrectly added, and change the Batch name. The Batch name is visible on the Translation Jobs tab and will help you find projects. When you are ready, simply click the Send all items for translation button to send everything to MateCat.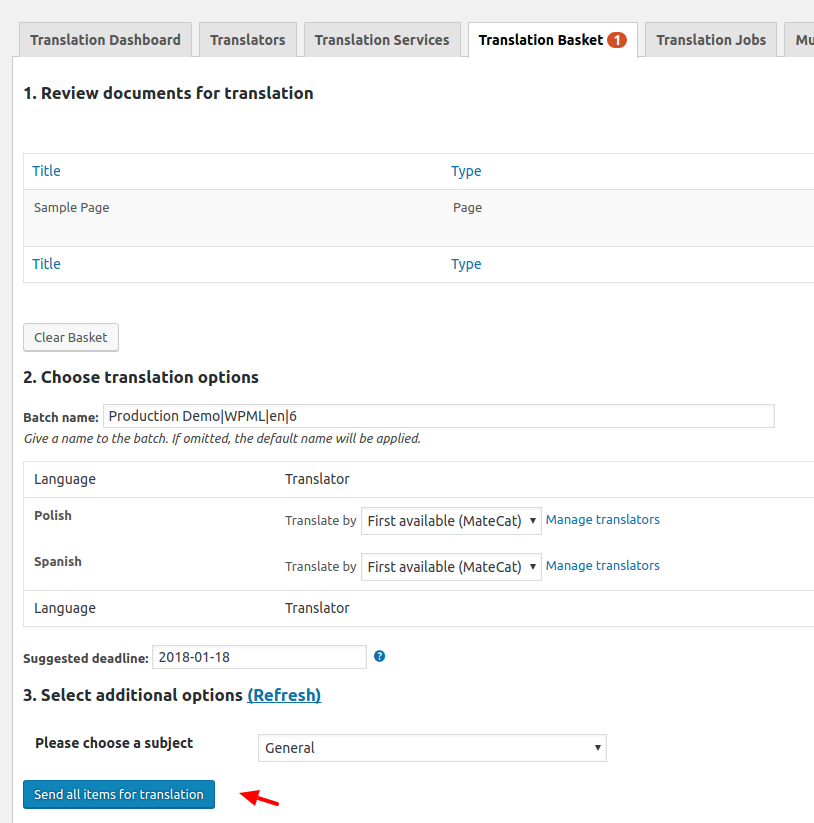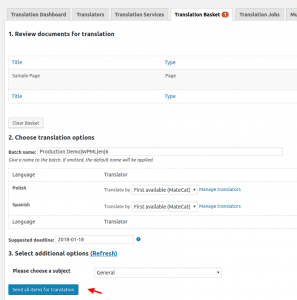 When the translation basket's contents have been successfully sent to MateCat, you will see a confirmation message, as shown in the following figure.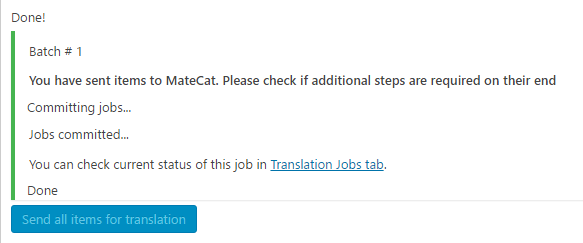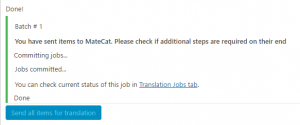 Click on the Translation Jobs link in the confirmation message, or click on the Translation Jobs tab at the top of the screen. On the next administration screen, the Batch you just sent to translation will appear.
Click on the Batch name to be redirected to MateCat's Translation Portal.
Starting translations
After clicking on the batch name you'll be redirected to MateCat's Translation Portal. Log in with Google or, alternatively, enter your MateCat email and password to log in.
Once logged in, click the Manage button in the bottom right corner of your screen to access your project.
You will see a summary of the jobs (pages) sent and a short summary including languages, a word count link and an option to cancel the jobs. Click on the word count link to see the available translation options.
Next, select the translation option that best suits you:
Copy the link and send it to your local translator or translate it yourself.
Select a professional translation service. You will see a detailed project summary and a quote.
Receiving completed translations
As soon as a translation job is finished by MateCat, it will be ready to be delivered to your website.
Having your completed translations delivered to your site
When translations are complete, you will receive a notification email from MateCat.
Go to the Translation jobs tab and click the Synchronize status button first.
Depending on your configuration, translations will be delivered automatically or can be manually fetched from your WordPress admin panel after you click the Synchronize status button.
To check your configuration settings, open WPML->Translation Management and click on the Multilingual Content Setup tab. Find the Translation Pickup mode section and check the selected option.


The option labeled Translation Service will deliver translations automatically using the XML-RPC means that a translation will be delivered to your website automatically after you click the Synchronize status button.
The option labeled The site will fetch translations manually means that completed translations can be downloaded from the Translations Dashboard (WPML->Translation Management) by using the Check status and get translations button at the top of the page after clicking the Synchronize status button.


Once the jobs are fetched, their status in the Translation jobs tab will be changed to "Complete."
Canceling translation jobs
Although you cannot cancel individual translations from WPML, you can delete an individual job or an entire project from MateCat by contacting your MateCat Project Manager.
NOTICE: Be aware that cancellation requests for previously submitted work should be sent as soon as possible, as MateCat cannot cancel translation work that has already been completed. Unless your commercial terms state otherwise, you will be charged for the work completed.
Having your canceled translations returned to your site
When a project is canceled, information will be returned to your site after you have manually checked for canceled translations. First, click the Synchronize translations button and after a few seconds/minutes (depending on the amount of content), click the Check status and get translations button on the Translation Management Dashboard.


When a project is canceled, it is removed from the Translation Jobs tab in WPML.
---
Consultate le opinioni altrui
There are no reviews yet.