デザイン Elegantthemes — 閲覧 Event
テーマ Event 5ヶ月以上前にテストされました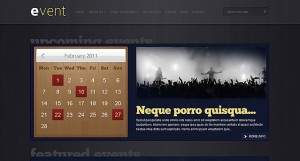 Event is a versatile theme that allows you to transform your blog into an events website. Past and future events are managed with ease from within the WordPress dashboard, and are displayed on the homepage in an intuitive and interactive calendar.
WPML チームによりテスト済み作成者によると互換性を影響するような新しい変更はありません, WPML対応

Theme's Category:
イベント
バージョン 3.8.8 テスト最終日: 17/10/18
Themes designed by Elegantthemes
Extra takes the Divi Builder framework and extends its advanced Drag & Drop builder power to work on your homepage and categories with a brand new set of post-based modules.

The Divi Builder はユーザー体験を最優先に考えて制作されました。 このビルダーはコードを使用せずにページ構造を理解し、編集するために要素をビジュアルブロックに変換します。

Tidalforce comes with a large array of options which can be used to edit the look and feel of your design straight from the wp-admin control panel.