In this tutorial we teach how to translate your site using one of the professional translation services, connected to WPML and achieving great SEO in different languages.
Translating your site and achieving good SEO, in all languages, can be simple. We will use Yoast SEO together with WPML and professional translation. We'll show you how to configure the site to send the SEO field for translation and how to explain to the translators what they need to know.
We'll use an online flower shop, 'Flowers4U', as an example and we'll focus on the 'About Page', which is probably a page we all need when trying to promote our products or services on the internet.
How does our 'About Us' page look
Before we get started with the 'How', let's look at what we have here. I have marked the parts of our page that need translation and the WPML meta box, which shows the language information.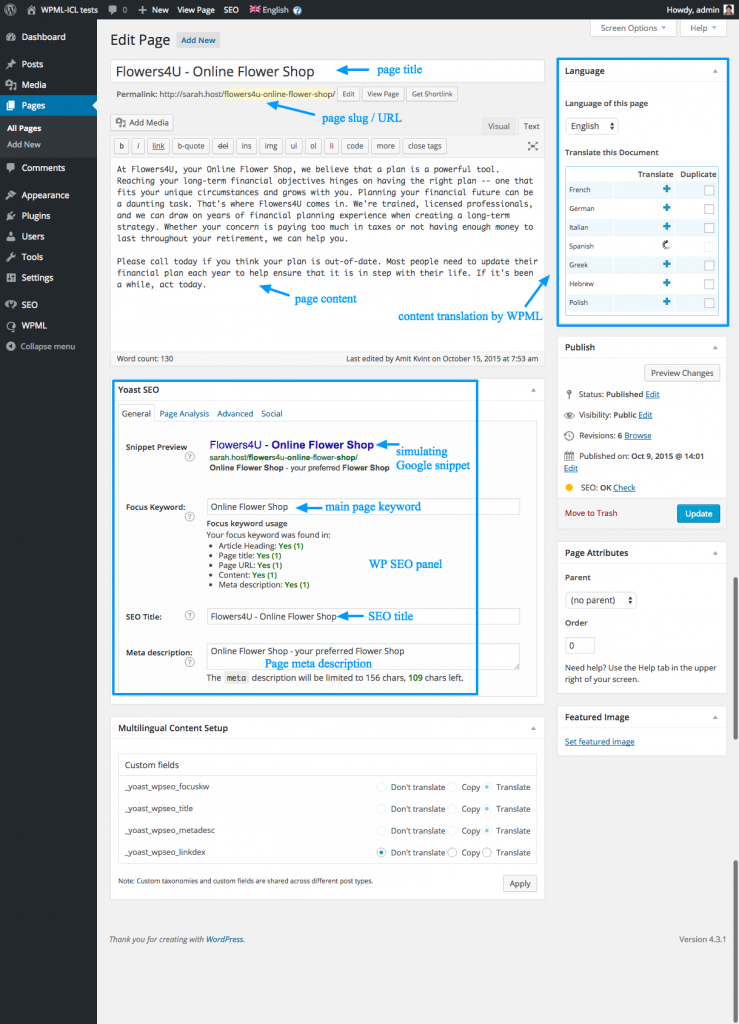 Getting ready
The setup is done in 3 steps:
Install and activate the required plugins

Yoast SEO (if you are not familiar with this plugin I recommend starting here)

Configure WPML

For WPML settings please read the WPML getting started tutorial; in short, you'll need to

set up your main content language
Choose what other languages you intend to use on your website
Configure your language switcher display and other language related settings

Select the translation service you want to work with (see the instructions for using professional translation with WPML)
Sending content to translation
Now when you create a new page you'll see a similar admin screen as the one I have pasted above, and we can start sending content to translation.
There are two types of strings (texts) coming from Yoast SEO that will need translation:
Global texts – these are texts you can set up in Yoast SEO settings; Strings that are set in the 'SEO' menu under 'Titles and Metas'. After you set these in the original language, it can be translated.
Per page texts – these are the strings that you use for your SEO of each individual page
Now let's see how we translate all of those SEO texts:
Sending the WordPress Global SEO texts (SEO Titles and Metas)
Set the texts in the original language as shown below

Our about page admin with WPML

Use WPML String Translation to find and send those strings to WPML Translation Management Translation Basket:

WPML String Translation for SEO strings

It is much more convenient to search and send all strings that need translation and belong to the same batch (or topic) in one go– making it more organized for you when handling different translation jobs.

Find these strings in the Translation Basket and send them to translation. In the example below, I am sending both strings coming from the 'Homepage' tab of 'Titles & Metas – Yoast SEO' setting. This is done in three steps:

Give the strings' batch a name so that they are easily identifiable (not mandatory, but helps)
Select a translator among the ones you have chosen in Translation Management → Translators (MercedesD, in this example)
Click on the 'Send all items for translation'

Sending SEO strings to Translation Basket

You'll see a progress message telling you what should be done next too:

Translation Basket progress

You can monitor and manage the status of your translation jobs sent to translation in Translation Management > 'Translation jobs' tab

Status of Translation Jobs

When the translation is completed, you'll receive a message in the 'Translation Jobs' indicating the same, and now that these SEO Strings are translated, we can move on to translating other SEO strings

Translation job finished
Sending the 'Per Page' Yoast SEO texts
For all the rest of the SEO strings and other content that we have in our 'about' page, we just need to send that page to the translation service.
Let's translate that page to Spanish for example:
Go to Translation Management
In the 'Translation Dashboard' tab (default tab), you'll be able see the list of pages that you can send for translation; choose the page you want to send for translation
Choose the language you'd like to translate to—in our case, Spanish
Click on the 'Add to translation basket' button

Sending a page for Translation
Now go to the 'Translation basket' tab, and repeat the steps we used for sending those strings earlier:
Give the strings' batch a name so that they are easily identifiable (not mandatory, but helps)
Select a translator among the ones you have chosen in Translation Management → Translators (MercedesD, in this example)
Click on the 'Send all items for translation'
Note that the translator gets attached to the page's content in addition to all the Custom Fields added by Yoast SEO plugin, and as you can see from the result, all that content has been translated as well (you can compare to our first 'what to translate' screen):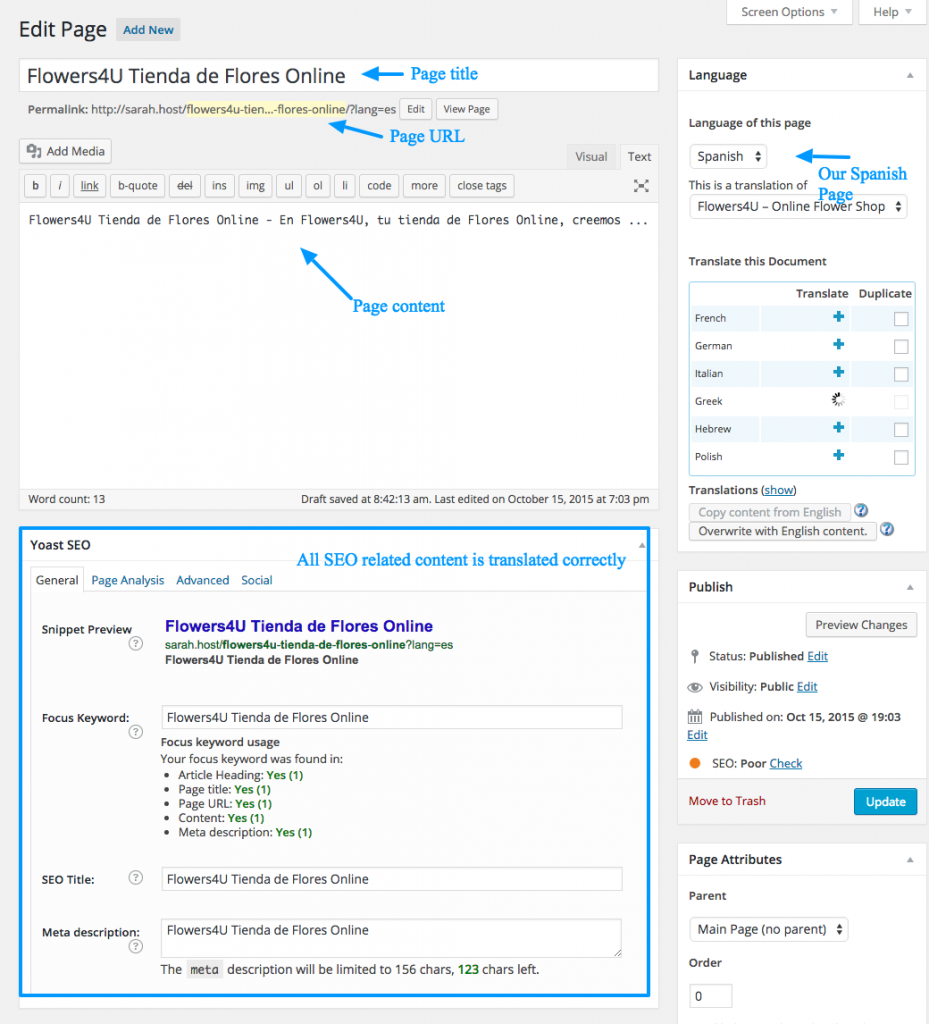 Summary
Your first step for good SEO is to optimize in your native language (the site's default language). Then, send the global SEO texts for translation (once) and include the per-content SEO fields with every document that you send to translation. Your site will be optimized for search engines in all languages.
Other WPML-compatible SEO plugins
While Yoast is one of the most popular SEO plugins, there are plenty to choose from. See our blog post comparing three SEO plugins you may not have heard of before, or check our full list of Multilingual-Ready Plugins to find one that works for you.