The new WPML Contractors System connects between developers who can help build advanced multilingual sites and folks who need their help. It's live now and open to applications.
Due to a big number of contractors, the Contractors program is currently on hold for new applications.
Sometimes you need a bit of help, which goes beyond what WPML support is intended for. Maybe it's an entire website, maybe it's a custom element and maybe it's just to fix a problem with your design.
While WPML support will gladly help you troubleshoot problems and use WPML correctly, others can help you with actual development work.
For this, we're launching today the WPML Contractors Club.
To join this club, you'll need to be using WPML for at least 6 months and have at least three registered sites in production.
Then, you will see an invitation to join our contractors club: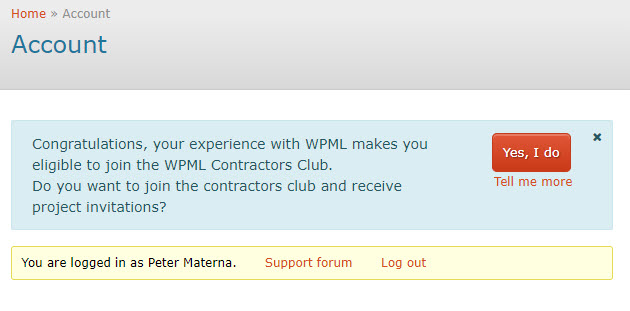 This invitation will appear inside your WPML.org account.
Of course, if you're not interested, just dismiss it. If you want to sign-up as a contractor, click on the 'Yes' button and fill the form. You will need to tell about yourself and submit three portfolio sites, which WPML team will review. We'll get back to you if we need any help with your application. When it's all set, you will appear in the contractors search page (which starts empty right now, but will not stay this way for long).
We've created this new contractors system for the benefit of everyone building and running multilingual sites. OnTheGoSystems isn't involved in the payments and doesn't take any cut. We truly hope that this system will help connect between clients who need help and developers who can help them.
If you have questions, ideas or suggestions, leave your comments and we'll get back to you.