We are happy to announce the recent integration of WPML and Commit Global, a reliable and experienced translation service headquartered in Greece and USA.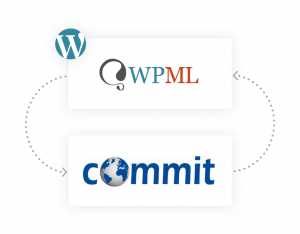 Commit Global has been helping corporations around the world translate their products and services for the past 20 years.
Their expertise, responsiveness and flexibility ensure precise and professional project management. Each customer is assigned to a dedicated project management team capable of handling large, complex and short-deadline projects.
The communication with customers is prompt and straightforward. Commit Global values collaboration and they strive to cultivate such a relationship with them.
 "Our mission is to provide our customers with reliable language solutions by adopting an incisive perspective to their needs; powered by a sense of respect for our customers and our people. We want to be a partner of choice for both." 

Vasso Pouli, CEO, Commit Global
Commit Global only works with experienced and professional translators. After careful screening, they select linguists whose expertise matches the specific type of content to meet the strict linguistic requirements of each industry.
Regarding translation technologies, they use industry-leading translation/localization and QA tools for building and maintaining translation memories, glossaries and termbases. These ensure consistency, reduce human error and preserve language assets for future use.
"Our partnership with WPML enables us to offer our clients a fully automated translation process for WordPress websites. Our clients do not need to go through the hustle of manually exporting their content in order to send it for translation and then importing it back when the process is over. WPML saves time on both ends and minimizes potential technical errors." 

Vasso Pouli, CEO, Commit Global
Apart from being an active member of GALA, ELIA, ALC, ATD and CfT, Commit Global is also an ISO 9001, 17100 and 27001 certified service. They apply strict QA procedures in its everyday work.
Interested in translating your WordPress site with Commit Global?
The integration is already available in WPML. Find Commit Global in the Translation Services tab in WPML. If you still don't have WPML, feel free to purchase the Multilingual CMS package and get started.