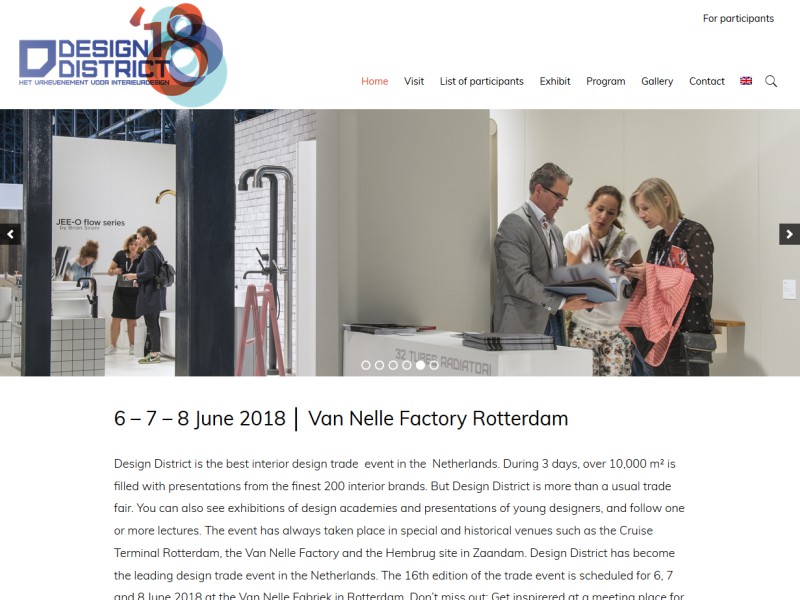 Design District is the best interior design trade event in the Netherlands. For three days, over 10,000 m² is filled with presentations from the finest 200 interior brands.
The event is held in the Netherlands but attracts participants from all over the world, hence the need to have a multilingual website that is available in English and Dutch languages.
Design District is het beste vakevenement voor interieurdesign in Nederland. Gedurende 3 dagen is een beursvloer van ruim 10.000 m² gevuld met presentaties van de 200 mooiste interieurmerken uit binnen- en buitenland.
Maar Design District is meer dan een beurs, je vindt er ook exposities van design academies en jonge ontwerpers en kan één of meerdere lezingen volgen.
Design District is in 2002 begonnen in Nederland onder de naam 100% Design. Het evenement heeft altijd plaatsgevonden in bijzondere en historierijke locaties zoals de Cruise Terminal Rotterdam, de Van Nelle Fabriek en het Hembrugterrein in Zaandam.
Het evenement is uitgegroeid tot toonaangevend in Nederland. De 16e editie is op 6, 7 en 8 juni 2018 in de Van Nelle Fabriek in Rotterdam.
https://designdistrict.nl/
Report a problem