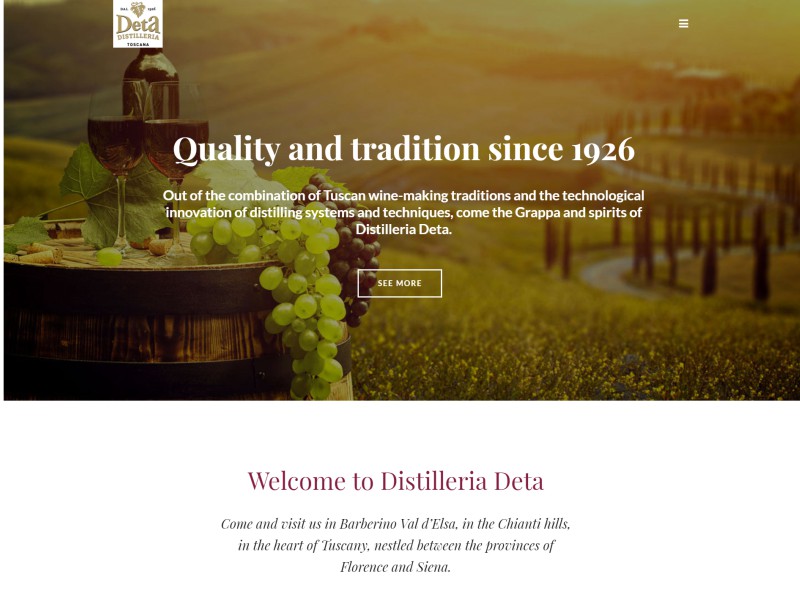 The Distilleria Deta is located in the green Barberino Val d'Elsa, in the Chianti hills area. Thanks to its courage to invest in machinery and production, and foresight towards market trends, over the years it has become a point of reference for the production of very fine quality distillates. Among its products, it boasts fine grappa, brandy of wine and Italian brandy, industrial and food alcohol, and the rich Barberino line.
In the creation of a new website for the brand, we have created a showcase that highlights the history and tradition that have made this company great over time, its products, the production cycle, and the solid relationship with the Tuscan territory.
To guarantee the right flexibility to the site together with the ability to add and modify content according to the needs, we have used WordPress, the most user-friendly CMS (Content Management System) on the market. This, in fact, also allows those who are not IT experts to be able to independently modify the contents, whenever they want and whenever they want.
The graphics are perfectly responsive so the site is visible and explorable without any problem from PC and mobile devices. Moreover, the texts, the structure and the pages of the site are perfectly optimized to favor indexing on search engines, through the keywords of the reference sector of the Distillery.
The company sells wines worldwide and needed a multilingual website that is currently available in English and Italian languages.
http://detadistilleria.it/en/
Report a problem