If after following all the instructions from our checklist before opening a ticket in WPML support, you are still having issues or struggling to translate your site, it may be time to come to our support forum. You can look through our documentation and other support tickets matching your issue, or open your own and share exactly what's happening on your site.
How exactly does opening a ticket in the support forum work?
The first thing you will notice is that our system will ask you to describe what are you trying to achieve. This allows our system to check its database and see if there is already a solution to your issue. Try to describe your situation in an easy and simple way. This will increase your chances to find a match.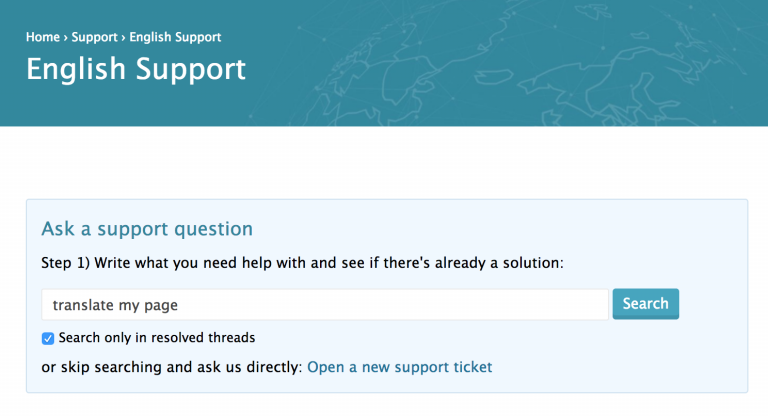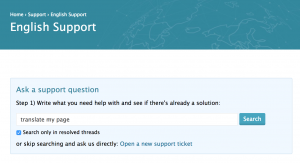 Once you do it, some new content will appear on the page. First, an Errata & Support FAQ matching your question section pop-ups. This section lists different pages from our documentation that may be helpful for your situation.
Below this section, there is another section called Support tickets matching your question which, as the name suggests, points you to all our support tickets that may be related to your issue.
Finally, If you still can't find what you are looking for, it is time to click the Open a new support ticket button.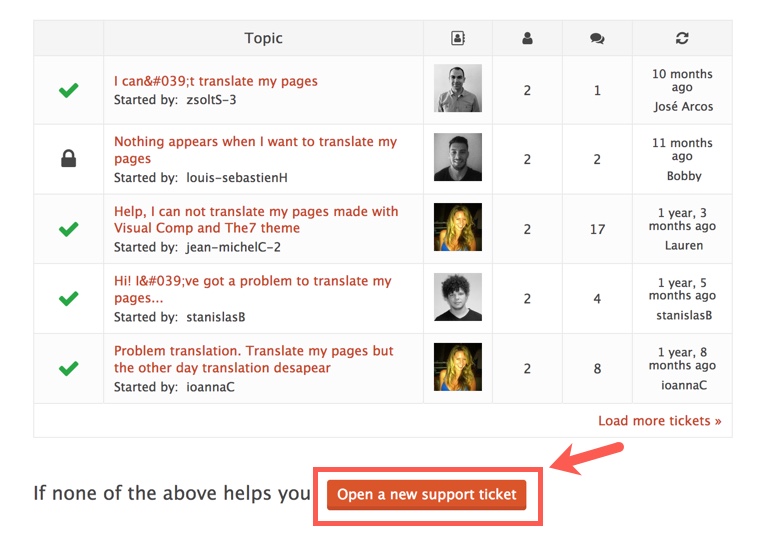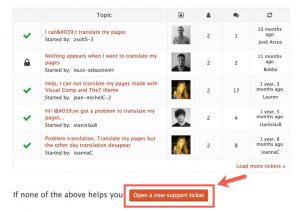 Will I need to provide you with access to my site?
When you are opening a ticket, you have the option of granting our supporters access to your site. To grant access click I want to grant access button and fill out the form. This information is private and is available only to our supporters.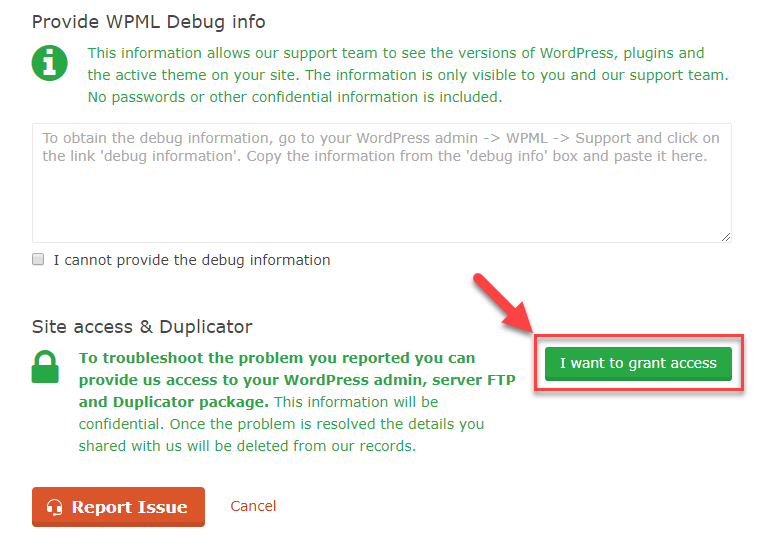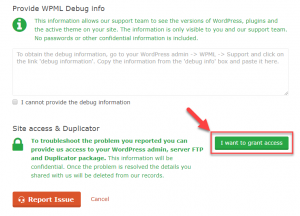 What is the WPML debug information and why is it necessary?
In order to give you a better and faster support, we need as much information as you can provide us.
There is an important section at WPML -> Support under the debug information link. When you add this information at the moment of opening a ticket, we will have a general view of your site: from which PHP and server configuration, theme and plugins installed to your WPML settings.
Often, the issues that you are experiencing have been already solved by upgrading or modifying any of your settings. When we have access to your debug information, we increase the chance to easily provide you with a solution for those cases.
Why may I also need to share WordPress debug information and how do I do this?
WordPress debug information points to plugins, themes or server errors which help developers to find bugs and improve their code standards.
For users, this information is specifically important for situations where you have the infamous blank screen as usually there is a PHP error what will appear once the WordPress debug information is activated. Furthermore, it will also point to possible incompatibilities with themes and plugins which may not be designed to be multilingual-ready.
To activate this feature, you need to access to your server using FTP and edit your wp-config.php file as described in the WordPress Codex.
If you have access to this information, don't hesitate to share it with us, our support will find it really useful.
How should I describe the issue I'm facing?
It may sound obvious but this is one of the more important steps when you create a ticket in our support. Sometimes, it's hard to describe what is happening in your site and what you are trying to achieve. Thus, the clearer and more direct your description of the issue is, the sooner and faster our support will understand what is happening and help you.
An easy way to describe your issue may be something like:
I want to do [action].
When I go to this [section] and I try to [action], I get [undesired output] while I should get [desired output].
This formula is not a general rule, but sometimes it helps to verbalize what is happening on your site.
Sometimes, describing an issue with words can be difficult so feel free to also provide screenshots or even a video.
When may I be asked to share a copy of my site?
Sometimes, it may happen that your issue is not as easy to solve as changing a setting or upgrading your WordPress site version. In this case, our supporters may need a copy of your site to start the debugging process and find what could be causing the issue.
In the following tutorial we explain how to easily share a copy of your site with our supporters.